I was born into a Catholic family and given a Catholic education, but for as long as I can remember, Judaism has always fascinated me. There was just something so familiar about it. Whenever I attended the b'nai mitzvah and weddings of my Jewish friends, I felt a strong connection to their traditions – as if I belonged. My ancestors are from Portugal, Spain, and Italy, and sometimes I wonder whether they were forced to convert during the Inquisition. I don't know, but what I do know is that I feel Jewish in my heart and soul.
In adulthood – many years after my divorce, as my kids approached their late teenage years – I knew that it was time for me to pursue what had been calling me for so long. I had been taking conversational Hebrew classes for a few years, but if I was going to seriously consider conversion, I needed to learn more about Jewish history, traditions, and customs. I decided to register for an Introduction to Judaism class at the Reform synagogue just a few minutes from my house.
My fellow participants were there for a variety of reasons and motivations. A few were Jews who just wanted to learn more about their history, and about half were couples taking the class together as they prepared for marriage and, in many cases, planned for the non-Jewish partner to convert. A handful of participants, like me, were there because we wanted to convert for ourselves – because we already felt Jewish in our souls, like we were somehow being called to return to Judaism.
The first day of class, we were given a Jewish calendar and a Hebrew language workbook, as the first 50 minutes of each class were dedicated to learning to read Hebrew. Because many Jewish prayers are in Hebrew, I found that a basic knowledge of the Hebrew language is crucial in understanding them. Our Hebrew teacher, who worked at an elementary school, even brought M&Ms to share with us as we learned nikud (vowels).
We were given many carefully chosen books, my favorites of which were The Jewish Home: A Guide for Jewish Living, Settings of Silver: An Introduction to Judaism, and Introduction to Judaism: A Source Book. Each week during the three-and-a-half-month course, I chose to read our assigned passages immediately after class, reinforcing what I had just heard and letting me delve more deeply into each subject.
We learned about topics ranging from Jewish holidays and traditions to prayer, Torah, God, the Holocaust, and the history of the State of Israel. Each week's class was taught by a different rabbi, offering exceptionally diverse teaching styles while still maintaining the course's focus and perspective. I looked forward to class each week, and I always was curious to see how the new rabbi would approach their assigned topic.
Participants were encouraged to ask questions in class, but we also had the opportunity for hands-on learning. We met in the temple kitchen to braid challah and bake hamantaschen. We prepared a model seder dinner and sang Passover songs with a cantor. We even took a field trip to Miami's Holocaust Memorial, and ate dinner at an Israeli restaurant afterward. I met frequently with my own rabbi and started attending Shabbat services so I could put into practice everything I was learning.
When I signed up for the class, I already knew I wanted to convert to Judaism. For so long, I had known in my heart that I belonged with the Jewish people; it was just a matter of making it official. This class gave me deeper historical knowledge and cultural understanding of Jewish traditions – but most importantly, it filled the gap between what I had observed about Jewish life and how I am now living my own Jewish life. It was an experience that opened many doors in my Jewish journey, introducing me to new ideas and to new people, both in class and at synagogue.
At my conversion, when I stepped out of the mikveh (Jewish ritual bath), I felt lifted up. When I was presented to the congregation and my rabbi chanted an ancient blessing as I held the Torah in my arms, I was again lifted up. When I prayed in Israel at the Kotel last month, it all felt complete.
I will never know whether my ancestors were, indeed, Jewish. I know, though, that I am proud to stand with the Jewish people, to light my Shabbat candles on Friday nights, and to continue to learn. I am living a Jewish life based on values and traditions, with a passion for advocating goodness, acceptance, respect, humility, and love. If my ancestors were calling me back to Judaism, their call was heard.
Interested in learning more about Judaism? Find an Introduction to Judaism class near you.
Related Posts
Image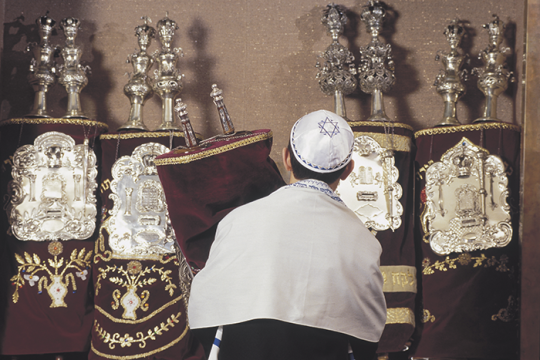 Even before I finalized my conversion to Judaism, I was preparing to celebrate my adult bar mitzvah. In a sense, my conversion preparation became a precursor to bigger plans: for a bar mitzvah and a Jewish vow renewal ceremony with my wife Laurie later this year.
Image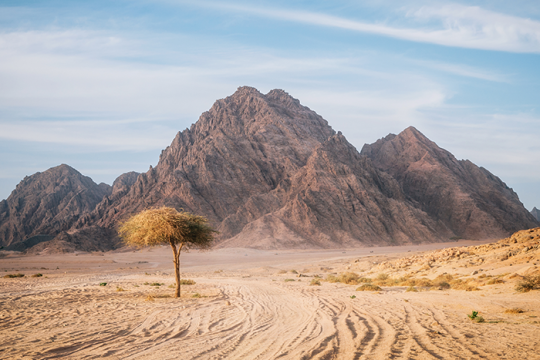 On Shavuot, many of us study the Book of Ruth. Lauded by Rabbinic tradition as a righteous convert, Ruth's story continues to resonate with the experiences of many Jews-by-choice today.
Image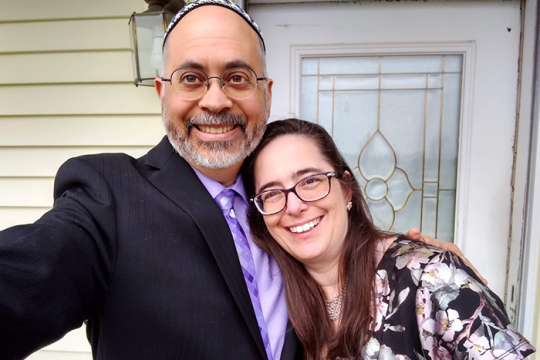 I'm feeling very peaceful today. I went to the mikvah this morning. I was a little nervous, just because official rites of passage can be a little scary. But I knew everyone was going to be super nice and supportive (and they were!).