Image
Marriage equality advocates have had much to celebrate over the last few days: An appeals court struck down California's anti-marriage equality Proposition 8, Washington state Gov. Chris Gregoire signed marriage equality legislation into law, the New Jersey state Senate passed marriage equality legislation, Meanwhile, in Maryland, faith advocates are hard at work trying to get their state to be the next one to grant marriage equality. On Friday, former RAC Eisendrath Legislative Assistant Joanna Blotner (pictured above), who currently works at the Human Rights Campaign as the Religion & Faith Program Coordinator, testified before the Maryland House Judiciary and Health and Government Operations Committee with her mother, Sheri Zaitz-Blotner, in support of marriage equality.
The hearing lasted until almost midnight, with Joanna and her mom speaking around 10:45 p.m. Other Jewish speakers included: Rabbi Daniel Cotzin Burg of Beth Am Synagogue in Baltimore, Rabbi Elissa Sachs-Kohen of Baltimore Hebrew Congregation, and Suzy Gellman on behalf of the Jewish Community Relations Council. According to Joanna, roughly half of the speakers testifying for marriage equality were either clergy, faith community lay leaders or people who identified in some way as a person of faith. Pictured above is Joanna standing with about one-third of the clergy who testified that day. Joanna and her mother's testimony appears in full, as delivered, below.
Joanna: Good Evening.  My name is Joanna Blotner, I am from Chevy Chase, MD – born and raised, a graduate of Bethesda-Chevy Chase High School – and I am here with my mom Sheri Zaitz-Blotner to share our support for HB 438 and to respectfully ask the state legislature to extend the legal protections, the joys and yes, the challenges, of marriage to all Maryland families.  Similarly, we would strongly oppose any effort by this assembly to prohibit marriage equality by way of the state Constitution. Growing up, most of my earliest memories are shared with my brother.  Like most kids, we had our games, the fairytale story books and Disney movies, and imaginary worlds we shared with our friends.  As kids, you pretended your friends were our spouses; you played dress up and imagined what your wedding day would be; and you hoped for that elusive promise of "getting married and living happily ever after." I'm now at the age where a majority of my friends are settling down and staring families: Every week there is a new engagement or wedding post on my Facebook feed! And while I celebrate for my many friends who are blessed to have this opportunity, it deeply pains me to know that my brother [who no more chose to be gay than I chose to be straight], so many of my other gay and lesbian friends, and thousands of loving same-sex couples all across Maryland are not allowed to celebrate their relationship with the joy of a wedding ceremony or the societal dignity of a marriage. Because of the example set by our parents – still happily married 30+ years later – my brother and I both know marriage be a fundamental good for families, community and society broadly. Kids don't play "house" and pretend to be "civilly united" to a domestic partner.  No.  The ideal of marriage is engrained into each one of us – gay or straight – early on.  Marriage is an enduring love, it is selfless commitment and devotion to another person and it knows no gender. Sheri: Not only is it an honor for me to stand here before this esteemed assembly, but I am proud to stand here with my daughter. She has taught me much about what it means to take up the cause of social justice. It is her passion for the Jewish concept of tikkun olam - making the world a better place - that is what has brought me here, and kept me here till 11:00, tonight. As Joanna mentioned, I am also the mother of a 23-year-old gay son. A son I am equally proud of. From the very beginning, we loved and supported our son. Being gay never changed how my husband or I saw him; it is just another characteristic or trait, like his auburn hair, that makes our son who he is. I come here today not as a mother tugging at your heart strings, pleading my emotional case that I want to have the same chance as any other Maryland mother to someday give my son away in marriage at his wedding.  No. I come here today as a matter of simple decency asking you to extend the basic human right of equality in our civil marriage laws. For me, there are no shades of equality; this is about the urgency of equality for all. I want my son, and all sons and daughters of Maryland, to have the same protections, rights, & opportunity to share in a loving relationship as anyone else. The fact that my son is gay should not mean he is treated as any less than his sister. My son should not be denied the prospect of a happy marriage like my own.  Our state should be bold enough and compassionate enough to support this legislation. Joanna: If we truly claim to love our neighbors in the ethos of the many religions [that were] represented here today then it's high time our actions match our words.  As a sister, a friend, a colleague and a neighbor I cannot and will not be satisfied until all the people I love most are treated with the full and equal respect under law they deserve – this is what it means to me to truly act out of love. Maryland would do right by all its citizens – gay and straight – by allowing all loving couples to commit in marriage. Thank you.
Photo courtesy of Joanna Blotner.
Related Posts
Image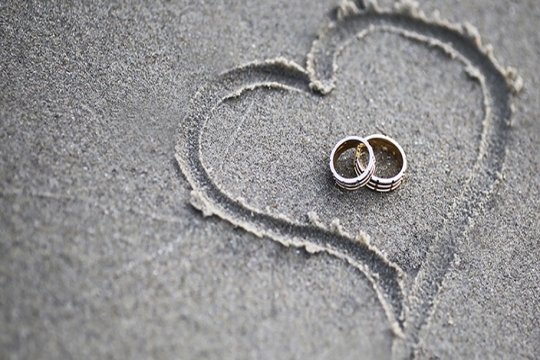 I think this is why people like weddings so much. Each wedding has a bit of an "other-worldly" quality. Watching two people come together, we believe in the possibility of new beginnings.
Image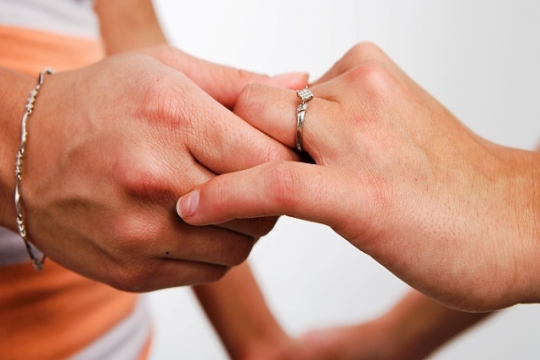 I woke early one morning in June to hear the decisions of the United States Supreme Court on a pair of cases about marriage equality. Joy mixed with disappointment.
Image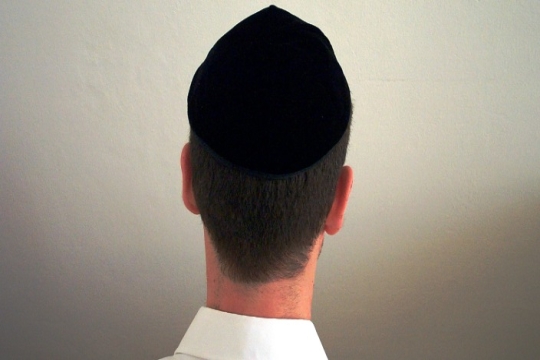 The title of a recent JTA article asks these two questions: Why do Jews intermarry? Who wants to marry a Jew, anyway? The answer to the first question has been studied extensively and, according to the article has much to do with assimilation, age at the time of marriage and, according to some...