Image
There was a picture hanging on a wall near the hub of the convention that caught my eye. George Washington astride a boat, proudly holding a flag in his hands.
But wait!
Not one flag, but two: An American flag and an Israeli flag. The 20-year-old standing near the picture saw my puzzled look, so he rushed in to explain: "An American flag and an Israeli flag side by side. Two countries. Shared values. Unbreakable ties. That's the way things have to be."
That same afternoon, I wandered into a room where 150 young men were meeting with a series of experts focusing on the relationships between American and Israeli Jews – the closing session of what had been a grueling three-day workshop.
The moderator, an elder who was perhaps 25-years-old, asked the participants: "So tell me in one sentence what is your key take-away from our program?"  A series of responses followed, some more coherent than others.
Then an undergraduate stood up and said: "The bottom line is we have their backs and they have ours."  Everyone began to cheer.
Oh that this vision of Jewish life embraced so generously during the International Convention of Alpha Epsilon Pi would be a spot-on description of today's reality.
But as that great prophet Sportin' Life once reminded us in Porgy and Bess: "It ain't necessarily so."
Jewish life in 2015 seems deeply fractured along multiple fault lines, including within Israel's ultra-Orthodox community, as internal challenges mount to the medieval exercise of power by the Chief Rabbinate over who controls conversion. The coalition government has stripped away any pretense that non-Orthodox Jews can ever be given full equality or recognition on its watch – and in return secular and liberal Jews are increasingly protesting  against a government they understand to have no concern for them. Jewish advocates for social justice worldwide were horrified by acts carried out inside Israel that call into question the status of the biblical injunction to care for "the other."  Fractures.
The Israeli ultra-Orthodox establishment acts with disdain toward what Diaspora Jews consider to be their right to establish Jewish identities and practices that enrich and ennoble their lives. Non-Orthodox Diaspora Jews are increasingly outspoken about their unwillingness to embrace such disdain as either appropriate or acceptable. The Government of Israel launches a multi-million dollar initiative to help Diaspora Jews rediscover their Jewish identities. Many of us say: 'Thanks. But no thanks.' 
Fractures and fault lines.
Fractures and fault lines have been dramatically exacerbated as the debate rages over how to react to the proposed nuclear deal between Iran and the P5+1 coalition led by the United States. Vitriol pours forth. Facts are not facts. Assessments are flawed. Fears are disregarded. Dreams are denied. Good faith is scorned. History is forgotten. History is invoked. We have forgotten that era when the School of Shammai and the School of Hillel embraced the notion that, despite dramatic differences, both schools were trying to discover the will of the Living God.
"We have their backs and they have ours."
We no longer find solace in abstract declarations of Jewish unity and in those unbreakable ties among all Jews and our re-born homeland. New truths are starting to emerge. New paradigms are being explored. New realities are being acknowledged. For the sake of the Jewish future, the Jewish State, and the Jewish Diaspora, we liberal Zionists must be active partners in defining what those paradigms and truths and realties will look like.
On the morning after the Congressional response to the Iran deal has been concluded, our North American communities need to create safe places where Jews of strongly differing opinions regarding Jewish identify and where the centers of Jewish life can be found can comfortably and without recourse to the media take time to examine these matters in an effort to understand each other. Those safe places can be settings wherein all can come to comprehend how Zionism itself is multi-vocal, and that perhaps we need to learn how to hear all the voices and not just the loudest ones.
Those safe places must be settings, limited in size, in which attendees from widely divergent professions and perspectives will commit to meeting for at least a year with no purposes other than to become the spark that could ignite broader and deeper conversations. Those safe places must be governed by a b'rit, a covenant, guaranteeing mutual respect and a willingness both to offer and to receive reasoned disagreement.
Those safe places can help us learn that no matter where anybody stands on any of the points of fracture, Goral achat l'chulanu, which Rabbi Joachim Prinz, a gifted orator who spoke out on the social issues of his day from Nazism to civil rights, would translate as "Jews share both destiny and fate."
We need not fear the challenges we confront if we embrace them both as imperatives and as opportunities. That shared fate is in our hands and we dare not be found wanting.
Related Posts
Image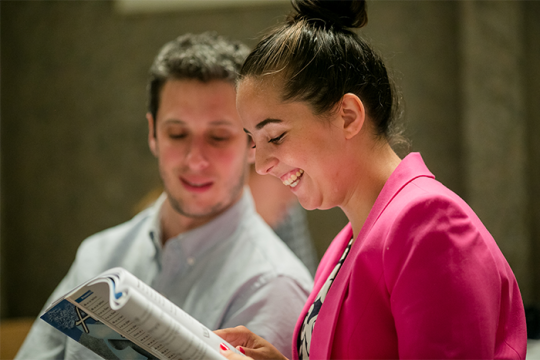 Lifelong learning, however, can be easier said than done. For many, as they enter adulthood, with its competing demands and obligations, setting aside time for learning – and especially for Jewish learning – can be challenging indeed.
Image
At 10, Jeff Erlanger appeared on "Mister Rogers' Neighborhood" in his wheelchair. I recently asked Jeff's parents about how they raised such a competent and loving son.
Image
When I became rabbi of Monmouth Reform Temple in Tinton Falls, NJ, I quickly discovered that some people in our community thought we were a church. Mail was addressed to "Monmouth Reformed Temple," and letters were addressed "Dear Pastor."