(Originally published in Ten Minutes of Torah and Galilee Diary)
Moving from the Midwest to the Mideast involved looking at rainy days in a new way. It took me a number of years to internalize the concept that rainy days are not an inconvenience, but rather a blessing. For a long time I knew how to say the words, but I didn't feel the feeling. But after a while I noticed that awakening to the sound of rain actually feels good; the overcast sky, the drumming of the drops, the smell on the air - all are actually - and counterintuitively - cheering and invigorating. I guess it takes years for one's body to attune to the seasonal rhythms of a place.

We are having a stormy week. The headlines are the weather - yesterday two rain tourists were killed in the Negev. There are different Hebrew terms for two types of streams: "nachal eitan," a "strong stream," refers to streams in which water flows all year around; "nachal achzav," a "disappointing stream," refers to streams that exist only in the rainy season. All of the rivers in the desert are in the latter category, indeed, they may flow for only a few days a year - but after a few stormy days, they gush with overwhelming force, and the rapids and waterfalls that suddenly appear in the dry environment are beautiful and impressive (and often destructive) sights, which every year claim casualties - either macho drivers undaunted by some water on the road, or sightseers who get too close. Here in the Galilee we also have "disappointing streams," like the Hilazon, whose course passes just below Shorashim. For years it flowed constantly - with raw sewage from the area; however, that was solved, and it has gone back to its natural dry state except for a few days after a really heavy rain, like today, when the runoff gushing down the mountains turns it into a real river flowing west into the sea. Meanwhile, it's not only the brave and the foolish who are affected by the rain - roads and train tracks all over the country are flooded out today, and my neighbors and I are watching our ceilings for signs of the usual dampness from the sensitive spots on our flat roofs. But when the sun comes out tomorrow the landscape will be lush and green and ablaze with wildflowers.
As Tu Beshvat approaches, Rabbi Choni comes to mind. A Galilean of the Roman period, Choni's story is a regular fixture in Tu Beshvat observances: it is recounted in the Talmud (Ta'anit 23) that he saw a man planting a carob tree, and questioned why one would plant a tree whose fruit he would not live to enjoy; the man answered: as my ancestors planted for me, so I plant for my children. Choni fell asleep for 70 years, and indeed, met the man's grandson enjoying the fruit... But Choni has another connection to this season: he is generally called Choni Hame'agel, Choni "the circle-drawer," because of the story (on the same page of the Talmud) that as a widely respected rabbi, he was asked to intercede in a drought and pray for rain. Unanswered, he drew a circle on the ground and said, "God, I will not leave this circle until You send rain." It started to sprinkle. "Not just sprinkles!" he said. It began to storm and flood. "No," he said, "I mean rains of blessing!" And so it happened. It turns out that archaeologists have found in villages in the north stone rollers used for tamping the clay on flat roofs in Talmudic times. Such a roller is called a "ma'agela" (not surprisingly, the words for circle and roller come from the same root in Hebrew), which suggests that Choni may have gotten his original nickname because he was a roofer (one who wields a ma'agela), and thus had a vested interest in the rainfall.

We've been praying for rains of blessing around here for centuries. The more things change, the more they stay the same.
Related Posts
Image
Nearly two months ago, our Just Zionism group landed in Israel as the election to cement a far-right government in the Knesset was taking effect. When we landed, I had a surface-level understanding of Israeli politics but was about to get a crash course on the election's implications for the activists who were heartbroken by the results.
Image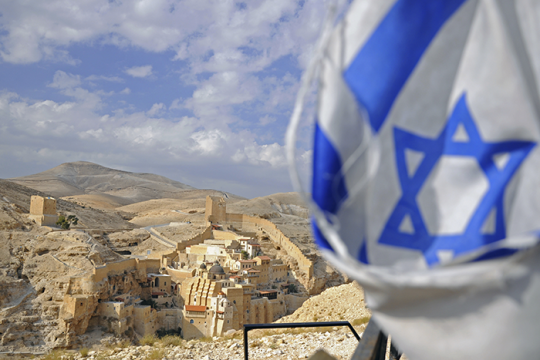 On November 2, 2022, I landed at Ben Gurion Airport for the first time. Filled with many emotions, this being my first trip to Israel, I decided to keep an open mind as I joined twelve young adult leaders on a journey to learn more about Israel, Zionism, and why Jews in the Diaspora, especially in the United States, should be engaged.
Image
There are a few days in my life that stand out. There are the big milestones: my first days of school, going to camp for the first time, and my first homerun. Another one of those dates that stands out is December 28th, 2015. That was the day that I made aliyah and became an Israeli citizen.