Image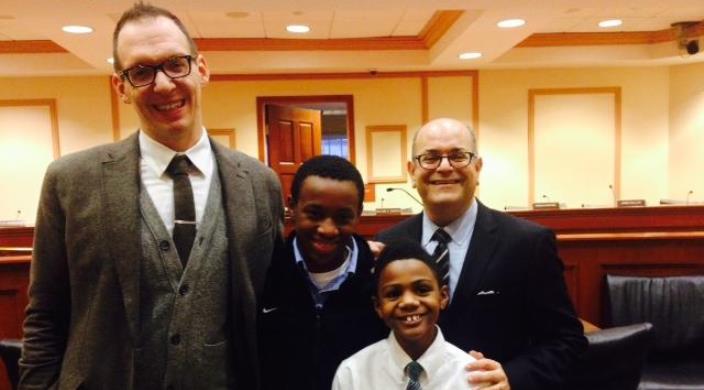 Gay and lesbian couples love to get married. Again and again. Rather than marrying other people each time, we tend to marry the same people again and again. As some same-sex couples have moved from one location to another, they have registered as domestic partners in each of the cities that offered this. They have traveled to states that offered civil unions. They have journeyed to Canada to get married. And as various states in the United States have adopted marriage equality, gay and lesbian couples have trekked around the country in order to get married in these states.
Up until recently, while most of these marriages had plenty of symbolic value, they offered little real value. They conferred a few rights, but none of the major rights and benefits that accompany marriage. And those few rights were limited. A marriage in Canada had no standing in the United States. While a couple could be married in Massachusetts, they were not recognized in Pennsylvania.
My partner, Colin, and I are typical of such couples. In 1998, as students living in New York City, we registered as domestic partners when that became available. Along with another couple, we went to City Hall, filled out the paperwork, received our certificates, and went to lunch at a nearby restaurant.
A year later, we had our wedding on January 23, 1999. Officiated by a rabbi and a cantor, and taking place in a Reform temple, we considered ourselves to be married and this became our anniversary. Though it had no legal standing, it was the Jewish wedding we wanted.
When we lived in Evanston, IL, domestic partnerships had not yet been instituted. However, we like to say that we have been domesticated and civilized by the state of New Jersey. Shortly after moving to New Jersey, the state adopted domestic partnerships in 2004, and Colin and I registered as such. It offered a few benefits, including hospital visitations and the right to make legal decisions if one partner was incapacitated. Fortunately, we never had to avail ourselves of these benefits. Sadly, many hospitals in New Jersey did not follow the new law and a number of couples were not permitted to see each other when one was in the hospital.
Beginning in 2007, New Jersey adopted civil unions for same-sex couples. By then, as the parents of two children, we were eager to obtain any additional legal rights available to us. This conferred rights to jointly own property, rights relating to inheritance, and rights to insurance, health and pension benefits-all important protections. We asked a good friend, who happens to be a rabbi, to perform a brief Havdalah ceremony in our home, incorporating the signing of the civil union document.
Since New Jersey did not recognize same-sex marriage, we did not travel to one of the states that did in order to get married. It would not be recognized in our home state, so it seemed like yet another symbolic gesture.
Since we were not married, Colin and I referred to each other as "partners." Friends sometimes asked why we did not refer to each other as "husband." I replied that I did not want people to think we had the same rights and benefits as married couples. When and if we could get married and have it recognized at both state and federal levels, we would indeed get married and refer to each other as husband.
To be honest, I was not sure if that would happen in my lifetime. While major advances have been made in LGBTQ equality, and though in the past few years the pace of change has accelerated, federal recognition of same-sex marriage still seemed far off in the future. That changed in June, when the United States Supreme Court struck down key parts of the Defense of Marriage Act.
Though that did not immediately change things in New Jersey, last October, Governor Chris Christie of New Jersey dropped the state's appeal in the New Jersey Supreme Court. The Court had by unanimous decision ruled that same-sex couples were not being treated equally under the law, upholding a lower court ruling that same-sex couples could get married in New Jersey.
So, last week on January 23, 2014, on the fifteenth anniversary of our wedding, Colin and I were married by the mayor of Metuchen in our Borough Hall. I like to say I was putting our property tax dollars to work. While any number of rabbinic and cantorial colleagues would have been more than happy to do the honors, for our civil marriage we decided to take full advantage of our new rights.
The added bonus was that our two sons could join us for this wedding, though it perplexed our older son, who could not fully understand why his dads were not able to legally marry when they had their Jewish wedding 15 years ago. Our younger son had three questions: could he bring video games, would there be a lot of people, and would there be cake. The answers: no, no, and yes. And by the way, I now refer to Colin as "my husband."
Rabbi Victor S. Appell is Congregational Marketing Director and part of the Marketing and Communications team at the Union for Reform Judaism.
Related Posts
Image
At 10, Jeff Erlanger appeared on "Mister Rogers' Neighborhood" in his wheelchair. I recently asked Jeff's parents about how they raised such a competent and loving son.
Image
When I became rabbi of Monmouth Reform Temple in Tinton Falls, NJ, I quickly discovered that some people in our community thought we were a church. Mail was addressed to "Monmouth Reformed Temple," and letters were addressed "Dear Pastor."
Image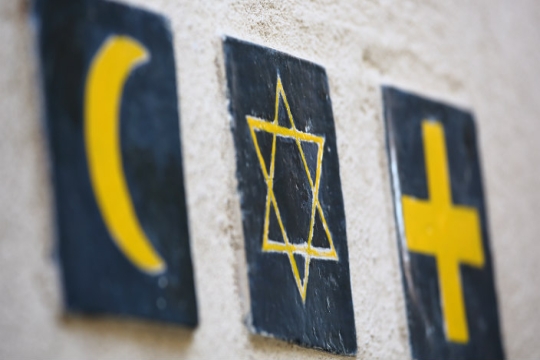 Read about Imam Abdullah Antepli, a Turkish-born cleric whose odyssey took him from anti-Semite to Jewish-Muslim bridge builder.