Image
Truth be told: Even the lightest of matzah balls and a favorite haggadah don't guarantee a meaningful and warm seder experience for all. Some of the guests (and sometimes even we who are hosting) may be feeling ill at ease or insecure at the seder table - an internal slavery. What will it take to give our guests, and ourselves, the joy of freedom-knowing that all of us are really welcome at the table and in the family?
Taking the time to figure out what will make everyone at the seder feel truly welcomed and accepted can make all the difference at Passover. The following six situations can serve up great lessons along with the matzah ball soup….
1. You've hosted the seder for the past 12 years and are determined to make this year no different - but you were laid off from your job last month. How can you manage the expense of feeding 25 people, keeping everything the same when things have changed?
The rituals, the sense of family and friendship, and the messages of the seder can become even more appreciated when we also acknowledge that some things really do change, including our personal and communal situations. Given current economic challenges, this year might well be the year for each of us, whether we're a seder host/hostess or guest, to offer to contribute food-and, perhaps, assistance in preparation and clean-up, too. This may be a good year to acknowledge that the sense of freedom and conviviality at past seders happens because of the exhausting hard work and sacrifice of a few-and make this year one in which no one feels the slightest bit enslaved by seder preparations. A frank discussion of changed economic circumstances can create opportunities for families and friends to engage in this kind of candor and caring.
2. Everyone is silent this year while eating the matzah ball soup, painfully aware of Bubbe's (grandma's) absence. Every year in the past, compliments flew back and forth across the table about her delicious soup.
As hard as we try to make the soup just as Bubbe did and to go on with the festivities as best we can, there is no way to avoid the sad and complicated feelings at holiday times after the death of a loved one. Everyone mourns and misses loved ones differently; no one way of coping with the loss is right for all.
Saying what is really on everyone's mind helps. Give yourself the freedom to voice aloud how you miss your loved one and to share memories and stories. Some guests may want to reminisce, and others to avoid feeling painful memories in the presence of "company." Here it can be helpful to recognize that the seder itself is a tribute to the centrality of memory in Jewish tradition; thus, sharing the stories from our individual pasts is in keeping with the theme of the day. Moreover, the structure of the seder reminds us to commemorate the past not in isolation but in the company and comfort of close family and friends, and assures us that we can move from sorrow to joy.
Keep in mind, too, that children and teens often show their grief differently than adults. Rambunctious behavior, sullenness, or silliness may be mistaken for indifference, and here extra patience will go a long way. It is good to have "escape routes," opportunities for those who are upset to get away from the seder table for a little while.
At the same time, make use of the seder structure to honor old traditions and memories while introducing new readings, new foods, and even some new traditions-conveying that life will continue and that the good in the past will not be lost as good-things-not-yet-tried can become the traditions of the future.
3. Your beautiful little niece who attends a nursery school for children with autism is covering her ears and rocking back and forth on her chair as the second youngest child tries to recite the Four Questions.
Difficult as it may seem, you can help make a child with communication, cognitive, or attentional difficulties more comfortable at the seder.
Begin by speaking with the child's parents in advance to solicit suggestions regarding special foods, seating, and/or activities likely to engage them in the seder ritual. At the same time, parents can prepare the child to anticipate what will occur, using CDs of Passover music, books about the holiday, and perhaps photographs of the people who will be celebrating together. When children understand unfamiliar behaviors and ways of communicating, they're less likely to be fearful or teased by others. Most importantly, conveying to the child that each person at the seder is welcome and needed contributes to the sense that this is a sacred occasion and they is a sacred part of it.
If space allows, also consider setting up a room in which quiet alternative activities to the seder are offered under adult supervision-a place where children of all ages and needs can retreat for a respite.
4. One of your cousins keeps pouring wine for the nephew who's just returned from rehab.
Almost all families and friendship circles include members who have struggled with addictions-and these same families often include members who seem oblivious to the person in recovery who should not be encouraged to drink.
If your seder guest is comfortable discussing their recovery with you, ask in advance how the person would like sobriety to be handled at the seder table. One option might be to offer guests as many bottles of grape juice as you do wine; another might be holding an alcohol-free seder in the spirit of affirming this person's journey from the wilderness of addiction to the freedom of sobriety. Here it's important to inform guests in advance of the no-wine rule so they will not expect wine, joke about the lack of wine, or bring wine as a gift. However, when you do so, keep in mind Judaism's teaching, "A person who publicly shames his neighbor is like someone who has shed blood…when someone is shamed the color leaves his face and they becomes pale" (Bablyonian Talmud, Tractate Bava Mezia). To avoid embarrassing the person, do not mention them by name - unless you ahve their permission to do so. The idea is to make the person feel comfortable at the seder-which hopefully will set the stage for a closer relationship to you at this challenging time in their life.
5. In an attempt to include everyone's voice in the seder, you ask people to take turns reading around the table. When it's your daughter's boyfriend's turn, he panics and stumbles over the words… awkward silences… until finally your daughter takes over the reading.
Limited vision, dyslexia, stuttering, aphasia following strokes, learning disabilities, lack of fluency in English-all can cause guests who are asked to read from the haggadah to feel incompetent and/or deeply embarrassed. It's wise therefore to inquire before the ritual begins if guests would like to read, and assign pages accordingly.
Also, try to offer guests ways to participate that don't involve reading. Singing, distributing the matzah with charoses, and clearing the dishes can all be valued contributions.
And, as thrilling as it is to hear a young child join in the reading for the first time, wait until a private moment to praise their fluent reading when other children are struggling with reading.
6. Your sister-in-law unexpectedly brings her father to your house - in his wheelchair. It takes you half an hour to improvise a ramp so he can get inside, and then there's little space for the wheelchair to move from room to room.
We say, "Let all who are hungry come and eat," maintaining the Jewish tradition of graciously welcoming unexpected guests at the seder table…but in a situation like this, it's difficult to be fully welcoming. Even a hastily created ramp may cause a person using a wheelchair to feel as if he/she is inconveniencing others and/or becoming an unwanted focus of attention.
In this instance, find out in advance if any of the guests have particular needs, and prepare accordingly. A ramp can be put in place before people arrive. And although it isn't easy with a houseful of people, a few pathways can be cleared for a person using a wheelchair to move freely and have ample room at the seder table.
Other adjustments can be made for guests with different disabilities. Seat a hearing impaired individual near the seder leader. If a visually impaired individual is coming, make a large-print copy of the haggadah and guide them to the seat with the best lighting. Just don't forget what every person wants: to be recognized not for their ability or disability, but for who they are as a person.
Taking care to make each guest feel at ease and valued ensures that our Pesach celebrations are meaningful and sweet for all.
Related Posts
Image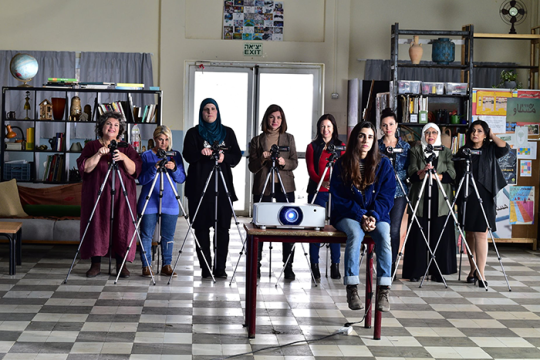 Both Arab and Jewish, young and old, the women of "Cinema Sabaya" learn about much more than filmmaking during the class; they discover that their differences are far outweighed by their bonds as women making their way in a patriarchal world.
Image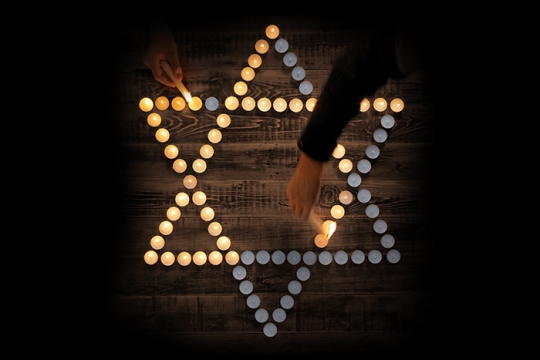 What does it mean to remember? It is to live in more than one world, to prevent the past from fading, and to call upon the future to illuminate it.
Image
A camel carrying a load. A golden pair of balanced scales. An open heart and an open mind. These are three of more than two dozen artists' visions of justice and righteousness featured in the invitational exhibition, "Tzedek Boxes: Justice Shall You Pursue."