Image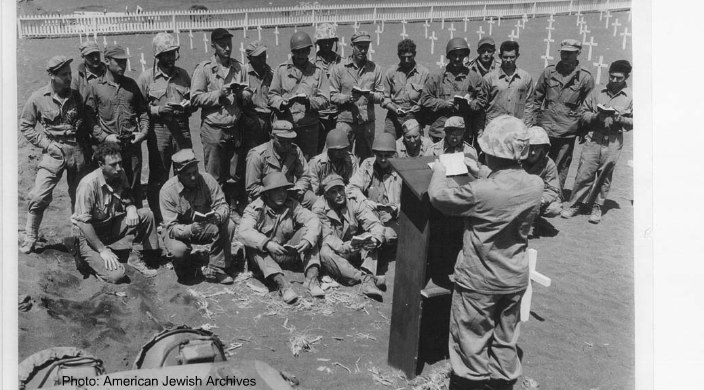 What could the actor John "Duke" Wayne, the very exemplar of cowboy culture and advocate for conservative politics, and Rabbi Roland B. Gittelsohn, the very exemplar of "prophetic Judaism," renowned for his decades of service on behalf of progressive causes, possibly have in common?
In two words: Iwo Jima.
"Iwo" as some call it, is now an essentially uninhabited Japanese volcanic island about eight square miles in size. In February and March of 1945, it was also ground zero for one of the most devastating battles of World War II, resulting in the deaths of close to 27,000 American and Japanese combatants, with many thousands more injured. Wartime correspondent Robert Sherrod referred to the battle as a "nightmare in hell," a moment immortalized in the iconic photograph, the simply titled "Raising of the Flag on Iwo Jima," taken atop Mount Suribachi on February 23, 1945.
Rabbi Gittelsohn, ordained at the Hebrew Union College in 1936, first served Central Synagogue of Nassau County in Rockville Center, NY, before becoming senior, and later rabbi emeritus, at Temple Israel in Boston, MA. Among the host of responsibilities and many honors he accrued throughout his life, Gittelsohn also served as president of the Central Conference of American Rabbis and the Association of Reform Zionists of America. Yet, somehow, between the time of his ordination and his retirement in 1977, he also managed to do a stint as a chaplain for the United States Marine Corps, and later was awarded three combat ribbons for his service with the Fifth Marine Division on Iwo Jima. Beyond these distinctions, Gittelsohn's chaplaincy has been particularly celebrated because of a eulogy he delivered at the dedication of the Fifth Division's cemetery.
Titled "The Purest Democracy," it is now treasured as one of the Marine Corps' most important historical texts. "Here lie officers and men," Gittelsohn affirmed, "Negroes and whites, rich men and poor...together. Here are Protestants, Catholics, and Jews...together. Here no man prefers another because of his faith or despises him because of his color. Here there are no quotas of how many from each group are admitted or allowed. Among these men there is no discrimination. No prejudice. No hatred. Theirs is the highest and purest democracy."
And the backstory to this moment is just as noteworthy.
The presiding divisional chaplain's decision to assign a rabbi the task of memorializing the fallen initially provoked and exposed long-held bigotries among some of Chaplain Gittelsohn's non-Jewish colleagues. Some protested against assigning such an honor to a Jewish chaplain based on the erroneous slur that few, if any, Jews died in the battle. Still other chaplains declined to participate in an interfaith service for the very reason that Gittelsohn was Jewish. The division chaplain remonstrated that the right of the "Jewish chaplain to preach such a sermon" was "one of the things for which we're fighting the war…" But the response to such intolerance was just as powerful as Gittelsohn's words. On their own initiative, three Christian chaplains copied the eulogy that in turn was rapidly disseminated throughout the U.S. military
For good reason, President Harry S. Truman later appointed Gittelsohn to a civil rights commission, and before his death in 1995, the rabbi delivered the benediction at the Iwo Jima Memorial in Arlington, Virginia, at a ceremony marking the 50th anniversary of the landing.
So what does the "Duke" have to do with all of that?
Among Wayne's most popular films was 1949's Sands of Iwo Jima for which he received an Academy Award nomination for best leading actor in the role of Marine Sergeant John Stryker. Exemplifying the "platoon" genre of World War II films revolving around a culturally diverse cluster of Americans thrown together through wartime exigencies, Sands was also notable for including an openly Jewish character, Private Sid Stein, who is shown reciting the Sh'ma in Hebrew before dying in battle.
Although Wayne played only a fictional character fighting in the battle of Iwo Jima, Gittelsohn was actually there. In so many ways, the two men could not have been more different, culturally or philosophically. Even so, the message in Rabbi Gittelsohn's eulogy echoes clearly in the fictional Sergeant Stryker's charge to the multi-cultural group of men under his command to work together, however corny the words may sound today: "You gotta learn right and you gotta learn fast. And any man that doesn't want to cooperate, I'll make him wish he had never been born."
Today, decades after the battle of Iwo Jima, we still live in a society that seesaws between affirmatively embracing interfaith partnerships and racial justice and stepping backwards to accept some unacceptable notions from an earlier time. As a result, we still need to "learn right" and to "learn fast" lest we be consumed by internecine conflict. In recounting these long-ago events, may we derive hope that bigotry can be defeated and intolerance transcended.
Photo: Rabbi Roland B. Gittelsohn conducting service. Jewish Memorial Service, Iwo Jima, 21 March 1945. Photo courtesy of The Jacob Rader Marcus Center of the American Jewish Archives, Cincinnati, Ohio.
Related Posts
Image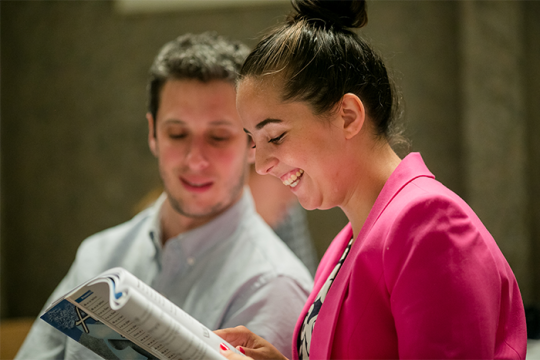 Lifelong learning, however, can be easier said than done. For many, as they enter adulthood, with its competing demands and obligations, setting aside time for learning – and especially for Jewish learning – can be challenging indeed.
Image
At 10, Jeff Erlanger appeared on "Mister Rogers' Neighborhood" in his wheelchair. I recently asked Jeff's parents about how they raised such a competent and loving son.
Image
When I became rabbi of Monmouth Reform Temple in Tinton Falls, NJ, I quickly discovered that some people in our community thought we were a church. Mail was addressed to "Monmouth Reformed Temple," and letters were addressed "Dear Pastor."