Image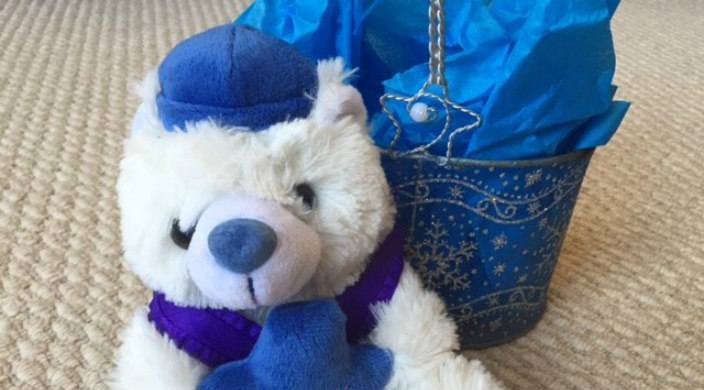 My son has a very ordinary-for-his-age obsession with stuffed animals. Little (and some not-so-little) animals have been placed lovingly in every corner of his room. When we leave the house, we bring as many as we can carry. That's why my mother and I were shocked on Hanukkah, when my little boy took a stuffed bear out of the Hanukkah gift bag and unwrapped him from the Hanukkah blue tissue paper in which he'd been carefully wrapped. My son gave a quick glance at the bear, dressed in a kippah and tallit, and simply said "No," shoving it back in the bag.
After the shock wore off, my mom and I couldn't stop laughing at my son's reaction – or lack thereof – to this Jewishly themed stuffed animal. The reality, though, was that it was difficult for me to see that poor bear pushed back into its crumpled blue Hanukkah paper.
My husband is Christian, and we have celebrated both Christmas and Hanukkah with my stepdaughter for years, but since my stepdaughter is fully Christian, there was never much pressure to make the two holidays equal. Hanukkah involved my lighting candles and our hosting a small family party with inexpensive gifts; we saved the big ones for Christmas. 
My son is almost 2 now, though, so this year, we broke out the good menorah and lit the candles each night – but that was about it.
Christmas is easy for my son to understand. We wave hello to the Santas at the supermarket and malls, and he's seen plenty of animated Christmas movies, from Mickey Mouse to Curious George to Caillou (which, in all fairness, does include a Jewish character!) But the reality is until he saw that bear on Hanukkah, he had probably never seen a kippah, let alone a tallit.
I looked around the house. Didn't we have a "My First Menorah" somewhere, or a story about Purim?  We still had a Rosh HaShanah card from my cousin on the fridge, but was the unopened box of matzah ball soup mix really the best I could do?
It was then that I realized: Perhaps I was failing as a Jewish mom. Judaism was so unfamiliar to my son that he was wary of my Hanukkah gift. I felt as though, at such a young age, he was choosing to shun my religion, to identify with Christianity. Of course, if he chooses to identify with either religion later in life, that decision will be his own – but for now, I need to at least give Judaism a fighting chance. I need to at least give it a place in his life.
When I was just a little older than my son is now, I attended preschool at my local synagogue. After that, every Monday, Wednesday, and Sunday was spent at the same synagogue, with kosher sprinklings of Saturdays with the regular congregation. After my bat mitzvah, I attended services on the High Holidays until my mid-twenties. I identified as Jewish, but as time passed, being Jewish was not as big a part of my life as before.
My husband and I married in a non-religious ceremony and agreed to raise our future children celebrating both of our religious holidays but not really practicing either religion. Somewhere along the way, though, celebrating both religions turned into celebrating the Christian religions and merely acknowledging the Jewish ones.
In true Jewish fashion, I let the Hanukah bear debacle fill me with guilt, wondering "Where have I gone wrong?" I had flashbacks of hiding out in the ladies room with friends during synagogue services and of the b'nai mitzvah circuit that was all about the partying. And I remembered that strange conversation when my mom called me out of the blue and made me promise that if, God forbid, anything happened to her, I would continue to host Passover seders.          
Perhaps ironically, my son is constantly surrounded by other cultures because there are often au pairs from all over the world visiting our home (part of my job includes mentoring them). And yet, this holiday season made me realize I have fallen behind in teaching my child about my own religion. His reaction to the Hanukkah bear signified my negligence of teaching him this part of me – and this part of him.
Judaism is more difficult to come by than Christianty: Our supermarket doesn't cater to multiple religions, and popular TV programming typically only recognizes Christian holidays. But that just means that I need to make more of an effort. My son comes from two traditions, and I want him to know both.
This year, I've resolved to make more of an effort to bring Judaism into our home. I will buy Jewish books and take part in Jewish traditions and even build a sukkah in the backyard.  I will have no regrets and no guilt next Hanukah – and that bear in the kippah and tallit will sit alongside the rest of the animals in his room.
Janine Snyder has been in the childcare industry for 25 years. She worked as a full-time nanny for 12 years until she had her own baby, and now her job is to work and support parents and with nannies from all over the world, as Au Pair Sis with Go Au Pair.
Related Posts
Image
"Good Night Oppy," a documentary streaming on Amazon Prime about the two robotic rovers that NASA sent to Mars in 2003, grabbed me by the heart. What I did not expect to experience from this movie was a potent lesson in parenting from NASA engineers.
Image
In the beginning God created the heavens and the earth. The earth was unformed and void, and darkness was upon the face of the deep; and the spirit of God hovered over the face of the waters. God said: "Let there be light." And there was light.
Image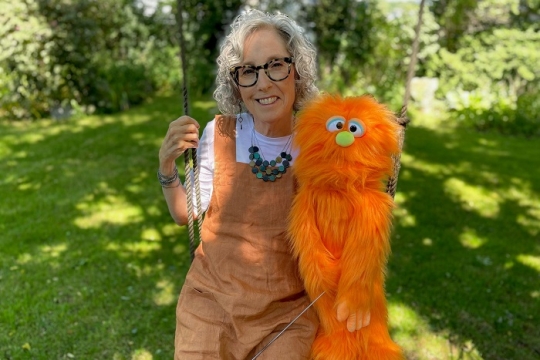 Before the summer slips away, join award-winning children's musician and composer Ellen Allard for Summer Family Jam, a 5-week series of joyful, interactive, and engaging 30-minute virtual family music classes for ages 0 - 6.