Image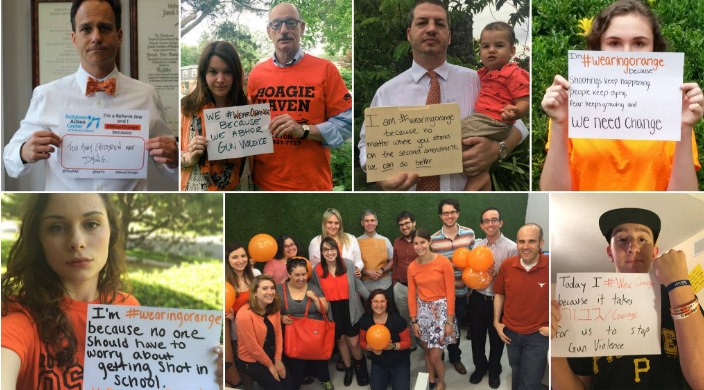 Today is National Gun Violence Awareness Day, when people across the U.S., from politicians and celebrities to sports teams and members of the Reform Jewish community, take action to prevent gun violence. Now in its third year, this campaign was launched after 15-year-old Hadiya Pendleton was shot and killed in Chicago in 2013. In her honor and memory, her friends wore orange – the color hunters wear to protect themselves from gunshots – to raise awareness about gun violence.
So how did NFTY: The Reform Jewish Youth Movement get involved in this initiative?
Social action is at the core of how we – teens who have spent our high school years as active members in NFTY – express our Judaism. Seeking to be catalysts for good in our local communities, we work to make real-world, meaningful change. Through these efforts, we constantly discover connections between our work and our rich heritage, including our people's extensive texts and the millenniums-long history of the Jewish people.
One way Reform teens facilitate such change is through NFTY campaigns, which bring together Jewish teens from across North America to study core tenets of Judaism as a basis for crafting clear calls to action that empower our members to act, ultimately bringing positive change to our world. For example, this past winter, we launched NFTY's Racial Justice Campaign, which demands equality and justice for all people – and outlines specific ways we can fight racial injustice in our world.
In developing NFTY's gun violence prevention campaign, however, NFTY leaders recognized that an effort focused on complete prevention of gun violence was far beyond the reach of teens and, therefore, the call to action would need a different approach. In fact, finding a way to convey NFTY teens' passion around gun violence awareness in a way that would have meaning and impact initially was difficult.
However, a partnership between NFTY and Do Not Stand Idly By, an organization devoted to prompting gun manufacturers to make safety and responsible sales high priorities, gave NFTY teens a focus to rally around. It enables us as individuals to reach out to public officials to share our views as gun violence prevention advocates. At the same time, it connects us with our NFTY peers locally and throughout the country: Did you meet with your mayor yet? How'd the meeting with the local city councilman go? Through these efforts, not only are we furthering important advocacy work in a way that will have positive impact in our world, we also are connecting with incredible, like-minded Jewish teens.
This campaign has reinforced NFTY teens' passion for social change by enabling us to connect us with people whose voices we are proud to elevate in our own important work around gun violence prevention, while also linking us to peers throughout the NFTY network. This model of connectivity has driven thousands of Reform Jewish teens to wear orange today as part of our effort – on National Gun Violence Awareness Day and every day – to send a loud, clear message of hope that together we can end gun violence.
For more information about gun violence awareness and prevention, visit the Religious Action Center of Reform Judaism.
Related Posts
Image
These are Torah portion haikus.
Image
These Haikus focus on weekly Torah portions.
Image
These Haikus focus on weekly Torah portions.