Image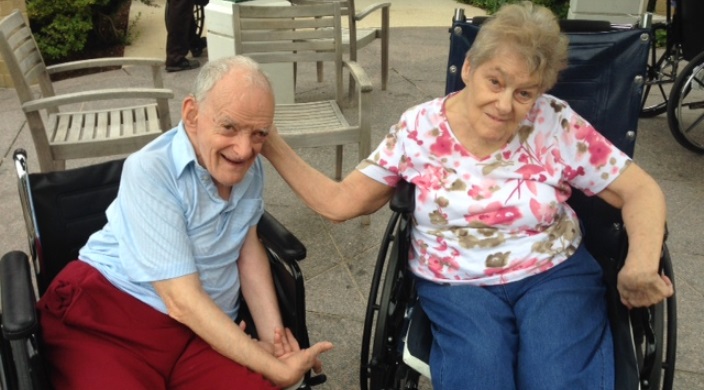 My recollections of childhood High Holidays in Brooklyn are suffused with images of my parents' cerebral palsy disability. Although I attended Jewish day school, we were not regular Shabbat shul-goers. My parents were physically exhausted from the work week and could not climb the long flight of stairs at our synagogue without assistance. On Rosh HaShanah, however, my father and I did attend services, and on Yom Kippur, my mother joined us.
We belonged to a small, nondescript congregation of mostly lower and middle-income families and senior citizens. My parents were an institution in our neighborhood, having lived there for decades; everyone knew and accepted them, and there was always someone to help them with the stairs before and after services. As the chazzan droned on, people talked quietly among themselves, periodically hushed by the rabbi and chiming in to pray.
Spirituality comes in strange packages, in odd moments and places. What many might imagine to have been a dreary religious obligation was, for me, a highly emotional, touching experience.
My father has been unable to use his hands since birth due to cerebral palsy. As soon as I was old enough, I began holding his machzor (holiday prayer book) for him when we were at shul on the High Holidays. I was short, so I had to concentrate on holding the prayer book high enough that my father could see the words when we stood. I prayed faster than my father did, so I waited at the end of each page until he murmured "turn." I remember the parts of the service that moved him, particularly the sentence from the Yom Kippur liturgy, "Is Ephraim not my beloved son?" which always choked him up. I recall reading the Yom Kippur afternoon Torah and Haftarah portions with him: Jonah and the whale, sin, faith and redemption. And I can remember the exact page number in the siddur on which the Ne'ilah service ended, when we all rushed the exits and headed home to eat: 1017.
I didn't spend much time hanging out with the other kids in the shul, but I didn't mind; I knew time I spent outside the sanctuary was time my father was without a machzor.
Those long hours in shul next to my father were quiet, peaceful shared moments in our otherwise challenging family life. I loved it all – the familiar repetition, the deep emotions the liturgy evoked in my father. How wonderful that our calendar compels us to remember that indeed, we are like material in the hands of our Creator, "k'chomer b'yad ha'yotzer." My father quietly sobbed during this prayer. Only now, as an adult, do I realize the power of a profoundly disabled man uttering these words with his entire heart and soul, an existential proclamation that we are all humble before the vagaries of life's Ultimate Power, however we perceive it.
Even as a small child, I knew that in holding my father's machzor, I was performing a mitzvah (commandment or good deed). To help another Jew access prayer, to allow him to speak to God in the way his tradition tells him to, was special.
It has been years since my father and I have spent the High Holidays together. I married, moved to Maryland, and had children. It became too difficult to travel for the holidays with my boys, and eventually, my parents could no longer climb the steps to their shul, even with assistance.
This summer, against their will, my parents left their beloved neighborhood. After a long struggle with Medicaid, I was told that New York State would no longer provide aid for them in their own residence – so they left their apartment of nearly 40 years and became residents of the Hebrew Home of Greater Washington.
In giving up their home, their independence, and everything that was dear to them, my parents suffered an incalculable loss. However, the one thing they regained was their ability to be part of a Jewish community. My father quickly became a regular at Shabbat services and weekly Torah study sessions – and I look forward to reclaiming my place as the holder of his machzor, a powerful mitzvah I will share with my sons.
We are blessed in our larger community to have many "machzor holders": individuals who work tirelessly to make Jewish houses of worship, schools, and other institutions accessible and open to people with disabilities. Too often, the work is discouraging and frustrating – our community has such a long way to go in treating disabled Jews as equal, visible, proud members of our people.
To the people who do this work, I say: Every success you achieve helps one more adult to pray, one more child to learn Jewish tradition, and one more congregation to learn how to treat disabled people with respect and dignity. You are engaged in holy work, as surely as if you were holding a machzor for each and every disabled person in our midst.
Guila Franklin Siegel, an attorney by training, worked for more than a decade in the areas of Jewish social change and Jewish philanthropy. She lives in the Washington D.C. area.
Related Posts
Image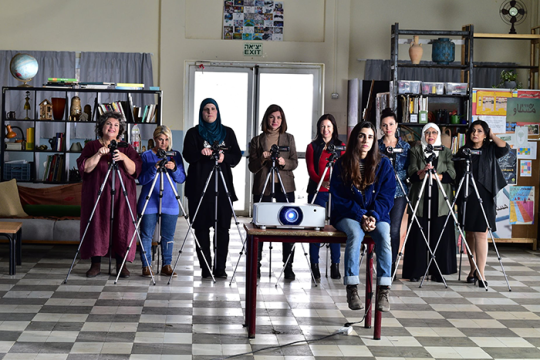 Both Arab and Jewish, young and old, the women of "Cinema Sabaya" learn about much more than filmmaking during the class; they discover that their differences are far outweighed by their bonds as women making their way in a patriarchal world.
Image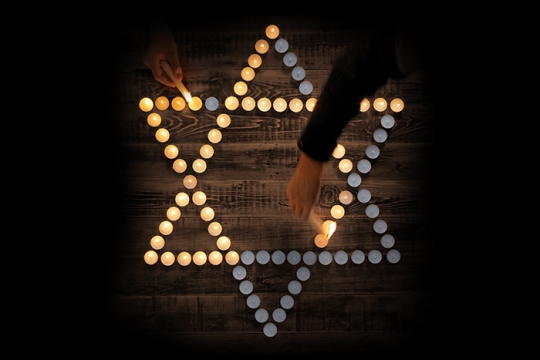 What does it mean to remember? It is to live in more than one world, to prevent the past from fading, and to call upon the future to illuminate it.
Image
A camel carrying a load. A golden pair of balanced scales. An open heart and an open mind. These are three of more than two dozen artists' visions of justice and righteousness featured in the invitational exhibition, "Tzedek Boxes: Justice Shall You Pursue."