Image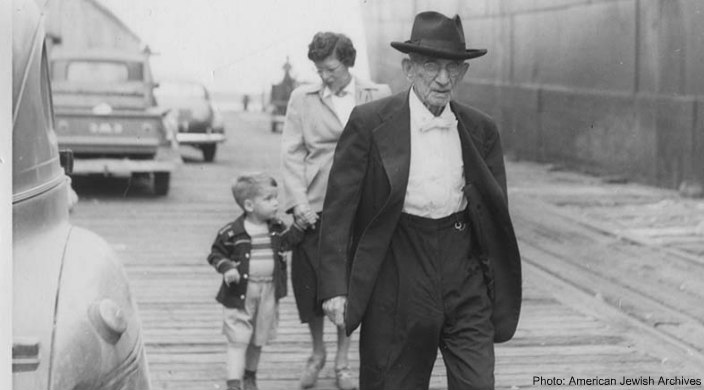 In Isaac's Storm: A Man, a Time, and the Deadliest Hurricane in History, author Erik Larson describes the end of Shabbat services at Congregation B'nai Israel in Galveston, TX on September 8, 1900:
Rabbi Henry Cohen said his last goodbyes to the members of his congregation and headed home, on foot…. Most days he rode his bicycle – a new "Cleveland" model – but never on the Sabbath. When he turned the corner onto Broadway, he stopped, startled by what he saw, half expecting to hear the sound of a distant cannon.
Although young Rabbi Cohen usually walked home for lunch on Saturday afternoons following services. on this day, there was an unusually dark and ominous-looking sky overhead with brilliant streaks of lightning that illuminated the horizon. And as the salt water from the Gulf of Mexico spilled into the streets of Galveston and onto the sidewalk from the nearby beach, it soaked the soles of the rabbi's shoes.
Cohen and his family had no way of knowing they would bear witness to – and survive – a cataclysmic Category 4 hurricane, that, with 145-mile winds and 15-foot tidal surge, is still referred to as the deadliest natural disaster in United States history. The unexpected and unprecedented storm that forever changed the fate and history of the close-knit island community, would take the lives of an estimated 6,000 Texas coastal residents, demolish two-thirds of Galveston's buildings, and decimate the city and its infrastructure for many years thereafter.
Congregation B'nai Israel, the synagogue that hired Rabbi Cohen, had been serving the needs of Galveston's Jewish community, primarily of German and Polish origin, for 32 years by the time the "Great Storm" slammed into the Island. Established in 1868, it wasn't until 1870 that the synagogue became the first officially chartered Reform congregation in the state, meeting the needs of the Island's estimated 125 Jewish citizens. Funding for construction of a synagogue building and creation of a Hebrew Benevolent Society and a cemetery in 1869 came from a $5,000 endowment from the estate of Baltimore transplants Joseph and Rosanna Osterman. Considered Galveston's first permanent Jewish family, the Ostermans had owned a general store that had grown into a thriving import-export business.
When Henry Cohen accepted the position of Galveston's Jewish spiritual leader in 1888, little did he know that that he would remain at Congregation B'nai Israel for the next 64 years and become a nationally recognized advocate for civil rights, prison reform, immigration, and public policy. On September 29, 1949, Henry Cohen announced his retirement; however, he would serve as rabbi emeritus for only the next two years. Rabbi Cohen died in Houston, in June 1952, at age 89, and was buried in Galveston, in the Hebrew Benevolent Society Cemetery on Broadway Avenue; the cemetery that was created from the endowment provided by the Osterman family in 1869.
Inscribed on the wall behind the bimah of Congregation B'nai Israel are the words of Rabbi Cohen's favorite passage from the Hebrew Bible's Book of Micah: "Do justly, love mercy and walk humbly with God." According to Jimmy Kessler, rabbi emeritus of the congregation and a renowned Texas historian, "Rabbi Cohen led his congregation and lived by these words his entire life."
In front of the Galveston County Courthouse there is a plaque erected by the State of Texas Historical Commission that reads:
Rabbi Henry Cohen (1863-1952), called the "First Citizen of Texas" by U.S. President Woodrow Wilson, was an internationally known humanitarian who was born in London, England. He came to Galveston in 1888 as spiritual leader of Congregation B'nai Israel and served for 64 years until his death.
When Rabbi Cohen died, the Commissioners Court of Galveston County referred to him as one of the Country's greatest humanitarians and spiritual leaders.
On Saturday, July 28, 2018, Congregation B'nai Israel will celebrate its sesquicentennial (150th) anniversary with a concert by rap and reggae artist Matisyahu at Galveston's Grand 1894 Opera House. The event will also pay homage to Galveston's "first citizen of Texas" – Rabbi Henry Cohen.
Photo: Courtesy of The Jacob Rader Marcus Center of the American Jewish Archives, Cincinnati, Ohio
Related Posts
Image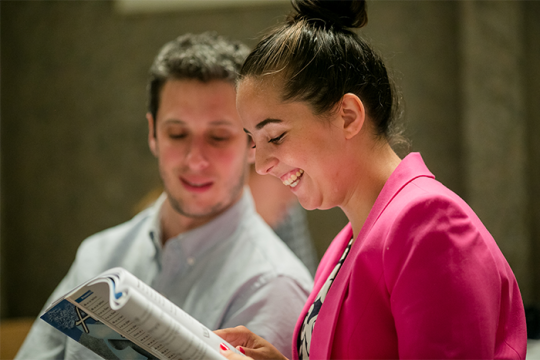 Lifelong learning, however, can be easier said than done. For many, as they enter adulthood, with its competing demands and obligations, setting aside time for learning – and especially for Jewish learning – can be challenging indeed.
Image
At 10, Jeff Erlanger appeared on "Mister Rogers' Neighborhood" in his wheelchair. I recently asked Jeff's parents about how they raised such a competent and loving son.
Image
When I became rabbi of Monmouth Reform Temple in Tinton Falls, NJ, I quickly discovered that some people in our community thought we were a church. Mail was addressed to "Monmouth Reformed Temple," and letters were addressed "Dear Pastor."