Image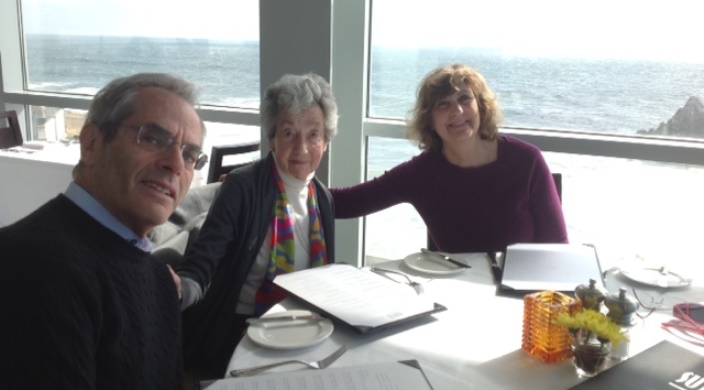 My wife Vickie and I were thrilled to learn that our German friends, Pastor Ursula Sieg and her husband Pastor Martin Pommerening, were coming to visit us in America. When we asked if there was anything special they wanted to do during their visit, they answered, "If it is at all possible, we would like to travel with you to San Francisco to meet Vickie's mother." Although the request surprised us, it was an opportunity we eagerly embraced.
For our visit to Germany last fall, Ursula created and curated a remarkable exhibit about the life and travels of Vickie's mother, Stefanie Steinberg. As a young child, Steffi had to leave her native Breslau and flee to Spain with her parents when the Nazis took over Germany. Not long thereafter, they had to flee again, this time to Switzerland, during the Spanish Civil War.
Eventually Steffi made her way to New York, then across the country to Los Angeles, and ultimately to San Francisco. At 94, she is still active as an artist well-known for her paintings, photography, and collages – and for several years now, she has done much of her work on her computer. She lives independently and keeps alert and in great shape by attending lots of lectures and classes, and working in her garden. She gave her most recent presentation to the San Francisco Women Artists, of which she is a past president, earlier this year.
When we told her that we planned to spend 10 weeks in Germany last fall, Steffi did not like the idea. Given all she had endured at German hands, her reaction did not surprise us: "Why do you want to go to Germany?"
As the weeks unfolded, it pleased her that her life had become the vehicle for German students to learn about the Holocaust and the basics of Jewish living in a more effective way than books alone could ever teach. Many of these students had never met a living Jew before Vickie and I came to their school.
By the time Vickie and I left Germany, several of the students had sent Steffi very touching emails and voice messages. They wrote that they would do all in their power to ensure such horrors never happened again – to anyone. The bond these German students forged with her has been a healing balm for Steffi.
In addition, Vickie and I had the joy last January of presenting Steffi with an honorary diploma from the Holstenschule in Neumünster, accompanied by a beautiful letter of gratitude from the headmaster. The gesture touched her deeply, especially because the Nazi takeover in Germany forced this erudite and accomplished woman to suspend her formal education years before she could graduate from high school.
For all of these reasons, Steffi was thrilled when she learned that Ursula and Martin were coming to visit her. When the big day came, they embraced like long-time friends. Steffi found more photos to give to her visitors because the exhibit will travel to other schools when Vickie and I return to Germany in September. Then the five of us enjoyed a sumptuous dinner overlooking the Pacific to celebrate Steffi's 94th birthday.
It was a fitting celebration, a wonderful way to honor a remarkable woman whose life and work will always stand to testify against the horror that the Nazis reigned upon Europe. And it was a wonderful way, too, to honor two visionary Lutheran pastors who are making heroic efforts to help Germans confront the horror of their past and replant Jewish life in the land where it once bloomed so beautifully.
Related Posts
Image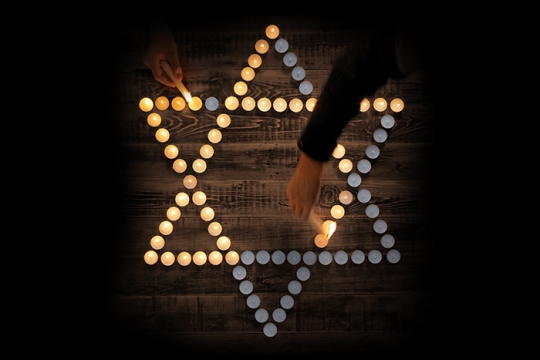 What does it mean to remember? It is to live in more than one world, to prevent the past from fading, and to call upon the future to illuminate it.
Image
A camel carrying a load. A golden pair of balanced scales. An open heart and an open mind. These are three of more than two dozen artists' visions of justice and righteousness featured in the invitational exhibition, "Tzedek Boxes: Justice Shall You Pursue."
Image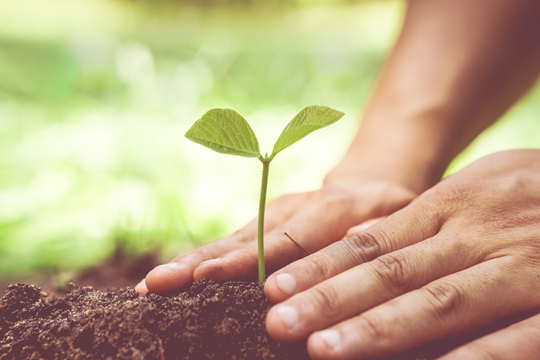 Tu BiShvat, the Jewish New Year of the Trees, is upon us. While it may not be the most celebrated new year in the Jewish tradition, there is a simple power to the holiday - the call for us to become attuned to nature and learn what it can teach us about personal growth.