Image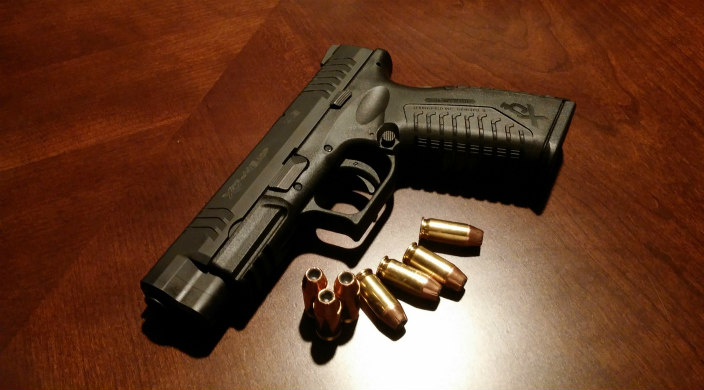 "Do not stand idly by while your neighbor's blood is shed."
-- Leviticus 19:16
This passage, from Parashat K'doshim in the Book of Leviticus, is one of the most challenging mitzvot of the 613 in the Torah. It calls on us to think beyond our own needs, beyond the needs of our families, perhaps even beyond the bounds of our congregations and communities, to take action on behalf of others.
The scourge of gun violence is one that has affected so many of our neighbors, and we are commanded by Jewish tradition to act.
I grew up in NFTY (the Reform community's youth movement) in the Chicago area, active in my synagogue youth group, eagerly anticipating each summer at URJ Olin Sang Ruby Union Institute, a Reform Jewish summer camp in Wisconsin. I learned from my family, from my rabbi, Leo Wolkow, and from my experiences at camp and in NFTY to care about issues that affected not only my community but also my world. Gun violence was one such issue I cared about as a human being and as a Jew, but it was an issue that I never imagined would touch me personally.
That all changed on January 19, 1999, when my father was murdered at his place of business in Chicago.
Suddenly, this issue I had cared about from a theoretical perspective ceased being theoretical. My life, and the life of my family, was changed forever.
For most of the last 17 years, I haven't been an activist on this issue. I spent time in therapy, at trials, helping my mom find a "new normal."
But after the Newtown school massacre, I could no longer stand idly by. My neighbors' blood was flowing in the streets.
My congregation was already part of the Metro Industrial Areas Foundation (IAF), the nation's oldest and largest network of community organizing. We had worked on a local environmental cleanup, and Metro IAF had a long and illustrious history of bringing together people across lines of race and faith and class to get at the root causes of the issues that plague our communities and our country.
Together over the last 3½ years, I have been honored to work with Metro IAF to develop the Do Not Stand Idly By campaign to reduce gun violence, a market-based approach to getting gun companies to create safer distribution systems for their products, and to invest in research and development in safer, "smart gun" technology. Gun manufacturers have the power, by taking these steps, to dramatically affect the problem of gun trafficking, reduce accidental shootings, and keep Americans safer from gun violence. And they can do these things without another law being passed.
The question is: what will make gun companies do these things? They're not going to do them just because Americans are dying; they're not going to do them because we have a passage in the Torah calling us to act; they're not going to do these things just because they're the right thing to do. The major gun manufacturers are only going to act in their own self-interest. They've told us that they respond to the bottom line.
So we're taking them up on their offer. We've learned that 40% of the guns sold in this country every year are purchased with our tax dollars by our police and military. We're confident that if 40% of the gun marketplace demanded that gun makers play a constructive role in reducing gun violence, they would respond.
And so we're building what we call a Gun Buyers Research Group—mayors, police chiefs, sheriffs, governors—who have committed to using their purchasing power to press gun companies to make these sensible, moderate changes that would have dramatic affects. To date, 88 public officials have signed on, and President Obama's recent Executive Action on smart gun technology was a direct response to our efforts to get the president to use his massive purchasing power to press for change.
Many Reform congregations from around the country have already been active in the campaign. With the incredible support of the Religious Action Center of Reform Judaism, we've made great progress to building the power we need. And now leaders in NFTY are stepping up, seeking meetings with more than 10 public officials, asking them to join this effort. We can help you meet your public official, tell them about the power they have, and ask them to join this effort.
This issue is so big, so complicated, that it often feels like there's nothing we can do.
The Do Not Stand Idly By campaign has given me hope, for the first time since my father's murder, that we can turn the tide of this scourge. Join with the Reform community and other communities of faith all across the country in acting powerfully to keep Americans safer.
Related Posts
Image
These are Torah portion haikus.
Image
These Haikus focus on weekly Torah portions.
Image
These Haikus focus on weekly Torah portions.