Image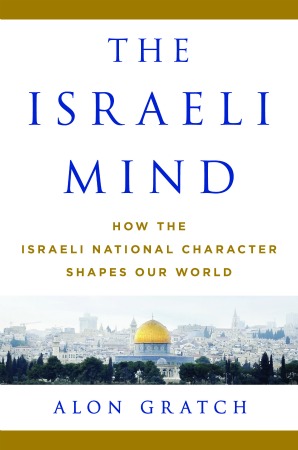 If you don't believe that one can speak of "a national character" or "the Israeli mind," Alon Gratch's provocative new book The Israeli Mind: How the Israeli National Character Shapes Our World may be off-putting at first. But if you care deeply about the future of the Jewish state, as I do, you will want to know what's on the mind of the Jerusalem-born author of an important new book that will undoubtedly elicit conversation and controversy.
Alon Gratch, a New York-based clinical psychologist came to the United States to study after completing his military service in the early 1980s. He would never again live in the land of his birth, which he remembers as a place where he "felt suffocated by the incessant talk about politics and 'the situation,' the intensity of the collective experience, and the porous interpersonal boundaries imposed by the culture. "
Like many of his Jewish friends, Gratch had little interest in religion and he bought into the idea that one could be culturally Jewish with little or no attachment to Israel. He thought of himself as "just a New Yorker, or at most, a secular American Jew."
All that changed after 9/11, when Gratch came to realize: "You can take the boy out of Jerusalem…but you can't take Jerusalem out of the boy." Since leaving Israel, he acknowledged, scarcely a day had gone by when he was not aware, however vaguely, of his Israeli DNA. His subsequent attempt to integrate his Israeli past with his American present led to his desire to intellectually and psychologically investigate the Israeli mind.
There is clearly a political message in this book, which grew out of Gratch's quest. He warns that if Israelis fail to take a long, hard look in the mirror and make the necessary adjustments, Israel will not survive as a nation.
What would the mirror reveal?
Israelis are oppositional and quick to say no, Gratch says, which, as a reaction to danger, serves as a survival mechanism. It is rooted in the Jewish Diaspora experience, and it continues to operate in an independent Jewish state, even though it is no longer essential and even counterproductive.
This psychological defense mechanism, Gratch says, is largely responsible for Israel's success, but "to the extent that the oppositional character of the Israeli mind drives or shapes Israeli actions, reactions, or policies, it is imperative for Israel's as well as the world's security, that we understand it and learn how to deal with it."
Gratch sees a paradox at the heart of the Israeli national character. On one hand, Israel embodies the continuation of Jewish history – indeed, the culmination of 2,000 years of yearning for a Jewish homeland. On the other hand, its founders rebelled against this history, rejecting the mentality of exile. The Zionist movement set out to create a "new Jew," the antithesis of the timid Diaspora Jew. So intense was this ideological drive for transformation that they all but ignored the realities on the ground, including the Arabs living in Palestine.
Despite their achievements, Israelis have not been able to fully free themselves from what Gratch calls "the ideology of affliction." In the Israeli mind, he maintains, ingrained feelings of insecurity clash with the reality of Israel being the most powerful and advanced country in the region. The author draws a straight line between Israelis as being the "chosen people" (exceptional) and the "persecuted people" ("the whole world is against us and the world is silent"). Stated differently, "We have the skills, strength and determination to go it alone, which we must do because no one supports us anyway."
Annihilation anxiety, combined with hyper-masculinity and a narrative of self-sacrifice, Gratch says, all clash with the nation's aspiration for normalcy or even greatness.
Gratch believes a new generation of American Jewish leaders can play a moderating role by nudging Israel to recognize and counteract anti-democratic tendencies that grow out of the ideology of affliction. How to play this role, without turning against the Jewish state, is the challenge facing an evolving American Jewish community.
Related Posts
Image
There are a few days in my life that stand out. There are the big milestones: my first days of school, going to camp for the first time, and my first homerun. Another one of those dates that stands out is December 28th, 2015. That was the day that I made aliyah and became an Israeli citizen.
Image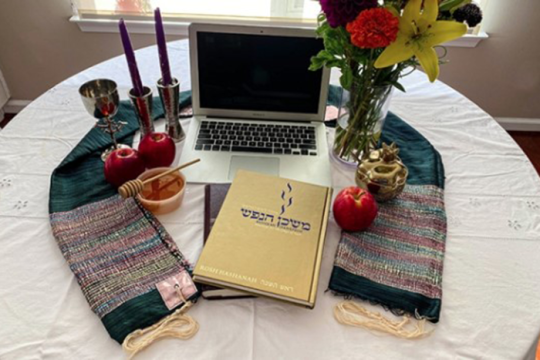 As I boarded the plane to Israel in the summer of 2002 for my first year of rabbinical school at HUC in Jerusalem, my mother said, "Please, just don't meet an Israeli." As soon as the plane touched down at Ben Gurion airport, I knew that I was home. A few months later, I met that Israeli. From our first conversation, he understood that I was studying to be a rabbi, and I understood that he wanted to live only in Israel.
Image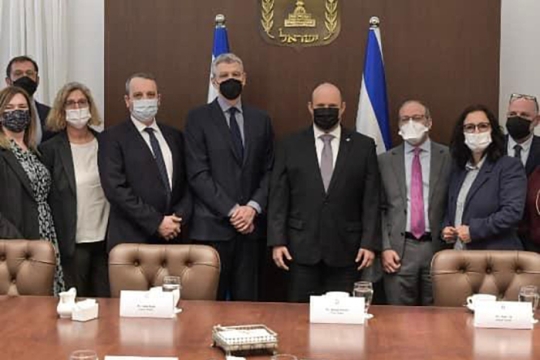 In meetings with the President of Israel, Isaac Herzog, Defense Minister Benny Gantz, Finance Minister Avigdor Lieberman, Transportation Minister Merav Michaeli, and Foreign Minister and Alternate Prime Minister Yair Lapid, we discussed the crisis in Ukraine, the future of the Kotel, ensuring more funding and rights for non-Orthodox Jews, combatting racism, and stopping extremist violence against Palestinians, in addition to other pressing issues.