Image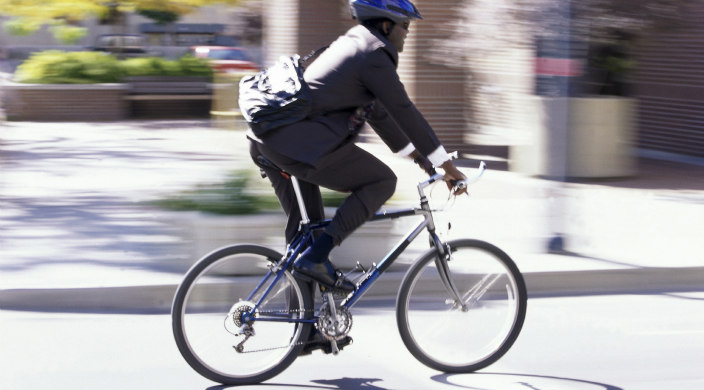 The snow has melted and the temperature is rising, which changes my morning routine. These days, I eat a larger breakfast, cinch the leg straps that protect my suit pants, and load my saddle bag before I grab my bike and pedal out the door.
Although May is National Bike Month, cities across North America will celebrate Bike to Work Day – an annual reminder that we can leave our cars at home during the warmer months – on various days throughout the spring and summer. In Denver, where I live, Bike to Work Day will take place on Wednesday, June 22. Regardless of the date, though, I regularly head to my office at Temple Emanuel, knowing my trusty 1984 Bridgestone will get me there.
In Pirkei Avot (Ethics of Our Forebears), Hillel teaches us to "Love peace, pursue peace, and love all of creation." (Avot 1:12) The word "shalom" (peace), derives from the world 'shalem,' (wholeness), and when I ride my bike, I feel a true sense of wholeness and peace that lasts throughout the day. It's something I don't feel when I drive. In fact, strapped in behind the wheel, I often find myself frustrated with other drivers, with pedestrians, and even with cyclists who slow me down.
However, when I am on my bike, I engage with our world – God's creation – in a profound way. I can smell the flowers, hear the creek, see animals, and feel the pavement through my pedals. I can greet people I pass, and thank them when they are patient with my speed. This connection to creation helps me feel more alive and closer to my city and my community. Biking truly allows me to understand Hillel's teaching to love all of creation.
I first fell in love with biking after I participated in a Riding4Reform event, a five-day mountain bike tour of Israel. Rolling through forests, neighborhoods, and, eventually, the desert, biking allowed me to cover a lot of ground and appreciate my surroundings. One afternoon, pedaling through a difficult, narrow path, I had to stop for a moment. I felt something jostle my bike and I turned around, expecting to see an animal. Instead I saw a little boy with his family; he wanted to feel the rubber on my wheel. We all said hello, and then his older brother started banging on his drum and together we sang "Od Yavo Shalom Aleinu" ("Peace Will Surely Come to Us"). Only in the woods outside Jerusalem could I have had such an experience.
When I returned to Israel to begin rabbinical school, I started riding my mountain bike around Tel Aviv. I replaced a 30-minute daily walk to ulpan (intense Hebrew immersion classes) with a 10-minute ride, and eventually I was biking 30 or 40 minutes to all my destinations. Sometimes I even put my bike underneath the intercity bus so I could explore other cities and towns on two wheels. I continued to ride, and my commute became a highlight of my day. It was on my bike that I fell in love with Israel, and explored neighborhoods I would have missed had I not been riding.
Once I moved to New York City, I started riding with a classmate to the seminary, Hebrew Union College-Jewish Institute of Religion, every morning, a commute that took us over the Manhattan Bridge from Brooklyn. I will always remember looking right to see the New York City skyline and left to see the Statue of Liberty, a moment of awe and appreciation I eagerly anticipated every day. Together, my friend and I even biked to ordination. On the way to Temple Emanuel in New York City, we stopped on the bridge to wrap tefillin (phylacteries) and say our morning prayers of gratitude.
As an avid cyclist, I offer this advice to help you get started:
No special clothes are required. All you need is a bike you can safely ride. If you are worried about arriving sweaty, remember that you can always slow down.
Bike commuting should be enjoyable; it's not a race. When we drive or take public transportation, we usually focus on the fastest route. When we bike, we can choose a route that offers safety and scenery, and we don't have to push ourselves hard.
Start small. Replace a short car trip – under two miles – perhaps to the grocery store or a friend's house, and build from there. Wherever you go, the first, most important step is to get on your bike.
Biking allows me to slow down and be present in the world, to look around, and to appreciate creation. Atop my bike, I feel better about myself and my community, bringing me a sense of wholeness and peace. I hope you'll give it a try, and that it will do the same for you.
Related Posts
Image
These are Torah portion haikus.
Image
These Haikus focus on weekly Torah portions.
Image
These Haikus focus on weekly Torah portions.