Image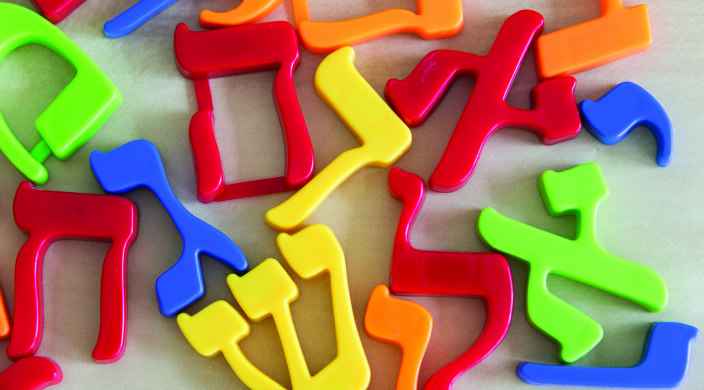 My siblings and I can't remember a time when Hebrew was not folded into the routines in our home. While my dad serenaded us with secular lullabies, my mom's go-to was a slightly operatic version of the Israeli folksong "Al Sfat Yam Kinneret" (By the Shores of the Sea of Galilee), which tells the story of a boy entranced by his Torah studies under the gentle guidance of Elijah the Prophet.
From that lullaby, I progressed to learning Hebrew from Mrs. V., a devoted Israeli teacher in my Jewish day school who instructed me and my first-grade classmates in the basics of vocabulary, pronunciation, and grammar. I also studied Hebrew in Sunday school, drilled grammar in private weekly lessons, chose Hebrew as an elective at URJ Kutz Camp (a Reform summer camp for teen leaders), and attended Hebrew language seminars – my favorite classes – as an undergraduate.
One summer, I made my way to Hebrew University in Jerusalem for an ulpan (intensive Hebrew language course) in which my brain had to conjure up the right words before my mouth could spit them out. Rabbinical school broadened my skills, offering both ancient and modern language classes, as well as the opportunity to speak modern Hebrew daily.
I wish I could say all that immersion resulted in effortless fluency, but, alas, it did not. Even decades after rabbinical school, though, I still attempt, clumsily at best, to make Hebrew an organic part of my thinking and communicating. Like my mom, I love the sounds of Hebrew – especially the way my mouth feels when forming guttural words and sentences that create the language's staccato patterns.
In rabbinical school, I realized that Hebrew grammar, dikduk, is all about balance and harmony. Verbs live in one of seven different categories based on how they are used. The prefixes and suffixes they acquire depend on who is doing the "running," the "cooking," or the "loving." Their patterns are predictable and orderly – most of the time, anyway. The weak verbs, however, those poor delicate specimens with guttural letters, require that we tamper and tinker with their conjugations so that stronger consonants bear the complexity, compensating for their compatriots' frailty.
These days, I mostly use Hebrew when teaching b'nai mitzvah students the ancient words of Torah and the language of the Prophets. However, on a mission to enhance my Hebrew IQ this summer, I've been listening to Israeli music and streaming Israeli television shows, including "Beauty and the Baker" and "Fauda." I'm also helping one of my sons – an assistant counselor at a Jewish day camp – translate his unit's daily schedule from vowel-less Hebrew script into English. Free swim, electives, lunch, prayer, and outdoor cooking posed no problem, but we both were stumped by a mystery word whose spelling seemed to be these Hebrew letters: zayin-zayin-mem sofit (final mem).
I wracked my brain and turned my Hebrew dictionary inside out and upside down – all to no avail. I could not find the word anywhere. When Josh came home, he smiled, victorious at having cracked the code: "Pool-Side Sports." The "word" actually was an abbreviation in English – "PSS" – that, when scribbled on a white board, looked exactly like Hebrew script.
Just as Hebrew and English co-exist in my son's daily camp schedule, so, too, do they live side-by-side in my brain. This summer, despite the fissures and noise that surround me, I'm listening carefully not only for the Hebrew that connects me to the ancient conversations, prayers, and laws of the Jewish people, but for the very same language that powers life throughout the modern land of Israel – and throughout my soul as well.
Related Posts
Image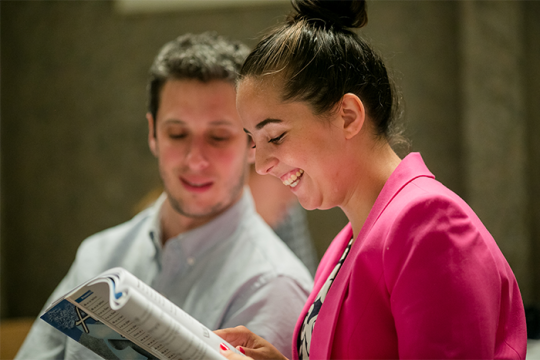 Lifelong learning, however, can be easier said than done. For many, as they enter adulthood, with its competing demands and obligations, setting aside time for learning – and especially for Jewish learning – can be challenging indeed.
Image
At 10, Jeff Erlanger appeared on "Mister Rogers' Neighborhood" in his wheelchair. I recently asked Jeff's parents about how they raised such a competent and loving son.
Image
When I became rabbi of Monmouth Reform Temple in Tinton Falls, NJ, I quickly discovered that some people in our community thought we were a church. Mail was addressed to "Monmouth Reformed Temple," and letters were addressed "Dear Pastor."