Image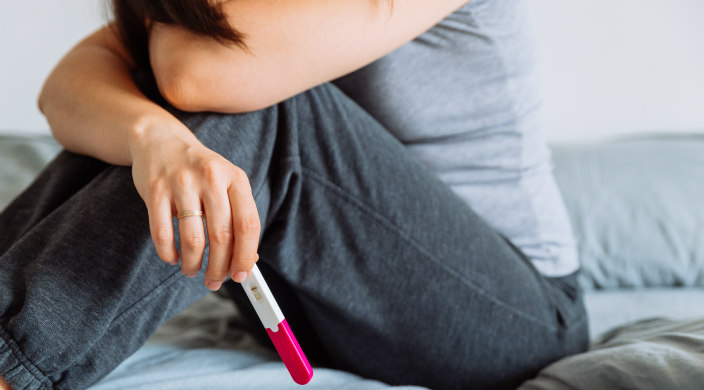 Recently wed and newly ordained, I moved with my husband Matt to the Bay Area for my first rabbinic position. We knew we didn't want to have kids right away: with the move to a new city, career changes, and the adoption of a second dog (because why not?), we were in no rush.
At the end of that first year, a clergy colleague had a baby. Around the time of our first anniversary, we began to seriously consider getting started ourselves, when another colleague announced that she, too, was expecting. Ever ones to be late to the party, we decided it was, apparently, time to get crackin'.
Months passed and as they did, our extended family grew as siblings and cousins and friends all had babies at what seemed like a relentless pace. We tried to hold heartbreak at bay, to be present as these little ones became part of our growing community, but when the word "infertility" became a dark cloud over our heads, it grew increasingly difficult to remain present. I came to dread, and then detest, Mother's Day. Baby showers, too, became unbearable. Relationships became strained and I stopped showing up for lifelong friends in the throes of young parenthood – a lame attempt to cushion my broken heart.
Being alienated and isolated, at times even from Matt, for whom the struggle also was real, quite inevitably led to depression – and doubt. Why couldn't my body do this thing that it was supposed to do? What was wrong with me?
Answers came from the darkest corners of my mind, only further damaging my relationship with myself and the world around me. Well-intended questions from friends, family, and congregants about our plans to "start a family" (even though we were, most definitely, already a family) became more and more difficult to evade.
Finally, I began to answer them honestly, "Yes, we do want children, and in fact, we have been trying for a while now." What I didn't share as freely was the struggle to find the sense of holiness or hope amidst doctor's visits and pills and needles and herbs and tests and tears and waiting.
I learned long ago that if we don't live in our experience and let others in on what is happening in our lives, we isolate ourselves and miss out on the chance to be understood and cared for. I knew this, intellectually, of course, but it took a while to build up the courage to road-test this philosophy.
As we began to share our experience with those we trusted, we were met with overwhelming compassion and understanding. As it turns out, Matt and I were far from alone. Sharing our story with people in our community, created more intimacy and trust with the people with whom we shared, helping our little family feel less alone and hopeless.
After roughly three years of trying to get pregnant, I reached a turning point with the passage of another horrible Mother's Day. The following Monday, as I walked into the high school where I worked at the time – head down, with an emotional-hangover, and steeling myself to race through the day – I was greeted by this message, penned by students on the whiteboard in the school's entryway: "Happy Mother's Day to all of the teachers who we have accidentally called 'Mom.'"
Tears sprang to my eyes, heart-warmed by the simple and sweet message from these teenagers, reminding me there are many ways to nurture life and growth. Around the same time, I stumbled upon a beautiful ring with the Hebrew word for "holy vessel" on the outside and the biblical Hannah's prayer for a child inscribed on the inside.
These experiences gave me a context for our story as it unfolded within the greater story of our people – in antiquity and modernity. Achieving pregnancy is not the only pathway to parenthood, and we knew that; but in those early days, our infertility made me feel broken, as I compartmentalized and isolated myself from our community. I wish we had opened up much earlier. I wish our desire for connection could have outweighed our fear of rejection. Vulnerability is a risk, but it was definitely a risk worth taking.
April 21-27, 2019 is National Infertility Awareness Week. For support and  resources, visit RESOLVE: The National Infertility Association.
Related Posts
Image
At 10, Jeff Erlanger appeared on "Mister Rogers' Neighborhood" in his wheelchair. I recently asked Jeff's parents about how they raised such a competent and loving son.
Image
When I became rabbi of Monmouth Reform Temple in Tinton Falls, NJ, I quickly discovered that some people in our community thought we were a church. Mail was addressed to "Monmouth Reformed Temple," and letters were addressed "Dear Pastor."
Image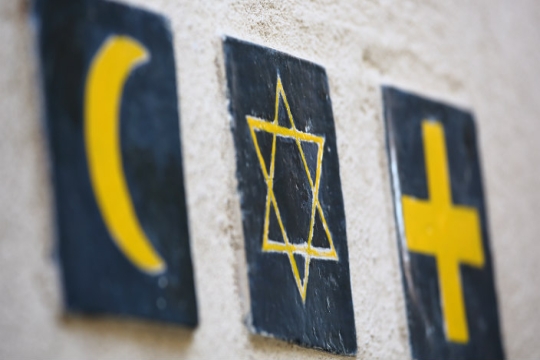 Read about Imam Abdullah Antepli, a Turkish-born cleric whose odyssey took him from anti-Semite to Jewish-Muslim bridge builder.