Image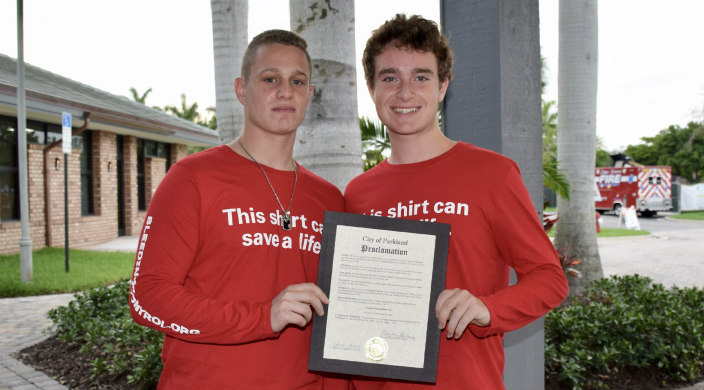 On February 14, 2018, everything changed for my friend Luke Rothstein and me, as well as for our families and our community.
On that day, 17 people were tragically killed in the shooting at our school, Marjory Stoneman Douglas High School (MSD) in Parkland, FL. We were devastated by the deaths of our friends and teachers, and we wanted – no, needed – to take action.
Luke and I , inspired by our strong Jewish upbringing and our religious school learning around the concepts of tzedakah (charitable giving), g'milut chasadim (acts of kindness), and tikkun olam (repairing the world), became passionate about Stop the Bleed, a public health campaign that trains bystanders to become trained, equipped, and empowered to help in bleeding emergencies before professional help arrives.
Together, we decided to become advocates.
Immediately after the shooting, Luke and I worked with our friends to design and sell T-shirts online, raising more than $23,000 toward the purchase and installation of Stop the Bleed kits that were installed in each classroom at Marjory Stoneman Douglas. We received recognition from the Mayor of Parkland for this, though we definitely did not do it for recognition; in our hearts, we simply knew we needed to do this.
At the start of our sophomore year, Luke and I were still concerned about the possibility of an emergency at our school, especially a situation in which the teacher – the one person in each classroom trained to use the Stop the Bleed Kit – is unable to do so. What if the teacher needs the care and treatment offered by the kit? What if the teacher is out that day? Could a student help? 
We wanted to be able to take on that role if needed, so we took it upon ourselves to get trained on how to use the Stop the Bleed kits and even become instructors ourselves. Because we had already been certified in CPR/AED through our Honors Health Science class, this was a natural step for us. It also incorporated another religious school learning: tikkun ha lev – literally, "repairing the heart."
Next, we contacted the school administration, the local fire department, the sheriff's office, and the mayor. With immediate support from all, we were on the way to becoming trained as adjunct instructors in Stop the Bleed. Luke and I continue to diligently work under the supervision of the division chief of training at the Coral Springs – Parkland Fire Department and the Coral Springs Regional Institute of Public Safety. Now, with their help, we're working toward initiating a local Stop the Bleed campaign, kicking off with an event at the beginning of the 2019-2020 school year: M·S·D (mind · strength · determination) Stops the Bleed.
Just before May 23, National Stop the Bleed Day, Luke and I were named National Stop the Bleed Ambassadors; at a city commission meeting, the Mayor of Parkland presented us with the honor of accepting a Proclamation for National Stop the Bleed Day.
It was more than just the local community that recognized our efforts, though. Danny Herz, the director of URJ 6 Points Sports Academy North Carolina – the Reform Jewish summer camp I attend – was proud to hear that through our efforts, my friend and I exhibited the core values I learned to embrace at camp:
Teamwork: We're making change by working together with our mentors in the fire department.
Growth: We're trying something new and constantly learning – and becoming better people as we do so.
Sportsmanship: We've developed integrity, respect, kindness, and appreciation.
Intention: Everything we do, we do with a purpose: spreading awareness about Stop the Bleed can save lives.
Pride: We're helping to build a strong community at MSD and in Parkland, a place where everyone is respected and honored for who they are.
Leadership: As we recognize and bring out the best in those with whom we work, we're becoming role models for others.
I am taking the confidence and Jewish values URJ 6 Points Sports Academy North Carolina has taught me and holding it close as I start my junior year at MSD. Luke and I have big plans for Stop the Bleed this year: We'll hold our first event in September, and we're partnering with Make Our Schools Safe (MOSS) to create a MOSS Club at our school. We've also added Eric Nacach and Brett Unger to our core team to help us advance our Stop the Bleed work.
We know that many eyes will be on us this year as we continue to emulate and embody the values we learned at home, in religious school, at school, and at Jewish summer camp as we continue to spread the message about the Stop the Bleed campaign – and work together to save lives.
Learn more about the Reform Jewish community's gun violence prevention work by visiting rac.org/gvp. 
Related Posts
Image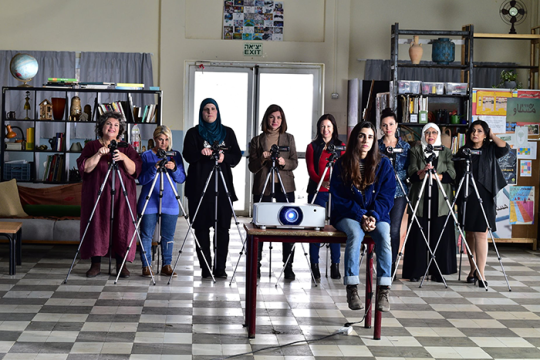 Both Arab and Jewish, young and old, the women of "Cinema Sabaya" learn about much more than filmmaking during the class; they discover that their differences are far outweighed by their bonds as women making their way in a patriarchal world.
Image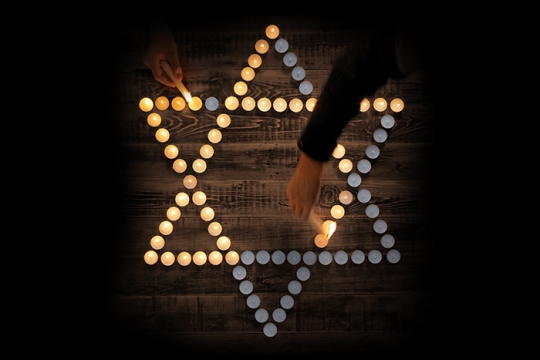 What does it mean to remember? It is to live in more than one world, to prevent the past from fading, and to call upon the future to illuminate it.
Image
A camel carrying a load. A golden pair of balanced scales. An open heart and an open mind. These are three of more than two dozen artists' visions of justice and righteousness featured in the invitational exhibition, "Tzedek Boxes: Justice Shall You Pursue."