Image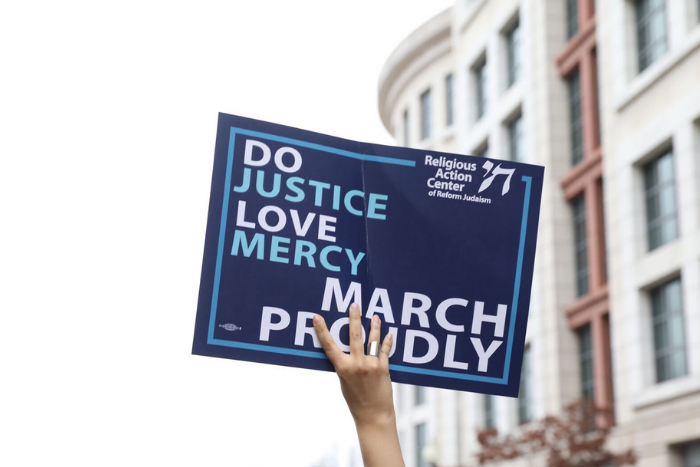 As I enter a new phase of life as a retired person (my friends often substitute "preferment" for "retirement"), I have a wonderful opportunity to pursue in-depth a passion I have previously pursued more sporadically: contributing to this world by volunteering at the intersection of Judaism and social justice.
I am a professor emerita of nursing science, the founding director of the program in nursing science at the University of California, Irvine, and the founding chair of the department of nursing at the School of Social Work at the University of Southern California. My dual career in nursing and social work was strongly influenced by my family background in secular Judaism and social justice, and my own life journey has led to a strong Jewish identity within the Reform Jewish community.
My parents were both born and raised in The Bronx in New York City, children of Jewish immigrants from Eastern Europe. Some of our relatives perished in the Holocaust. My parents had a strong Jewish identity, but that identity was represented in secular, cultural, and political ways. I grew up in a Jewish neighborhood in Los Angeles. We did not attend synagogue – not even for the Jewish holidays. We did, however, stay home from school on the Jewish holidays, as the majority of the students in the school were Jewish and school was essentially closed on those holidays.
The one Jewish observance that was part of our family was Passover, when we went to my immigrant great-aunt and uncle's house for first seder (festive dinner and retelling of the Exodus story). And we did light the candles on Hanukkah. My brother did not have a bar mitzvah and, needless to say, I did not have a bat mitzvah either.
Nonetheless, my brother and I clearly knew that we were Jewish and my parents never hid that; they just didn't observe traditional practices. We did go on peace marches together against the Vietnam War and we contributed and campaigned for candidates whose values reflected our own. Our family often had intense political conversations, and my cousin and I walked the neighborhoods, going door-to-door to campaign for candidates. Politics was a much greater focus than Judaism.
I will never forget the day I realized how much Judaism was a central part of my parents' identity and how it was related to social and political issues. 
I was 13-years-old and I went to my friend's house after school, as I often did, and I called my mom to let her know where I was. But this was not an ordinary day. President John F. Kennedy had been assassinated that morning. My parents told me to come home right away because we were all going to synagogue. We went to Leo Baeck Temple in Los Angeles. I have never forgotten how my secular Jewish parents immediately turned to synagogue when a political-social crisis infected our country.
As I grew up and eventually married and started a family of my own, my identity as a Jew became more and more important. Concurrently, my passion for social justice work strengthened.
Reading Jewish texts became important to me and focusing on tikkun olam (repair of the world) became a driving force in my life. My husband and I have two boys, now grown men.  Both were circumcised by a mohel (a person trained to perform circumcisions), became b'nei mitzvah, attended Jewish day schools, and have strong Jewish identities. When I was 60, I studied with my rabbi and became bat mitzvah. I served on the board of trustees of my synagogue, attended the Women of Reform Judaism (WRJ) social justice conference (what a perfect conference for me!), and the Consultation on Conscience, the Religious Action Center of Reform Judaism's biennial social justice leadership conference. I am chair of the advocacy committee for a grassroots organization, the Orange County Jewish Coalition for Refugees, and I also am active in local campaigns, where I volunteer my time on behalf of candidates who champion the issues I value most.
Indeed, my perspective and purpose in life is at the intersection of Judaism and social justice. I will continue to work on social justice issues, including reproductive justice, gun safety, immigrant/refugee rights, climate change, health care, and eradication of poverty. I also will continue to pursue my Jewish identity, secular and religious. Both social justice and Judaism are central in my life and each influences the other; they are not mutually exclusive. I am doing and will continue to do meaningful work at the intersection of Judaism and social justice.
This essay originally was published as part of the Women of Reform Judaism (WRJ) "Sharing Our Stories" project – a forum in which Reform and Progressive women in North America and around the world share personal stories of sisterhood, spirituality, and social good.
Visit the Religious Action Center of Reform Judaism to learn more about Reform Jewish social justice work.
Related Posts
Image
These are Torah portion haikus.
Image
These Haikus focus on weekly Torah portions.
Image
These Haikus focus on weekly Torah portions.