Image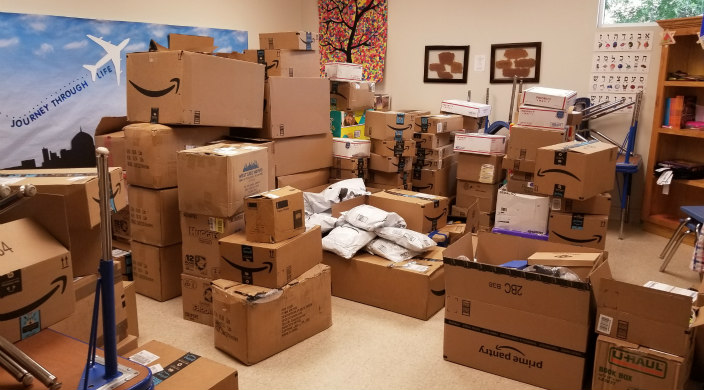 Last month, Women of Reform Judaism (WRJ) published a blog post by Pat Blum, a longtime resident of McAllen, TX, (and my wife!). Pat writes in part:
As a resident of McAllen, Texas, for more than 40 years, I know what value immigrants bring to our community…. What is happening to children and parents fleeing torture and violence in Honduras, El Salvador, and Guatemala is a terrible reality…. What our government has done to these families [by separating parents and children] is morally reprehensible.

Caring people are volunteering their time to help those seeking a better life for their families. [P]eople of all faiths gathered in downtown McAllen last evening to join together in a prayer vigil and to say "Hineni" (We are here) to help make the world a better place for peoples of all faiths and cultures.
In response to a request from the Religious Action Center of Reform Judaism (RAC), our congregation, Temple Emanuel in McAllen, TX, was identified as the go-to congregation for donations in support of immigrant families and the response from the Reform Jewish community has been amazing.
For the last few weeks, our social action committee has been engaged in receiving extremely generous in-kind donations from individuals and congregations throughout North America –  diapers, personal hygiene products and toiletries, stuffed animals, blankets, and scores of small toys – and delivering them to the Humanitarian Respite Center in McAllen. In fact, until last week, a truckload of donated supplies was arriving daily in McAllen, which is extremely heartwarming, but also logistically challenging. We also have received nearly $19,500 in cash, as well as many gift card donations and we still are accepting such donations, which can be made on the congregation's website.
Recently, Stephen Kramer, CEO of Bright Horizons Family Solutions, the country's largest provider of employer-sponsored child care, with more than 30,000 employees across the United States, visited McAllen to see the respite center firsthand and to assess how Bright Horizons can best help and support these immigrant children and their families.
As a result of his visit, which included meetings with McAllen Mayor Jim Darling and Sister Norma Pimental, executive director of Catholic Charities of the Rio Grande Valley, which runs the Humanitarian Respite Center, Bright Horizons will transform the center's children's area into a "Bright Space," with home-like furnishing, as well as toys, games, and activities for the children. As Mr. Kramer so eloquently noted during his time in McAllen, "Childhood knows no borders. Humanity knows no citizenship. We must add our voice and our action to protect the families that need us most, no matter where they come from or where they are going." 
Indeed, this is a profound mission for any organization and Temple Emanuel is proud to add our voices and our acts to efforts underway to protect these immigrant children and their families. We are proud, too, to serve as a conduit for the entire Reform Jewish community to play a role in this sacred work. As Pat Blum notes in her blog post, this is an act that our heritage demands of us:
"Jewish tradition calls on us to welcome the stranger because we ourselves were once strangers in the land of Egypt. We must continue to work to realize the Reform Movement's vision of a world where all people experience justice, compassion, and wholeness."
To support Temple Emanuel's efforts on behalf of immigrant children and families, visit the congregation's website.
Related Posts
Image
These are Torah portion haikus.
Image
These Haikus focus on weekly Torah portions.
Image
These Haikus focus on weekly Torah portions.