Image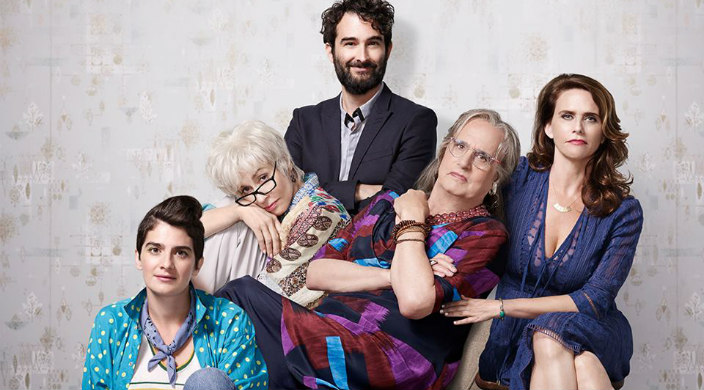 Season three of Amazon's hit show Transparent premieres on September 23, and it couldn't come at a more appropriate time: smack in the middle of Elul, and the day before we begin reciting Selichot.
Anyone who's seen Transparent knows that the show embraces Jewish themes in a way we haven't seen on television before. The New Yorker's television critic Emily Nussbaum wrote, "Excitingly, it's the most Jewish show I've ever seen on TV," and the Forward called it, "the Jewiest television show ever." Its creator, Jill Soloway, is vocal about her Jewish identity, and the show even has a rabbinic consultant.
Season one took us through a Shabbat dinner, a cancelled bat mitzvah, and a Jewish funeral and shiva. Throughout season two, Transparent dives deep into exploring the intersection of Jewish and queer cultural history in 1930s Germany, and in the present, we spend an episode watching how the show's central family, the Pfeffermans, observes Yom Kippur.
Season two's "The Book of Life" begins with the family's eldest daughter, Sarah, arriving at the office of her ex-partner Tammy, hoping to be absolved of her wrongdoings in their relationship.
"My problem is that I wasn't parented…," Sarah says. "In some ways I wasn't mothered, and I've been looking for that love to fill that missing mother love… I'm not here to get that. We're here to take care of each other and I didn't take care of you. And I'm sorry."
"Why now?" Tammy asks Sarah.
"It's Yom Kippur today… it's kind of like trick-or-treating. You, like go and the people that you hurt, you think about your wrongs and apologize and ask for forgiveness. And after you get forgiveness you sort of absolve yourself."
"Cool."
Tammy is not interested in Sarah's apology, nor is she interested in helping absolve Sarah, probably because Sarah's apology comes off as self-centered and insincere. Sarah blames her mother for her own failure as a partner, and her stated reason for apologizing is entirely selfish. We're not meant to treat Elul, Selichot, and the High Holidays, as "trick-or-treating," as Sarah puts it. It's not about making the rounds and ensuring that people know you want to be absolved.  (Plus, the thought of candy on Yom Kippur is just cruel.)
It's special that our tradition provides us with an opportunity to make things right, but meaningful repentance takes work. Even if you didn't leave your partner during your wedding, as Sarah did, you've messed up in one way or another over the last year; we all have.
The Hebrew month of Elul has already begun, but it's not too late to begin the process of t'shuvah, or repentance. One way is to recite Selichot, penitential prayers said before and during the High Holidays. This year, Selichot services begin on Saturday, September 24 (the day after Transparent's third season premiere). Between then and Rosh HaShanah, communities will gather to recite traditional prayers, and to study. Many people find it meaningful to study contemporary media that inspires reflection – so it's possible that this new season of Transparent will fit the bill.
I'm planning to binge-watch the new season of Transparent the day it comes out, and then watch and re-watch again in the days following. That's my usual routine with Transparent, but this year, it will serve as an addition to my Selichot practice. While I don't know what topics season three will cover, the past two seasons have provided me with an opportunity to reflect on the way I've treated my family and friends and have caused me to think about how I can be better.
I'm grateful for this insightful, Jewishly infused show for so many reasons, even if the characters show me how I don't want to be. Whether Sarah learns how to repent or not, I'm sure this new season will continue to provide us with lessons on how to reflect and grow, and hopefully, practice t'shuvah in a meaningful way.
Related Posts
Image
These are Torah portion haikus.
Image
These Haikus focus on weekly Torah portions.
Image
These Haikus focus on weekly Torah portions.