Image
In Jewish Spiritual Parenting: Wisdom, Activities, Rituals and Prayers for Raising Children with Spiritual Balance and Emotional Wholeness (Jewish Lights), husband and wife team Rabbi Paul Kipnes and Michelle November, MSSW, draw on Jewish ethical and mystical teachings as well as their own experiences as parents of three children – Rachel, Daniel, and Noah – in creating a valuable resource that is intentional, inclusive, and well attuned to the realities of Jewish life today. 
The authors do not shy away from tough questions, such as what to say to a child who asks, "Do you believe in God?" They are adept, too, at making Jewish thought accessible and pertinent to the challenges of parenting toddlers through teenagers.
Take, for example, their use of the mystical notion of tzimtzum, the kabbalistic idea that in order to create the world, God had to contract to make space. "Parents who want to foster a healthy spiritual journey," say the authors, "ought to exercise tzimtzum (parental contraction), holding back our own adult-sized doubts so as not to encumber our child's quest." In this way, parents "cultivate spiritual openness and growth," and allow their children "to take hikes into holiness."
In emphasizing the importance of parenting partnerships, the authors advise each parent to pull back from the need to be in control. And to counter the tendency of many parents to be over controlling, they urge them to gradually contract to "provide more space in which children can develop themselves more fully."
Each chapter offers specific activities, practices, and rituals to nurture children's Jewish spiritual growth and ethical values.
To instill gratitude, for example, the authors' family has made a habit of singing the Shehecheyanu (blessing of praise) whenever something new happens, such as a birthday, learning a new skill, or dropping a child off on the first day of school. Parents can nurture chesed (kindness, love, and loving-kindness) by modeling inclusiveness of others, especially those at the margins of our community. And to highlight simcha (joy) as a spiritual practice, the authors suggest naming and describing joyful experiences.   
No book on Jewish spiritual parenting would be complete without a section on Shabbat, described here as "our weekly respite of joy." In addition to describing the Shabbat blessings (candle lighting, kiddush, family blessings, and challah) in an age-appropriate way, the authors advise parents to set achievable goals for Shabbat observance, so that this time of delight does not become a stressful chore. As the children mature, Shabbat celebrations will evolve.
For parents who find that getting young children to sleep an arduous task, the authors recommend adopting habitual bedtime rituals that not only enable children to relax, but also "allow reflection, a return to core values, and a nurturing of Jewish spirituality." These rituals include two bedtime prayers: Shema and Hashkivienu. Singing the Shema at night reconnects children to the core Jewish idea that we are all part of the Oneness of God, that God loves us, and that we are not alone. The Hashkivienu prayer reminds children that they have nothing to fear while they sleep because they "are watched over by the Holy One and by their parents."
The authors emphasize the importance of recognizing and celebrating the uniqueness of each child, and that, as the Four Children in the Passover story reminds us, each child learns differently. As one of the many "Try This" exercises in the book, readers are offered a checklist with 20 choices (sit and ponder, talk about ideas, move around, search the Internet, play music, draw, etc.) as a way to help identify their child's learning preferences. When parents' and children's learning styles differ, they advise, "you will need to experiment to discover engaging learning methods that will best suit your child."
Rabbi Paul Kipnes and Michelle November have pulled off a masterful example of tzimtzum as co-authors, each contracting to allow the other space to offer his or her own insights on the topic at hand.
If this collaboration is any indication of how well they have partnered in raising their own children, now in their late teens and early 20s, we can feel confident that Rachel, Daniel, and Noah are on solid footing as they traverse their own spiritual paths.
Related Posts
Image
The COVID-19 pandemic has shifted so much of how we engage Jewishly, but Shavuot is a fantastic holiday for families to celebrate from the safety of their homes. Here are a few ways you and your family can observe this rich, festive Jewish holiday this year.
Image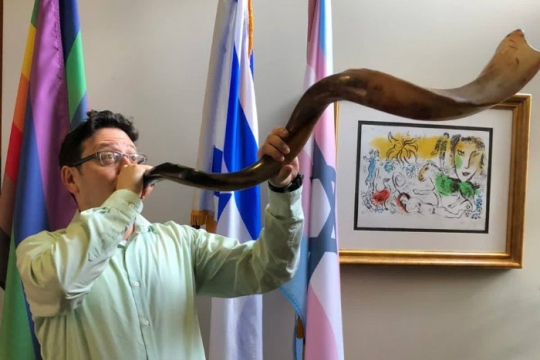 Rabbi Max Chaiken, our Ten Minutes of Torah commentator for the Book of Deuteronomy, is the associate rabbi of Congregation Kol Ami in Los Angeles, CA. We talk to him about his Jewish journey and the ideas behind his commentaries.
Image
A classmate recently snapped a photo of a billboard promoting Israel's right-wing Yachad party that read: "So there won't be a child with a father and a father!"