Image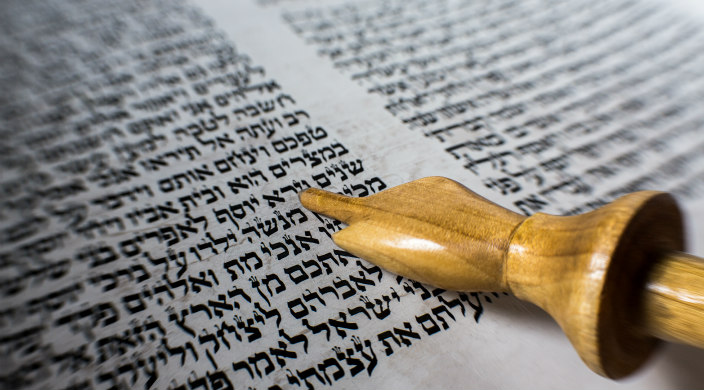 Turn it and turn it again, as everything is in it. Reflect on it and grow old and gray with it. Don't turn from it, for nothing is better than it.
Pirkei Avot 5:22
On a recent Friday night during services, after the ark doors were closed following Aleinu, my two-year-old daughter burst out screaming and had to be carried from the room. When I asked my wife later what had happened, she explained that Nava had wanted the Torah to come out, but it had not. My daughter loves Torah – in that absolute and forceful toddler love kind of way.
Given to us in that fateful moment at Sinai, Torah is our blueprint for sacred living – in relationship with God, the Jewish people, and all humankind. At Shavuot, we celebrate this gift by studying late into the night, eating sweets and dairy foods to symbolize the sweetness and lifeblood that Torah is for us, and making our own offerings to God: committing our children to the study of Torah and the embrace of Jewish tradition via confirmation.
Torah is so central to our beings that we read through the entire scroll every year. Since ancient Babylonian times, we have, over the course of the year, read publicly the 54 parshiyot – that is, every single word of Torah – in Jewish communities around the globe.
Except this is not always the case.
As much we love Torah, we Jews are not always able to make our way through an entire parashah during any given Shabbat service. Though one might say that this lack of reverence, attention, or patience is a symptom of modern times, it seems that even in ancient times, shorter readings were called for whenever a translation was being called out or a sermon was being delivered. Indeed, long ago, our people recognized and understood that with our limited attention spans it was critical that our time with Torah be defined not by quantity but by quality.
In fact, while an annual Torah reading cycle was observed in Babylonia, in Eretz Yisrael, Torah was read over a longer cycle that took three-and-a-half years to complete. Imagine celebrating Simchat Torah only twice in seven years! This long cycle was the original triennial cycle for Torah reading, though some scholars considered it a septennial cycle, because it synched with the seven-year agricultural period and sabbatical year.
Today, for reasons similar to those of our ancestors, the Conservative Movement and other liberal communities have adopted a pseudo-triennial cycle for weekly Torah readings, ensuring that even with shortened readings every single word of Torah still will be read. This methodology divides each of the 54 parshiyot into three sections. During year one of the cycle, the first third of each parashah is read, in year two, the second third, and so on, ensuring that the Torah is completed – and Simchat Torah celebrated – each year. 
In Reform communities, where we have found even a third of most parshiyot to be too long, we often select meaningful passages to highlight. Our choice of reading may depend on what might be of interest to our communities, or related to what will be covered in the sermon or Torah study.
Here at Temple Emanu-El we have taken a different approach. Because we believe that every word of Torah is absolutely important and sacred, we have adopted a new septennial cycle. Each full parashah traditionally is divided into seven aliyot necessary for the full-length Shabbat reading. (By "traditionally" I mean by those who read the full parashah each week.) Rather than simply opting to read the most exciting section, we systemically proceed through the aliyot according to a seven-year system. In year one, we read the first aliyah of the parashah, in year two, we the second aliyah, and so on. When the aliyah is too short for an adequate synagogue reading, we read a few verses from the next one as well. Although there are most certainly parts of the Torah that at face-value may be less spiritually fulfilling, and possibly much more challenging, we believe that the Torah in its entirety is sacred, and that as Jews we have an obligation to engage the whole thing, with full hearts. So, over seven years, we too make it through every word.
Whether we read it in three years or seven, Torah is our lifeblood and our sweetness. Though we have both our favorite parts and those sections we would rather skip, Torah was given to us as one sacred text. Its beautiful parts and its flawed parts all are sacred to our people. Loving Torah means engaging it in in its entirety, and making a commitment to get to know every one of its words – in an intense toddler loving kind of way.
Related Posts
Image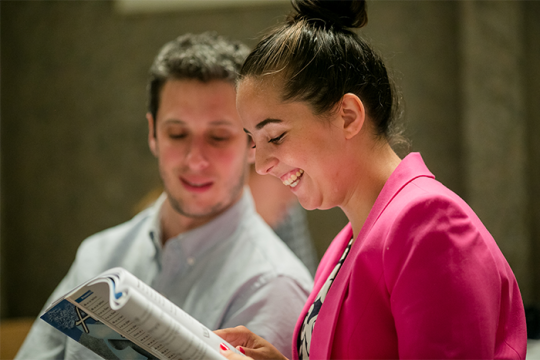 Lifelong learning, however, can be easier said than done. For many, as they enter adulthood, with its competing demands and obligations, setting aside time for learning – and especially for Jewish learning – can be challenging indeed.
Image
At 10, Jeff Erlanger appeared on "Mister Rogers' Neighborhood" in his wheelchair. I recently asked Jeff's parents about how they raised such a competent and loving son.
Image
When I became rabbi of Monmouth Reform Temple in Tinton Falls, NJ, I quickly discovered that some people in our community thought we were a church. Mail was addressed to "Monmouth Reformed Temple," and letters were addressed "Dear Pastor."