Image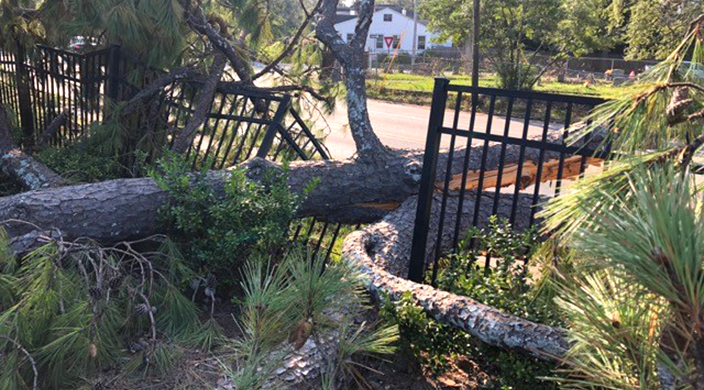 Rabbi Emily Losben-Ostrov had been on the job for only a few weeks as spiritual leader of Temple of Israel in Wilmington, NC, when she faced a challenge that neither rabbinical school nor 10 years in the pulpit had prepared her for: a Category 4 hurricane that hit during the Days of Awe.
While conducting Rosh HaShanah morning services, she recalls, "You could see the worried look on people's faces. Would they be able to stay in their homes or need to evacuate? What would they take with them? What if they couldn't get back? I offered the prayer for safekeeping during a storm to try to lift everyone's spirits."
That afternoon, congregants boarded a boat on the Cape Fear River to observe Tashlich, symbolically throwing their sins into the water. At the end of the ceremony, temple leaders met and decided, as a precaution, to move their three Torah scrolls from the sanctuary to the administration facility, the Reibman Center for Kehillah, located six blocks further from the river. That night, they cancelled second day Rosh HaShanah activities because so many people were already evacuating the city.
The following Friday, Rabbi Losben-Ostrov live-streamed Shabbat Shuvah services on Facebook from the kitchen table of her mother's house near Philadelphia, so her now geographically scattered congregants could share a Shabbat experience.
For Kol Nidrei, she prerecorded a service, and for Yom Kippur, she live streamed the services from the congregation in which she grew up: Shir Ami in Bucks County, PA, where Rabbi Chuck Briskin had invited her to share in leading services and to deliver a d'var Torah (sermon).
When Rabbi Losben-Ostrov returned to Wilmington, she surveyed the damage.  
"Florence was incredibly devastating to the community, emotionally challenging to every single congregant," she said. "The majority of our nearly 200 families had various degrees of property damage. Some lost everything. Some of those worst hit do not live in flood zones and therefore had no flood insurance. Florence was different than anything previously experienced here."
For the first time in its 143-year history, the oldest Jewish house of worship in North Carolina (and only one of 30 19th-century temples to survive in its original building) sustained extensive storm damage. The roof ridge of the Moorish Revival structure blew off, allowing rainwater to ruin walls, carpets, and furnishings. Renovations are expected to take months. The congregation's cemetery was badly  damaged by downed trees. To help cover uninsured costs, a Temple of Israel Restoration Fund has been established.
"Our congregation has received an outpouring of love and support that means so much to us," says Rabbi Losben-Ostrov. Singer songwriter Dan Nichols raised spirits when he came to Temple of Israel to perform in the congregation's sukkah. The following Shabbat the temple received a visit from Red Cross chaplains, including Rabbi Shira Stern. "Their presence and words of hope," says Rabbi Losben-Ostrov, "showed our congregation how people from all over want to help our city recover.
"Until the sanctuary is restored," says Rabbi Losben-Ostrov, "the congregation meets for t'filah (worship) in our Reibman Center for Kehillah. We have at least three upcoming b'nei mitzvah that will be held in that space. I've been impressed with the families and kids taking it all in stride, accepting this new reality."
Nearly 100 miles north of Wilmington, Temple B'nai Sholem in New Bern, NC, is another southeastern North Carolina Reform congregation hit hard by Hurricane Florence.
"My main concern," says temple president Carla Byrnes, "was the safety of the Torahs. We have four and one is a Holocaust Torah. How do you replace a Holocaust Torah?"
The century-old synagogue building escaped harm, but more than half the congregation's 80 members had their homes damaged by flooding.
"Thank God," says Byrnes, "no one was hurt, because almost everyone evacuated. Some would have been injured had they stayed."
"One couple said 'We're going to stay,' and we said, 'No you're not. You're going to get out of Dodge.' And it is good they did. There was four and a half feet of water in their house. All their furniture and even the refrigerator were floating around."
"Emotionally this storm has been tough on everybody," says Byrnes, "but we are heartened by the many Jewish people around the country who are calling to say we are thinking of you, praying for you. The idea that they are holding our hands has made everybody feel better. We are not alone."
"In this community it does not matter if you are Jewish, Christian, Muslim, Buddhist. Everybody is helping everybody. One of our members, in his mid-70s (the average age of our congregants is over 65), was trying to get damaged stuff out of his house to the curb. Some kids from a church youth group asked if he needed help, and he said, 'Do I ever!' They finished the job in an hour and a half."
"We are a resilient bunch down here and our congregation will surely recover from this disaster. What we need now are relief funds to enable our most vulnerable members to raise their homes."
Photo: Joel Frank
To donate to help victims of Hurricane Florence, send funds to NECHAMA - Jewish Response to Disaster or Jewish Federations of North America's Hurricane Relief Fund.
Related Posts
Image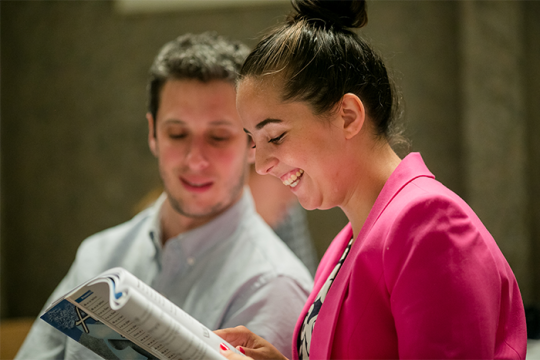 Lifelong learning, however, can be easier said than done. For many, as they enter adulthood, with its competing demands and obligations, setting aside time for learning – and especially for Jewish learning – can be challenging indeed.
Image
At 10, Jeff Erlanger appeared on "Mister Rogers' Neighborhood" in his wheelchair. I recently asked Jeff's parents about how they raised such a competent and loving son.
Image
When I became rabbi of Monmouth Reform Temple in Tinton Falls, NJ, I quickly discovered that some people in our community thought we were a church. Mail was addressed to "Monmouth Reformed Temple," and letters were addressed "Dear Pastor."