Image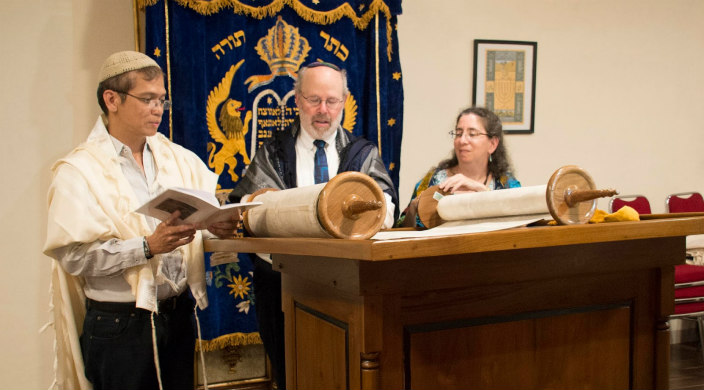 Spread across nearly 3,000 kilometers on six islands, Indonesia's re-emerging Jewish community is nearly unique. Its small kehilot (communities) and family groupings see themselves as part of one interconnected community, although hundreds if not thousands of air and ocean kilometers separate them.
Joint community events often require long flights on small planes, or even longer (much longer) several day boat-rides. Each island and group has its own language, but luckily the post-colonial language, Bahasa Indonesia, and members' Jewish identity help bring them together. Each community also has distinct cultural traditions, histories, and cuisines.
Although there are two simple synagogues (one in Jakarta and another unfinished building in Timika, Papua Indonesia), the much more common model is the "home synagogue," a room in a local leader's home in each community that serves as dedicated space for Jewish worship. An ark, flanked by Jewish posters and often an Israeli flag, marks the room as sacred space. Currently, though, most of these arks are empty of a Torah scroll, so central to Jewish worship and study.
Instead they are used to store the community's siddurim (prayer books) and small scrolls with printed paper text, which the communities use in lieu of a kosher scroll.  In one community rocks, which had been thrown at the local leader's house by disgruntled local Christians, are also stored as a remembrance in the ark.
Until now the whole community has one Torah, which Rabbi Ben Verbrugge (the national leader and rebuilder of Indonesian Jewry) carries from community to community. I suspect that this Torah scroll has travelled more kilometers than any other sefer Torah in the world.  On the first day of Sukkot, for example, it could be read in Sumatra (in the west), on a middle day in Ambon (towards the center of the archipelago), and on the last days in Timika or Jayapura on Papua in the extreme east. Luckily, this Sephardic Torah, in a hard wooden case, is well protected for all its travels.
Recently, two Torah scrolls arrived in Indonesia, and things are changing dramatically. Although three communities still will function without a Torah (to be remedied in the near future, we hope) two communities now will have a Torah in residence. These scrolls, from Canada and the United States will help tie Indonesian Jewry even more closely to the world's Jewish community.
Changing Jewish demographics across North America are causing some small synagogues to close their doors. As these synagogues shut down, their leaders, dedicating themselves to tikkun olam (repair of our world) and Jewish continuity, have chosen to give their Torah scrolls a new beginning and a way to continue to speak. Where once their voices were a light unto Alberta and Pennsylvania, that light now will shine in Indonesia.
The two sifrei Torah began their journeys in Edmonton, Alberta and New Castle, PA, leaving their homes in Beth Tzeddek Congregation and Temple Hadar Israel respectively. After a long, multi-legged journey, they each have reached a new home in Indonesia.
Jewish tradition often speaks of the Torah as the light of the Divine. Although there is a tremendous excitement around two scrolls, they are not bringing the light of Torah to Indonesia. That light was already there in the dedication and tenacity of Rabbi Ben Verbrugge and his community as they continue to make its teachings (with or without a scroll) the guiding force in their lives.
Adapted from Bringing the Light of Torah to the Ends of the Earth.
For more than 30 years, the Torah Scroll Exchange, run by the World Union for Progressive Judaism, has been ensuring that new and emerging Progressive Jewish communities worldwide have access to Torah scrolls and other ritual objects. To date, this program has bestowed more than 100 Torah scrolls – including the two in Indonesia – upon growing Progressive Jewish communities across the globe.
Related Posts
Image
These are Torah portion haikus.
Image
These Haikus focus on weekly Torah portions.
Image
These Haikus focus on weekly Torah portions.