Image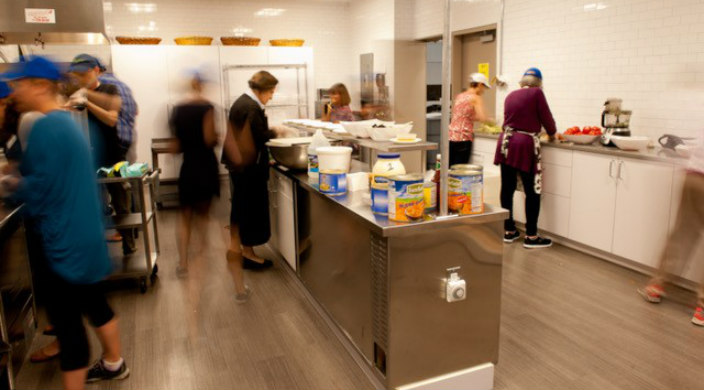 At the end of M'gillat Esther, the Jewish people celebrate their survival with merrymaking, feasting, and sending gifts to one another and to the poor. As a result, today's Purim celebration has become inextricable from our obligation to share our bounty with fellow Jews and with the impoverished among us.
Sending mishloach manot (gifts) increases peace and harmony for Klal Yisrael (the community of Israel), and ensures that everyone can rejoice fully in the se'uda (festive meal). We distribute matanot l'evyonim (gifts to the poor) because we recognize that on a holiday about excess and the reversal of fortune, we must do everything possible to extend the sweetness of abundance that eludes too many.
But why wait for Purim to fulfill the mitzvah of giving to the poor? At Hebrew Union College – Jewish Institute of Religion (HUC-JIR) Soup Kitchen, our year-round moral imperative is to provide a dignified environment where our guests can enjoy a warm, nutritious meal.
And food isn't enough. To fully nurture our community, we move beyond the stomach and also tend to the soul.
We do this in a number of ways. Each week, world-renowned musicians donate their time and talent to the soup kitchen. Our clothing closet team attends to our guests' diverse needs, from underwear and socks to winter jackets and business attire. We provide everything from toiletries to legal aid, and we organize voter registration and flu shots when possible.
And although Purim invites us to give, the scourges of food insecurity and poverty exist all year long.
This year marks the 30th year of the HUC-JIR Soup Kitchen. While we celebrate our three-decades-long commitment to feeding our neighbors, we pray for a time when hunger is eradicated and soup kitchens like ours are no longer needed.
We recognize the unfortunate reality that makes our work necessary. And so long as our soup kitchen remains open and critical to the lives of our guests, there are a few things you should know:
In the United States, 1 in 8 people struggle with hunger.
In 2006 the U.S. government replaced "hunger" with the term "food insecure" to describe any household that, sometime during the previous year, did not have enough to eat.
12.3% (15.6 million) of U.S. households were food insecure at some time during 2016. That's nearly twice the population of New York City.
In 1980, there were a few hundred emergency food programs across the country; today there are 50,000.
More than 48 million Americans rely on what used to be called food stamps, now SNAP (Supplemental Nutrition Assistance Program). The average SNAP benefit per person is about $125 per month – or $1.40 per person per meal.
Of course, $1.40 is barely enough to pay for a snack, much less a whole meal. That means that, so long as our government fails to meet the basic needs of our communities, organizations like the HUC-JIR Soup Kitchen will remain open, filled with graciousness, food, and music.
And there are soup kitchens and food pantries all around the country that need your help! Ask to help out as part of your celebrations on Purim or on any other day – and when you behold that glimmer of hope born out of genuine connection with a stranger who is feeding your soul as you feed hers, resolve to go beyond the soup kitchen.
We can only eradicate hunger if we fix the larger system, a system that breeds income inequality, food deserts, and limited access to healthy food. So how else can we can help? We can advocate for better federal nutrition programs, fair wages, safe working conditions, and strong local food economies that create jobs, generate wealth, and give people control over their own food.
For so many in the Jewish community, Purim is about merrymaking and feasting, the folly and the fun. We reread M'gillat Esther to re-live the miraculous story of Jewish survival, but also to ensure that we don't forget the second piece of the Purim puzzle: giving. Jewish wisdom teaches that we haven't fulfilled the mitzvah (commandment) of Purim observance until we've enriched another Jew's festive meal and given gifts of money or food to at least two people in need (Bavli M'gillah 7a).
When we recognize that the sweetness of Purim is bound up with acts of generosity and selflessness, we can extend its joy throughout the year.
Juliana Schnur Karol, Eliana Fischel, and Eric L. Abbott are fifth-year rabbinical student at Hebrew Union College-Jewish Institute of Religion in New York City. Juliana is a rabbinical interns at Congregation Rodeph Sholom in Manhattan; Eric is a rabbinical intern at Larchmont Temple in Larchmont, N.Y.; Eliana Fischel is as rabbinical intern at Westchester Reform Temple in Scarsdale, N.Y.
Related Posts
Image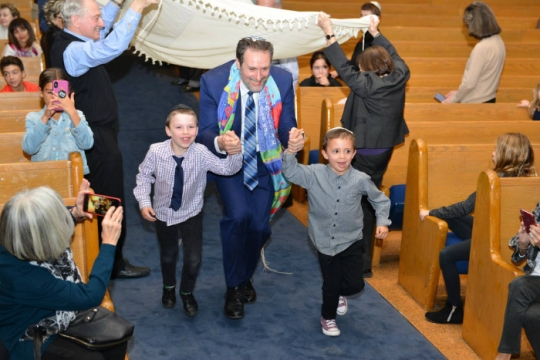 Rabbi Michael Dolgin, our Genesis commentator for Ten Minutes of Torah, is passionate about community engagement, interfaith and intercultural understanding, and tikkun olam. We caught up with him on how his Torah commentaries speak to some of the critical issues of our time.
Image
This June marks 60 years since my rabbinical ordination, but those six decades have not diminished my appreciation of the rabbinic mentors who symbolically escorted me to rabbinical school and upon whose shoulders I stand to this day.
Image
Meet Cantor David Berger, the cantor at Chicago's KAM Isaiah Israel and ReformJudaism.org's current Ten Minutes of Torah commentator for the Book of Leviticus.