Image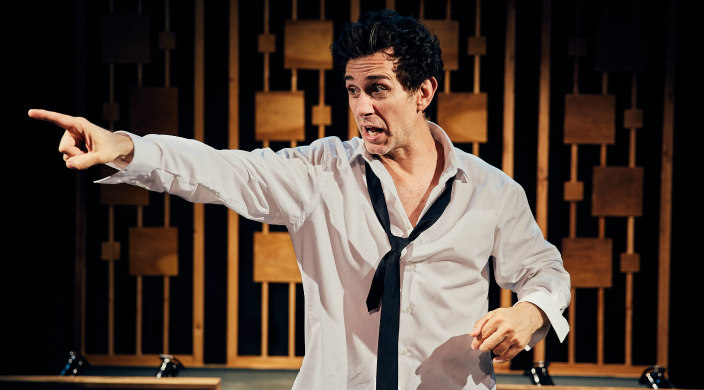 A man escorts you inside an unmarked cabaret club on Manhattan's Lower East Side. Interior décor: worn brocade wallpaper, mirrors, red light fixtures, a painting of a scantily clad burlesque dancer.
Following a striptease act by Pearls Daily, we see a lifeless man sitting naked on a toilet. Slowly Lenny Bruce comes to life, animated by the show's playwright and star, Ronnie Marmo in a 90-minute tour de force performance.
"Let me tell you how I got here. I was born Leonard Alfred Schneider, October 13th, 1925. I was an only child. My parents were divorced when I was very young. My father was British and my mother was a Jew from Long Island."
Lenny adored his mother, an entertainer, for her sense of humor and "wild imagination."
I had barely hit puberty. I said, "Hey Ma, where do babies come from?" Later that night she dragged me to a local make-out spot. She marched me up to a car, shined a light in the window of a Chevy and said, "That's where babies come from."
After playing the New York Borscht Belt, Lenny fell in love and married Honey Harlow, a stripper.
"We spend more time fighting and making up than we did just being…We were like a drug to each other, man. Addicted from the first hit."
Lenny's big break came when Steve Allen invited him on his television show and introduced him as "the most shocking comedian of our time." Lenny packed the house at Carnegie Hall, recorded 30 albums, and authored a best-selling autobiography, How to Talk Dirty and Influence People. But his obscenity-laced put downs of established social, political, and religious institutions was his undoing.
"I know it wasn't just my use of dirty words that got me into trouble. It was a bit I did called Religions Incorporated. It ruffled the feathers of a couple of Catholic cops in Chicago, and that's when I became a marked man. I know the bit angered some people, but that was never my intention. I wasn't making fun of religion or the church. I was searching for answers... I just wanted people to step back, put aside their beliefs for just a moment, and look at the hypocrisies around us."
He never stopped fighting for the right of free speech.
"Your Honor, judging by what you're judging me for, I'd say that none of you knows what the First Amendment states. Or maybe you've heard it, but you never actually heard it. 'Congress shall make no law abridging the freedom of speech….' Now I hate to point fingers, man, but I'm feeling pretty abridged here."
Honey was badly injured in a car crash. Lenny was at the wheel.
"I was being punished. Oh, dear God how ashamed I am…. I have fallen into the mold in which I despise. I am the image of the men that I hate, the debauched degenerate that all men are who only in last resort find religion. How shallow you must think me God. For if I were your God, I would say, 'To hell with him. When he needs me, then he prays. But when he doesn't need me, I never hear from him.' Please, God, let Honey live.
When Honey and Lenny divorced, the court, to Lenny's amazement, awarded custody of their daughter Kitty to him, and not to Honey, who'd been charged with marijuana possession.
"The other kids weren't allowed to play with Kitty…. and the kids would tell Kitty that I was a bad dad… My mother tried to shield her from a lot of that and to a large extent she did, but a grandmother is no substitute for a father. When Kitty was young, I was high pretty much all the time. I tried not to put anything illegal in my body when I was around her, but no matter how hard I tried...I came up short."
Drug addiction and legal battles brought Lenny to a pitiful state, but judges showed him no mercy.
"Please! Please! I've lost everything. Honey. Kitty. I'm bankrupt. Everything is gone. Don't take away my words! They're all I have left. I'm all alone now. I'm not hurting anybody. Please, they're just words!"
In his final trial, Lenny was sentenced to four months on Riker's Island. He died on August 3, 1966 of a drug overdose while out on bail. Cops propped him up on the toilet "so the photographers can get some nice shots for the morning papers."
The show closes with recorded excerpts from comedians in the Lenny tradition: George Carlin, Richard Pryor, Lisa Lampnelli…
In 2003, Honey successfully lobbied New York Governor George Pataki to pardon Lenny for a 1964 obscenity conviction.
In 2008, Kitty established The Lenny Bruce Memorial Foundation to combat alcohol and drug addiction. A portion of the show's proceeds will be donated to the foundation.
I'm Not a Comedian…I'm Lenny Bruce runs at The Box through April 28, 2019.
Related Posts
Image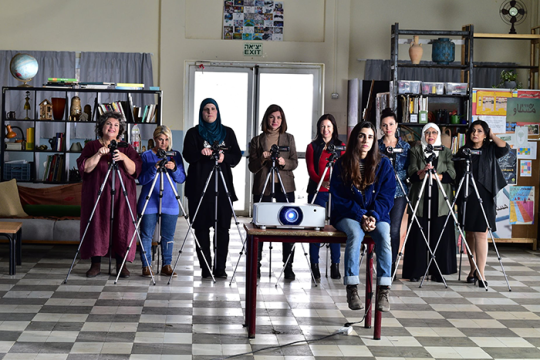 Both Arab and Jewish, young and old, the women of "Cinema Sabaya" learn about much more than filmmaking during the class; they discover that their differences are far outweighed by their bonds as women making their way in a patriarchal world.
Image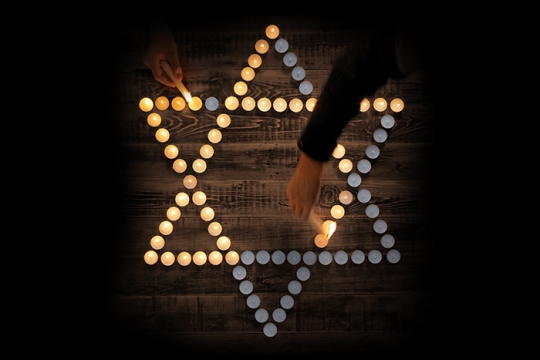 What does it mean to remember? It is to live in more than one world, to prevent the past from fading, and to call upon the future to illuminate it.
Image
A camel carrying a load. A golden pair of balanced scales. An open heart and an open mind. These are three of more than two dozen artists' visions of justice and righteousness featured in the invitational exhibition, "Tzedek Boxes: Justice Shall You Pursue."