Image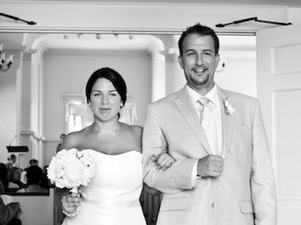 Four years ago, Josh and I met at the intern orientation for our training programs in the mental health field.  I thought he was loud and a know-it-all (truth be told, he really does know a lot!) and he thought I had pretty eyes. However, we were both in relationships and focused on our graduate programs. For a year, our working relationship developed and our friendship blossomed. Fast-forward 15 months, and we found ourselves on our first date. It was not the typical first date with getting-to-know-you questions. I knew more about Josh than I did about some of my friends, due to the nature of our training program.  I knew where he grew-up, went to college, what he did for work, his political views and religious background.  I think we both knew when we started dating that things were serious. And I knew in the back of my mind that our different religious backgrounds might become an issue. Josh is Jewish and I was raised Unitarian Universalist.
As our relationship progressed and we began to talk about our future together, our differences of religion kept cropping up. We found ourselves unable to compromise on certain aspects without feeling like we were making sacrifices that we couldn't live with (or without). For me, it was the Christmas tree. I could not imagine having my children growing up in a home without a Christmas tree and traditions surrounding the holiday. For Josh, he couldn't imagine having a Christmas tree in his home.  We felt stuck. I was convinced we were going to break up over a Christmas tree. As therapists, it is in our nature to talk things out, however no matter how much we talked about the tree, we couldn't come to an agreement.
In January of that year we found out about a class, "Yours, Mine & Ours," through URJ Reform Jewish Outreach Boston. We agreed that it seemed like the perfect class for us. The class structure, other couples and facilitator enabled us to conquer the Christmas tree question, along with many others that we had about our future together. I think we would both agree that this class was pivotal for our relationship moving forward and was the catalyst for us in taking the next steps in our relationship.
When it came time for our wedding planning, we both knew there would be many conversations, compromises, arguments and make-ups  involved. I was worried the wedding was going to be another Christmas tree debate. How could we both feel represented without compromising too much? Josh wanted a Jewish wedding and I wanted to be married in my childhood church. I thought we were doomed. Luckily, our friend, Rabbi Lev B'aesh, is quite familiar with interfaith weddings. When I raised the question of having him perform our wedding in my childhood church, he simply said "no problem." Josh and I could not have been happier. Over the next nine months, we worked with Lev on planning our wedding ceremony. We decided to incorporate many Jewish wedding traditions: ketubah, chuppah, seven blessings, kiddish cup and blessings, and the breaking of the glass. A year and a half later, I still receive compliments on our wedding ceremony. It was the perfect blending of our two cultures and families. Now, instead of worrying that we are going to have more and more Christmas tree moments, I rest assured that we have set a successful precedent for blending and compromising to reach a happy middle ground.
Annie and Josh Eagle are one of many couples in the Boston area who have taken Yours, Mine & Ours, a discussion group for partners in interfaith relationships who wish to explore their feelings about religion and strengthen communication in their relationships. For more information, contact Joyce Schwartz at Reform Jewish Outreach Boston at jschwartz@urj.org or 617-928-0012.
Related Posts
Image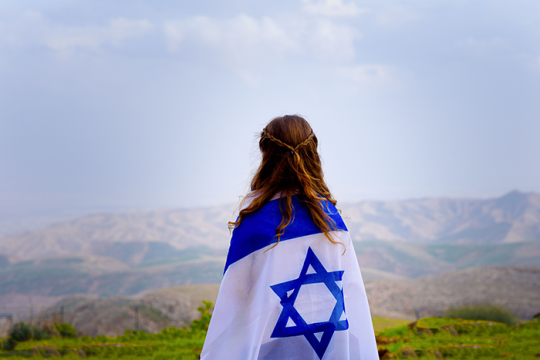 We stand with the people of Israel during these difficult and challenging days and pray for the safety and immediate release of all of the hostages. See our resources and actions you can take.
Image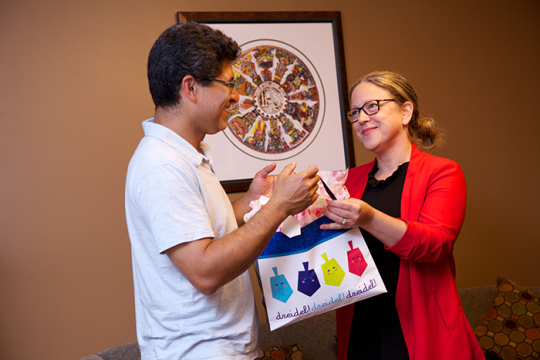 Hanukkah is one of my favorite holidays, partially because it gives me the opportunity to give gifts to my loved ones every night for eight nights! Gift giving with intentionality is one of my favorite ways to express affection while teaching my child about Jewish values and traditions.
Image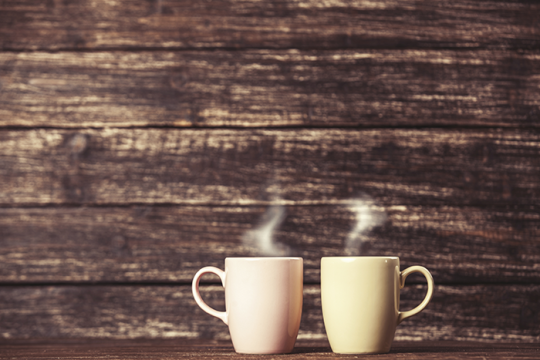 In the winter months, adding elements of simplicity, presence, and coziness can elevate the rituals and intentions of Shabbat. Here are a few tips for your most hygge/heimish Shabbat yet!