Image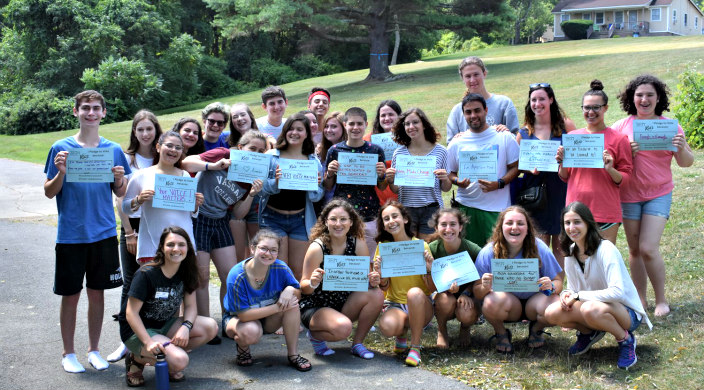 My name is Tali, and I just spent three and a half weeks learning how to be an effective and just leader.
Specifically, I participated in the "Action and Advocacy" immersive program at URJ Kutz Camp, a Reform Jewish summer camp for teen leaders, which taught me the importance of civic engagement and effective leadership when it comes to organizing and bringing people together to make change. Given this recent experience, this week's Torah portion, Shof'tim, presents difficulty for me as it applies to our modern lives.
At this point in our collective story, the Israelites are wandering in the desert. Their entrance into the land of Israel is far off; Moses and God are preparing the Israelite people to live righteous lives, to be deserving of the land God will provide. Moses gives his final speech to the Israelites, laying out how the Jewish people should judge and punish crimes and establish a leader.
At the beginning of Shof'tim comes the famous line, "Justice, justice you shall pursue" (Deut. 16:20). As a Reform Jew, this is a line I've heard before, one I hold as a commandment to do good work. Because this line is so commonly used, some people may stop reading the Torah portion here.
But what immediately follows is a set of laws that say that if a person does not obey the rulings of the leader or judge, they shall die. In this world, a leader must be followed completely and unconditionally.
I struggle with how to marry "justice, justice, shall you pursue" with accepting unconditional leadership. These teachings – of pursuing justice, obeying leaders, and assuming fairness of those leaders – can sometimes come into conflict with each other. I ask myself: Am I required to follow a leader unconditionally if he or she is unjust? Where is the line between pursuing justice and causing conflict? Between following a leader and passivity?
As Moses' speech continues, it clarifies these commandments a bit. The Israelites are given the choice to select a king once they enter the Promised Land, but they must choose a king who will obey the laws of the Torah, avoid opulence, and eschew arrogance (Deut. 17:17-20). The people must select a leader who is humble and fair.
These laws define just leadership and can help us understand what pursuing justice might have meant for Jews at the time – and show how to ensure justice when establishing a new society.
As Jews in today's world, we can apply this message to our relationships with elected and appointed officials, and what we consider qualifications for a just leader. From this Torah portion, we are reminded that it is our responsibility to pursue justice by choosing leaders who will pursue justice alongside us.
We are also reminded to stand up against leaders or systems that we see as unjust or discriminatory. No one should be exempt from this mission. As a Jew and a citizen of a democratic nation, I believe it to be my duty to carry out this Jewish tradition of just leadership by ensuring fairness and justice through voting. (And not just voting itself! Other equally important ways to ensure just leadership are being an educated voter, educating others, building relationships with candidates and elected officials, and being active in efforts to get out the vote).
At URJ Kutz Camp this summer, I learned about so many issues present in the United States, and I have become passionate about making positive change. I have learned about civic engagement as a way to take action on the issues I care about and make sure my values are present in the public square. I appreciate that I am lucky to live in a country where my voice can be heard and I will soon have the right to vote.
The next election is coming up November 6. As we approach that date – especially because I can't personally yet vote – I ask you: How will you ensure equality and fairness in our country? How will you pursue justice?
Tali Meisel is from Los Angeles, CA, and was a participant at the URJ Kutz Camp's Action and Advocacy Immersive, powered by the Religious Action Center of Reform Judaism. She is a junior at Milken Community High School and a member of Wilshire Boulevard Temple. Tali loves Torah, musical theater, and mint chocolate chip ice cream.
Related Posts
Image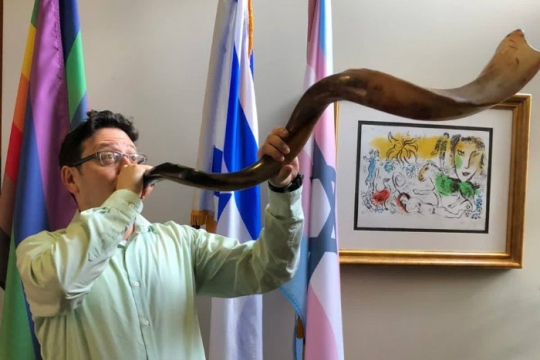 Rabbi Max Chaiken, our Ten Minutes of Torah commentator for the Book of Deuteronomy, is the associate rabbi of Congregation Kol Ami in Los Angeles, CA. We talk to him about his Jewish journey and the ideas behind his commentaries.
Image
Union for Reform Judaism has rolled out RJ on the Go, an interactive platform for families seeking Jewish meaning, purpose, and joy this summer.
Image
Here is specific language you can use when responding to children about the heartbreaking news that they will not be able to attend camp this summer as planned.