Image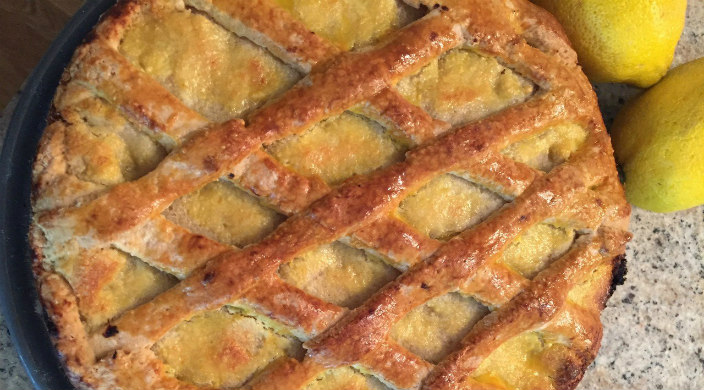 For most of my professional life, I have endeavored to keep our culinary heritage alive as a connection to our ancestors; after all, their lives allow us to live our Jewish lives today. I often finish my lectures about the history of Jewish cuisine with a quote from David Ben Gurion, the first prime minister of the State of Israel: "We Jews must never live in the past, but the past must always live within us."
Having just completed the High HolidayHigh Holidaysיָמִים נוֹרָאִיםRosh HaShanah and Yom Kippur season, when we assess our lives and remember our ancestors, I want to tell you a true story about uncovering roots and the non-palpable connections that sometimes arise from them.
As a local board member of the American Jewish Committee (AJC), I recently had the pleasure of hosting a Shabbat dinner in my home for three German delegates from the AJC Adenauer exchange – Matthias, Lucas, and Melanie.
Since it was Dallas in July, no one wants to eat hot soup, so I ditched the classic Shabbat menu and instead prepared a cool, summer meal, describing course by course, the Jewish history of the foods we were eating. Beyond that discussion, much of our other conversation, too, seemed to focus on food.
Matthias and Lucas are Catholic and Melanie is Protestant. Melanie told us that her college career focused on art history but, for some reason, she minored in Yiddish studies because the language was interesting. She then told a brief story about a lemon cake recipe and promised to send me the recipe and the story about how the cake affected her life.
After her return to Germany, she did, indeed, send me a letter that included the recipe and this fascinating story, which I would like to share with you. Perhaps it will move you as it did me.
I had promised to send you the story of my grandmother and the secret of the "lemon cake." After my high school graduation, I started to study in Düsseldorf the history of art, antique history, and yiddistic. The idea behind was to work after my magister in a Jewish Museum. In the 1990s, many Jewish museums were founded in Germany. 

My grandmother lived with us in a small village near Düsseldorf at that time. My grandmother carried a closely guarded secret that no one beside her husband, who had died, knew. Even though she took great interest in my plans, she remained silent.

I went for an internship to the Jewish Museum Franken to Fürth (Bavaria) in 2000. The museum is specialized in Jewish cultural heritage of the region. The Jewish community in Fürth was once considered the "Franconian Jerusalem" and was one of the spiritual capitals of European Jewry in the 18th century. In the 19th century, Jewish citizens shaped the economic life of the city. After the end of the World War II, nothing was left of the 400-year successful story of the community: In 1933, just under 2,000 Jews lived in Fürth. Only 20 of them survived the Nazi regime.

The Museum has a small coffee shop where visitors could get beverage, traditional Jewish bakery and kosher sweets. They offered a "lemon cake" according to an old recipe, which was handed down to a handwritten book from the 1890s. The lemon cake has a filling of almonds and lemon juice. It is very tasty. I remembered a cake that my grandmother had baked when I was a small child, which was very similar to this one. So I decided to copy the recipe and showed to my grandmother.

I can remember very well in the afternoon in 2000 when I showed her the recipe. It was the day she told us her secret. As she held the recipe in her hands and read it, she said: "That is the way my mother did." It was the first time after 67 years she broke her silence.
Melanie's letter goes on to tell of her grandmother's efforts to leave Germany after World War I and after they were thwarted, how her sister's husband, a German official in the Hamburg Senate Department, helped her "correct her papers," which allowed her to marry Paul Otto Meyer in 1933, and how his family protected her during the Nazi regime:
My grandmother died in 2002, two years after her revelation. During my stay in Fürth, I went to the archives of the churches Jena region to verify the dates and to learn more about my family background. For my personal, it is a mystery that I was interested in studying Yiddish without the knowledge of the history of my father's family. The same applies to the recipe of the lemon cake which I have attached. 
My dialogue with Melanie continues.
May this New Year offer us time to recall sweet memories of our parents, grandparents, and ancestors, and may these remembrances be the foundation upon which we build and strengthen our family's traditions for all the days to come.
Check out Melanie's lemon cake recipe and try it for yourself.
Related Posts
Image
These are Torah portion haikus.
Image
These Haikus focus on weekly Torah portions.
Image
These Haikus focus on weekly Torah portions.