Image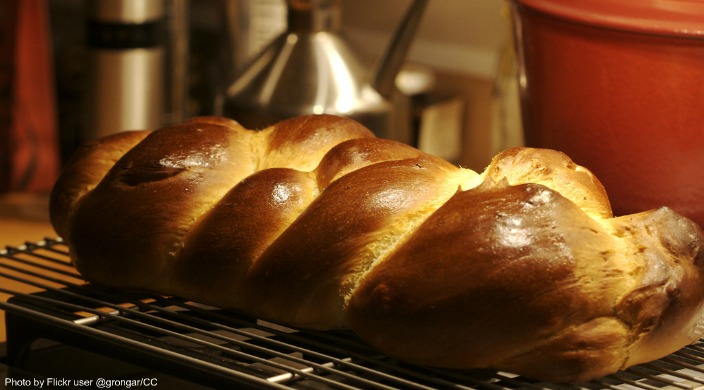 It's rare that everyone in my family is together for Shabbat. I wanted to make this one special so, on Black Friday, my daughter and I made our first challah. On Facebook, I had seen beautiful Thanksgiving turkey challot (plural of challah) and a video of an Israeli woman expertly shaping all sorts of challot. I had also been reading weekly invitations to send names for brachot (blessings) to a Facebook friend as she prepared to "take" her challah. I was intrigued and ready to sing about making challah.
On Google, 729,000 results came from a quick search for "challah recipes." We found one from a recognized Jewish cookbook author, bought the ingredients, and got started. We were going to have two homemade challot on the Shabbat table.
In addition to gaining two challot, we learned some culinary and spiritual lessons.
Lesson 1: Ingredients are important. There are many variations of flour and yeast, and you have to purchase the right ones. Do the research before you hit the store so you know what's coming. The same goes for being a Jew. The spiritual ingredients you bring to Judaism determine your result.
Lesson 2: Directions are important, and while trying to be precise in order to "do it right" can be frustrating, there are practical and spiritual values inherent in the practice. I am fascinated by the concept of "taking" challah, the ritual of removing a bit of the dough before the braiding, a tangible reminder of sacrifice. Taking and saying a brachah (blessing) depends on how much flour you use. Turns out I wasn't using enough flour to qualify for either a brachah or taking the challah, but that was just fine. I could have said a brachah anyway (I mean, who was going to know, right?), but sometimes spirituality is in the details, so I will leave it for another time when I have the right amount for the qualifications.
Back to challah baking. As we added flour to the mixer and got coated in white dust, sugar, oil, and goopy dough, I remembered why I stopped trying after my first challah attempt decades ago.
Lesson 3: Messes are good. Candles melt all over the hanukkiyah and Shabbat candlesticks. Wine spills on Haggadot and Seder tablecloths. This is a good thing.
Things were going well. We were cleaning up as we went along, dusting ourselves off and getting ready to prepare for the first dough to rise. It was a perfect time to sing a song about challah.
Lesson 4: Frequently many wonderful results take time, sometimes when you do nothing obvious at all. You can't hurry love, you can't make dough rise on command, and Jewish time often ignores the second hand.
The recipe called for preheating the oven to a certain temperature for one minute and then turning off the oven. To our novice eyes and brains, that meant getting the oven to the (in this case a very high) temperature, letting it sit at that temp for a minute, and then turning it off. We thought it was odd, but we were following directions.
Into the preheated oven went a huge greased glass bowl of dough covered with plastic wrap. It looked gorgeous. I set the timer as directed, and set about the final cleanup.
The house soon filled with a delicious aroma of baked bread, which was not supposed to happen until we actually punched down the challah, let it rise again, braided and baked it. Something was seriously wrong. We took out the bowl. The dough was baked through. The baked blob of dough weighed a ton. It tasted delicious, but it wasn't challah. Turns out we were supposed to set the temp, start the pre-heating, wait one minute and then turn the oven off. Oh.
Lesson 5: Everyone makes mistakes. Julia Child dropped a chicken. Next time you're in the synagogue, and you find yourself standing when everyone else has sat down, please know that it's all good. Just smile, sit, and move on. No one will criticize. Mistakes are the spice of life, as this song joyfully points out.
Down but not out, I headed back to the store to replace the ingredients (challah takes a lot of flour), and we turned to a different recipe, where we learned about our preheat error (see lesson 5).
Rise, punch down, rise again, braid.
We decided to do a 6-braid challah. We watched a YouTube video of someone braiding a 6-braid challah, and we went to work. It was confusing, especially when we got into the groove and then forgot where we were in the braiding.
Lesson 6: Wandering minds may be spiritually and physically calming, but you might lose track of reality. If you have to find your way back, don't worry; you'll figure out where everyone else is eventually. You can always unbraid your challah dough and restart.
Egg-washed, the two loaves went into the oven for the final bake. The house again smelled outrageously awesome, this time for the real reason. The challot were a hit. They were a little dense (a kind word for "like baked door stops"), but they were a fine effort. That evening'sMotzi was especially joyful, as was the French toast the next day.
Lesson 7: Keep learning. I asked a congregant to teach me how to make challah that won't break my toe if it lands on my foot. I spend hours watching YouTube videos learning about the Jewish spirituality of making challah.
Lessons learned, and more learning to come. And each Shabbat, my family joins together for HaMotzi. Hinei - behold - I am a challah baker!
Penny Kessler has served the United Jewish Center in Danbury, CT since 1995. A member of the Executive Board of the American Conference of Cantors, she was one of the first cantors to contribute an essay to the URJ's Eilu v'Eilu program.
Sources:
1 "We Sing Shabbat, We Sing Shalom," words/music by Ellen Allard, sung by Ellen Allard. From the CD "Sing Shalom: Songs for the Jewish Holidays," with permission from the artist.
2 "Challah in the Oven," words/music by Buzz Hellman/Shira Kline, sung by Shira Kline. From the CD, "ShirLaLa Shabbat!" with permission from the artist.
3 "It's All Challah To Me," words/music by Sheldon Low, sung by Sheldon Low. From the CD "It's All Challah To Me," with permission of the artist.
4 "Motzi," music by Dan Nichols, sung by Dan Nichols. From the CD "Kol haShabbat"
5 "Hamotzi," text: liturgy, music: Samuel Adler. Sung by Cantor Penny Kessler. "Shireinu: The Complete Jewish Songbook," Transcontinental Music.
Related Posts
Image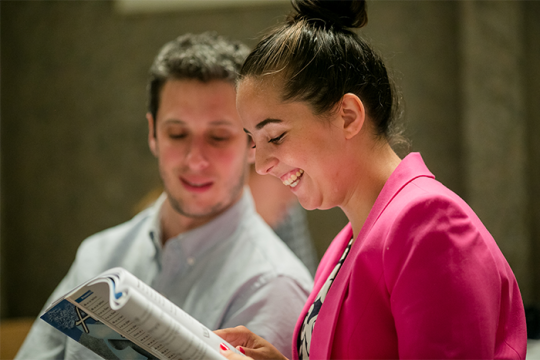 Lifelong learning, however, can be easier said than done. For many, as they enter adulthood, with its competing demands and obligations, setting aside time for learning – and especially for Jewish learning – can be challenging indeed.
Image
At 10, Jeff Erlanger appeared on "Mister Rogers' Neighborhood" in his wheelchair. I recently asked Jeff's parents about how they raised such a competent and loving son.
Image
When I became rabbi of Monmouth Reform Temple in Tinton Falls, NJ, I quickly discovered that some people in our community thought we were a church. Mail was addressed to "Monmouth Reformed Temple," and letters were addressed "Dear Pastor."