Image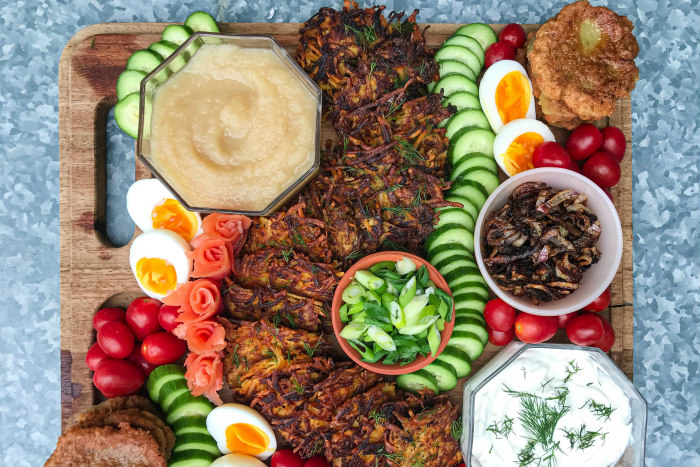 I love making cheese boards and charcuterie boards when I host Shabbat dinners (or at least, when I did before the pandemic began). After making an apples and honeycomb cheese board for Rosh HaShanah, I got to thinking about what I might do for Hanukkah. How about a latke board?! These crispy treats make the perfect base for a holiday spread.
In thinking about condiments and other foods that I could pair with latkes, it turned into a brunch board of sorts, including sour cream, scallions, and lox. In creating your board, think about what foods and flavors you typically like to pair with your latkes… and start creating! Here's what went on the board I debuted on my Instagram account, @PaigePlates.
Choose Your Latkes
For my board, I made two kinds of potato pancakes – classic latkes and three-tone latkes, made with regular potatoes, sweet potatoes, and zucchini – just to switch up the tastes and the latkes' appearance on the board.
Find a variety of latke recipes to choose from by visiting "Recipes for a Festive Hanukkah" and find suggestions for perfecting them at "Latke Central: 8 Tips for Making the Best Potato Pancakes."
Add Your Condiments
The two most common (and most hotly debated) latke toppings are sour cream and applesauce – but you don't have to choose between them if you include both on your latke board! You can even make your own applesauce, if you're so inclined.
Are there other condiments you like to atop your latkes with? Put them in small dishes and add them to your board, as well.
Take Time for Toppings
What foods do you typically like to eat with your Hanukkah latkes? Put some of them on your latke board and let your family create their own perfect bites. My board included a few of my favorite foods that have proven to pair well with latkes:
Veggies: I added Persian cucumbers and sliced cherry tomatoes for added color, flavor, nutrition, and a little bit of crunch.
Soft-boiled eggs: The soft, jammy yolk at the center of soft-boiled eggs makes for a great spread atop latkes (think hash browns and eggs), and the stark white and bright yellow make for a nice pop of brightness on your board.
Lox: I fashioned thin slices of lox into small rosettes because I loved the way they looked on my board – but you can also simply pile them prettily onto your board, as you would when putting out a spread for bagels.
Fried shallots: Little slivers of fried shallots make latkes pop and add an extra flavor boost. They feel a little bit fancy, but they're extremely easy to make. Just fry 'em up!
Give It a Little Garnish
On a typical cheese board or charcuterie board, my final step would be to fill in some of the additional space on the board with nuts – but in the case of a latke board, a sprinkling of greens achieves the same purpose. 
Finish off your board with a sprinkling of greens to complement the flavors of the latkes and the other items you've plated. I added sliced scallions and a little bit of fresh dill, as both pair well with my existing flavors.
Suggested Pairings
Once you've chosen all of the elements of your latke board, get to work assembling it in a way that's creative and beautiful – and then go wild creating your own small bites with various combinations of ingredients. Here are a few I love:
Top a plain latke with applesauce and a few fried shallots.
Pile a tri-colored latke with sour cream, cucumber, and a sliced tomato. Garnish with fresh dill.
Choose either type of latke and load it up with lox, a soft-boiled egg, and scallions.
What combinations will you choose? If you create your own Hanukkah masterpiece, be sure to tag us on social media (we're @ReformJudaism on Twitter, Facebook, and Instagram) so we can ooh and ahh over your creation!
Related Posts
Image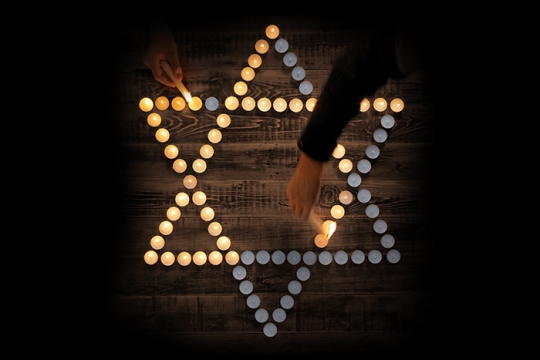 What does it mean to remember? It is to live in more than one world, to prevent the past from fading, and to call upon the future to illuminate it.
Image
A camel carrying a load. A golden pair of balanced scales. An open heart and an open mind. These are three of more than two dozen artists' visions of justice and righteousness featured in the invitational exhibition, "Tzedek Boxes: Justice Shall You Pursue."
Image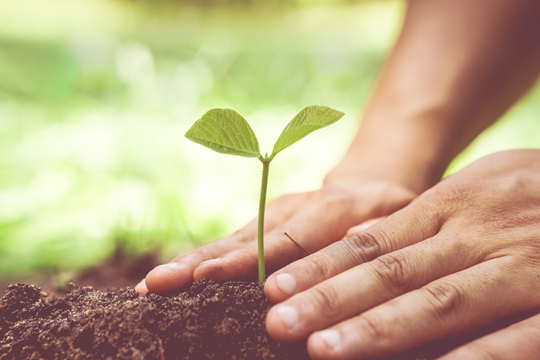 Tu BiShvat, the Jewish New Year of the Trees, is upon us. While it may not be the most celebrated new year in the Jewish tradition, there is a simple power to the holiday - the call for us to become attuned to nature and learn what it can teach us about personal growth.