Image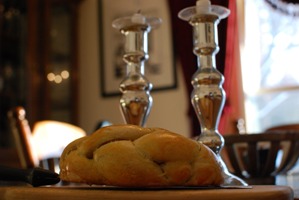 When my mother was alive, she neither checked email nor opened snail mail on Shabbat. Whatever missives – real or virtual – awaited her, she knew, would still be there once Shabbat had ended. This minhag was her way to step back and set the day apart. It was her way to make Shabbat holy. Although I do it differently, her minhag of making Shabbat holy has now been passed to me.
Each Friday afternoon before I leave the office, I pull up my list of "possible Facebook postings for Shabbat" and choose one with which to close out the week. Most are blessings or snippets of liturgy from Mishkan T'filah, the Reform siddur, and more than a few are the words to some of my favorite Shabbat melodies. I eagerly await the moment when I update my status with whatever passage I've chosen, officially marking the end of the work week and helping me more fully appreciate the arrival of Shabbat.
This psalm is one I use frequently:
Mizmor shir l'yom HaShabbat.
Tov l'hodot l'Adonai
ul'zameir l'shimcha elyon.

A psalm, a song for Shabbat.
It is good to praise Adonai;
to sing hymns to Your name, O Most High.

Shabbat shalom!
Another of my favorite posts is this one:
Ki eshm'rah Shabbat El yishm'reini.
Ot hi l'olmei ad beino uveini.

When I keep Shabbat, God watches over me.
It is a sign forever between God and me.

Shabbat shalom!
One more that shows up often on my Facebook page:
V'shamru v'nei Yisrael et HaShabbat,
laasot et HaShabbat l'dorotam
b'rit olam.
Beini u'vein b'nei Yisrael
ot hi l'olam, ki sheishet yamim asah Adonai
et hashamayim v'et haaretz,
u'vayom hashvi-i shavat vayinafash.

The people of Israel shall keep Shabbat,
observing Shabbat throughout the ages as a covenant for all time.
It is a sign for all time between Me and the people of Israel.
For in six days Adonai made heaven and earth,
and on the seventh day God ceased from work and was refreshed.

Shabbat shalom!
For the Shabbat that arrived just a few days after the Boston bombings, I chose this passage as my post:
May these hours of rest and renewal
open our hearts to joy and our minds to truth.
May all who struggle find rest on this day.
May all who suffer find solace.
May all who hurt find healing on this day.
May all who despair find purpose.
May all who hunger find fulfillment on this day.
And may we all live in such a way
that this day fulfills its promise.
Baruch atah, Adonai, m'kadeish HaShabbat.
No matter what piece of liturgy I select, though, my Facebook page quickly fills with numerous "Likes" and reciprocal greetings from friends and colleagues—many of whom have posted their own messages about the week just ended or their plans for the upcoming day of rest—all of which create a wonderful online oneg:
Shabbat shalom!

Back atcha, Jane!

Enjoy the weekend!
Late this afternoon, as a tough week ends, it's likely I'll choose these words as my end-of-week post:
It is a fearful thing to love
what death can touch.

A fearful thing to love,
hope, dream: to be –
to be, and oh! to lose.

A thing for fools this, and
a holy thing,
a holy thing to love.

For
your life has lived in me,
your laugh once lifted me,
your word was gift to me.

To remember this brings a painful joy.
'Tis a human thing, love,
a holy thing,
to love
what death has touched.

Shabbat shalom, The Mums…xoxo.
Shabbat shalom, all!
Although these words, strictly speaking, are not a welcome to the day of rest as much as they are a remembrance of my mother on her third yahrzeit , as today's end-of-week post, they will help me to step back, set the day apart, and remember and appreciate Shabbat, my mother, and the priceless gifts of modern Jewish living she bequeathed to me.
Jane E. Herman is the executive writer and editor for the Union for Reform Judaism.
Related Posts
Image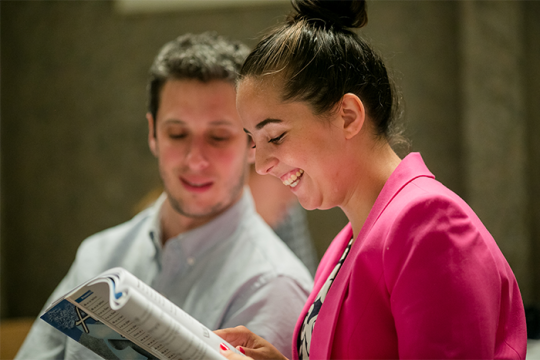 Lifelong learning, however, can be easier said than done. For many, as they enter adulthood, with its competing demands and obligations, setting aside time for learning – and especially for Jewish learning – can be challenging indeed.
Image
At 10, Jeff Erlanger appeared on "Mister Rogers' Neighborhood" in his wheelchair. I recently asked Jeff's parents about how they raised such a competent and loving son.
Image
When I became rabbi of Monmouth Reform Temple in Tinton Falls, NJ, I quickly discovered that some people in our community thought we were a church. Mail was addressed to "Monmouth Reformed Temple," and letters were addressed "Dear Pastor."