Image
The festival of Purim, with all of its frivolity, can also be understood as a lesson about the masks we wear. We all have them, those masks. Sometimes we hide behind them out of fear, sometimes out of habit and sometimes because it's just easier than revealing the painful truth.
Our son, Benjamin, was a difficult baby. He was a difficult toddler who grew into a difficult child. Though something nagged at me all the while, Ben's pediatrician met my concerns with "boys develop more slowly," "kids develop at different paces," and "you're just a nervous first-time mother." Because all of these statements, when pulled out of their context, are true and because they were coming from the medical professional in whom we put our trust, I allowed my intuitive fears to be brushed aside.
I thank God that Ben's kindergarten teacher had the strength to broach the subject with me. "You know," she began with perfectly-nuanced, yet uncharacteristic, gentleness, "my nephew has something caused Asperger's and I see some things in Ben that remind me a lot of my nephew." I have never been able to accurately verbalize the visceral sensation of that very moment. It was as if the vice surrounding my heart had been unexpectedly, and rapidly, loosened. Breath that I didn't know I had been holding for nearly six years rushed out of my lungs quickly, leaving me light-headed.
I have never been one to hide the diagnosis that came so quickly after that seminal parent-teacher conference. I have always spoken openly about the difficulties that Asperger's can create for Ben and others like him as they try to navigate a world that is rife with road bumps at every turn. But what I concealed was the pain I felt—the sometimes-oppressive nature that an autism diagnosis can foist upon all the members of a family. The isolation. The depression.
I hid behind my work. I hid behind the tasks I had been called to do when I was ordained. In order to fulfill my sacred calling, I shielded my son from much of the public aspect that comes with being the child of a congregational rabbi. I shielded my congregation from seeing the sometimes-ugly aspects of a complicated and misunderstood disorder. I shielded myself from the risks of being seen by the outside world during some of my most un-holy moments.
I did a wonderful job of obscuring this significant part of my life. So much so that when I announced to my congregation that I was stepping off the pulpit in order to be a full-time parent to Ben and his two siblings, many thought that there must have been some other reason. "But Ben seems so normal." "I've had such great conversations with Ben," "Ben is always so polite when I've seen him; it almost seems like you're making this up."
Yes, Ben can seem "normal." And he's a phenomenal conversationalist with those over 20. And he is über-polite after many years of social instructions. Unlike many manifestations of autism, people with Asperger's Disorder give the appearance of competency.
But it is a façade. A mask, if you will,—and one that uses a tremendous amount of emotional, mental, and spiritual energy and focus. When Ben walks through the door at the end of the school day, the mask comes off. Any illusions of normalcy remain beyond the threshold of the house.
When Esther arrives at the palace, she "did not reveal her kindred or her people, for Mordechai instructed her that she not say" (Esther 2:20).
The old cliché is true: we never know what goes on behind closed doors. For years, I believed that I was protecting myself, my son, my congregation by concealing the raw and often-painful reality of our life with Asperger's. Like Esther, there came a time to remove the mask. Her choice saved the lives of our people. My choice opens the way for honest discussion about autism.
There are many in our midst, however, whose masks remain tightly bound over their souls. May they be imbued with Esther's strength and may we—who have removed our masks—be there to catch them when they falter.
Rabbi Rebecca Einstein Schorr is the editor of the CCAR Newsletter and e-Newsletter. She writes regularly for Kveller.com and is to be a contributing writer to the forthcoming blog, The New Normal: Blogging Diversity, which will launch on the New York Jewish Week website on February 21, 2013
Related Posts
Image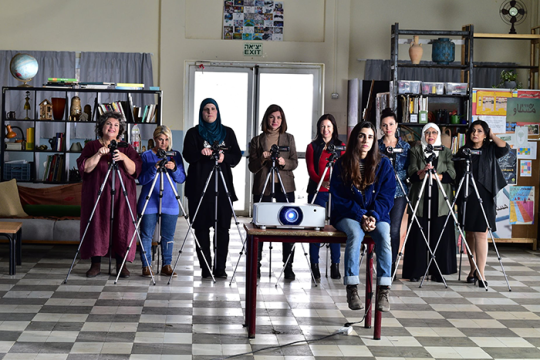 Both Arab and Jewish, young and old, the women of "Cinema Sabaya" learn about much more than filmmaking during the class; they discover that their differences are far outweighed by their bonds as women making their way in a patriarchal world.
Image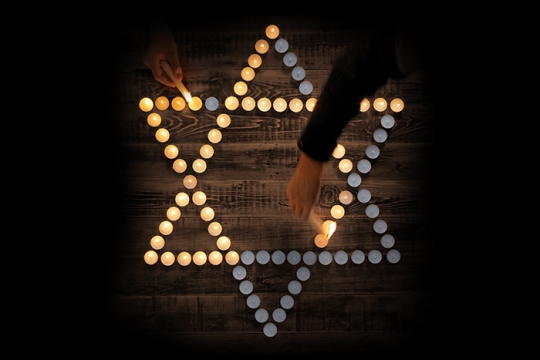 What does it mean to remember? It is to live in more than one world, to prevent the past from fading, and to call upon the future to illuminate it.
Image
A camel carrying a load. A golden pair of balanced scales. An open heart and an open mind. These are three of more than two dozen artists' visions of justice and righteousness featured in the invitational exhibition, "Tzedek Boxes: Justice Shall You Pursue."