Image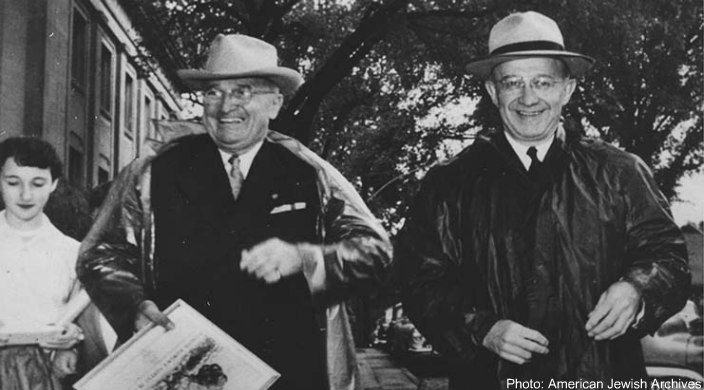 It's well known that almost 70 years ago, on May 14, 1948 at 4 p.m. local time, David Ben-Gurion read the Declaration of Independence that brought the modern Jewish State into existence. It's also well known that just 11 minutes later, United States President Harry S. Truman recognized the new State of Israel.
What's not so well known is that Truman's prompt recognition might not have happened without Eddie Jacobson, a little-known Reform Jew from Kansas City, MO, who was Truman's Army buddy and former business partner.
As the story goes, Jacobson was born to poor Lithuanian Orthodox immigrants on New York's Lower East Side. Growing up, he had little connection to Judaism or Zionism, and soon left New York for Kansas City. 
In 1905 Jacobson worked as a stock boy in a Kansas City shirt store and Truman worked as a bookkeeper at a nearby bank. Their friendship grew when in 1917, they reported for basic training in Oklahoma. Truman was named canteen officer and, lacking business experience, selected Jacobson, a traveling salesman before the war, as his manager. They worked well together, and the friendship blossomed.
Having agreed they would go into business after serving together in the 129th Field Artillery in World War I, the two opened Truman and Jacobson Haberdashery on 12th Street in downtown Kansas City in November 1919. Jacobson did the buying and Truman kept the books and sold clothing. When recession hit, they were forced to shutter the store in September 1922, enduring great personal financial hardship. 
Although the partnership ended, the friendship endured, even as Jacobson and Truman took different paths in life – Jacobson kept selling shmatas (rags in Yiddish) and eventually opened his own clothing store while Truman went on to become a county administrator, U.S. senator, vice president and, after Franklin Delano Roosevelt died in office in 1945, president of the United States. Through it all, the two remained lifelong friends. 
Immediately after he become president, Truman was under tremendous pressure from all sides regarding the situation in the Middle East. Personally, he was most concerned about the Jewish refugee problem the Holocaust had created. The State Department, under Secretary George Marshall, was against the establishment of the State of Israel and any partition plan. President Truman was in favor of other options.
At one point, when Truman said, "I don't want to hear about Palestine anymore," and refused a meeting with Chaim Weizmann, president of the Zionist Organization, the Jewish world was thrown into panic. National leaders reached out to Jacobson, who in his 37-year friendship with the president, had never tried to leverage it. However, having met Weizmann, Jacobson had taken up the Zionist cause.
On March 13, 1948, Jacobson went unannounced to see Truman in the Oval Office. Although Truman screamed at him for violating the president's specific instruction never to mention the word "Palestine," Jacobson knew how to get to the president. As recorded in Yehuda Avner's book, The Prime Ministers: An Intimate Narrative of Israeli Leadership, Jacobson said this:
Your hero is Andrew Jackson. I have a hero too. He's the greatest Jew alive. I'm talking about Chaim Weizmann. He's an old man and very sick, and he has traveled thousands of miles just to see you. And now you are putting him off. This isn't like you, Harry. 
Five days later Truman met secretly with Weizmann in the Oval Office. They talked for over an hour and Truman agreed to support the Partition Plan and the establishment of the State of Israel. Immediately after the State was declared, Harry Truman signed the proclamation, giving his friend, Jacobson, the pen he used to sign the document. 
Twenty years later, Truman wrote:
One of the proudest moments of my life occurred at 6:12 p.m. on Friday, May 14, 1948, when I was able to announce recognition of the new State of Israel by the government of the United States. I remain particularly gratified by the role I was fortunate to play in the birth of Israel as, in the immortal words of the Balfour Declaration, "a national home for the Jewish people."
Thanks, Eddie Jacobson, for stepping up to help make this moment possible!
Photo: Courtesy of The Jacob Rader Marcus Center of the American Jewish Archives, Cincinnati, Ohio
Related Posts
Image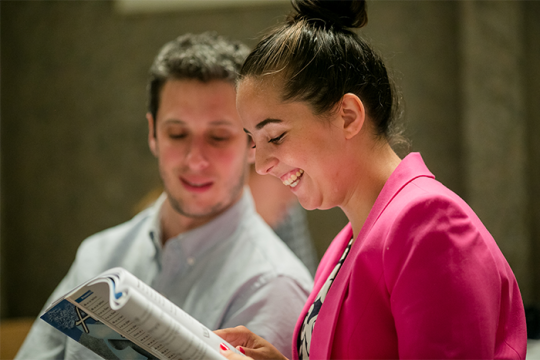 Lifelong learning, however, can be easier said than done. For many, as they enter adulthood, with its competing demands and obligations, setting aside time for learning – and especially for Jewish learning – can be challenging indeed.
Image
At 10, Jeff Erlanger appeared on "Mister Rogers' Neighborhood" in his wheelchair. I recently asked Jeff's parents about how they raised such a competent and loving son.
Image
When I became rabbi of Monmouth Reform Temple in Tinton Falls, NJ, I quickly discovered that some people in our community thought we were a church. Mail was addressed to "Monmouth Reformed Temple," and letters were addressed "Dear Pastor."