Image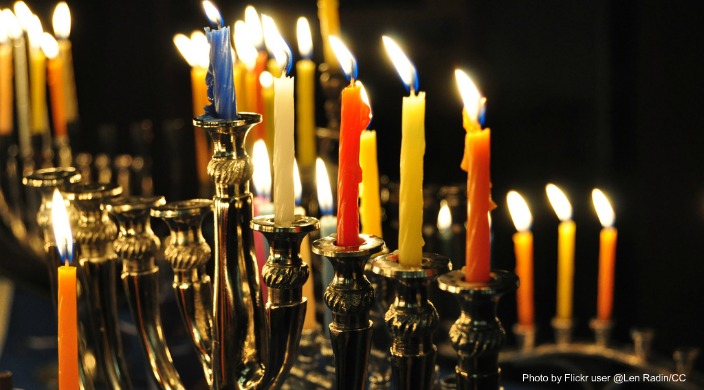 I love collecting hanukkiyot (menorahs). None is terribly expensive, but each one of the nearly 200 in my collection is unique. They were purchased in Judaica shops, on eBay auctions, and in the Judaica sections of the oddest stores, including Rite-Aid, CVS, and my local grocery store. They have different themes—animals, sports, musical instruments (I even have a Fender Stratocaster guitar menorah!), cars, and more—and are made from wire, paper, yarn, wood, mah jong tiles, pumpkins, and more. The more unique, the better.
Why hanukkiyot?
It's all about the light they bring to our lives.
When my now-grown daughters were kids, I used to pack a lot of the hannukiyot into a suitcase and bring them to their classrooms for a Hanukkah "show and tell." I was always amazed at how so many of the kids understood that there were just as many different kinds of hannukiyot as there were kids in the class. And, I loved how each kid seemed to have his or her favorite. Those days are long gone (my "kids" now prefer I not bring the hanukkiyot to their college dorms or places of work…), but I still thoroughly enjoy reviewing the vast array of lights I have collected over the years. I love how the message is always the same—so many different sources of light from so many different places, with a story behind the purchase of each one. Similarly, so many people in the world, so many opportunities to bring light.
Much of my work as a Jewish educator, in synagogue schools and day schools and, for the past 18 years at Hebrew Union College-Jewish Institute of Religion in Los Angeles, has involved talking about, teaching about, and researching leadership. Years ago, during my doctoral studies at UCLA, I was asked to write my own leadership narrative. I immediately chose the hannukiyah as a metaphor for leadership. To me, leadership embodies bringing light to a person, to a situation, to an idea, or to a challenge. To bring light is to create a possibility, to envision something new and unique. To bring light is to lighten a difficult circumstance, alleviating what otherwise would have been viewed as a probable failure. To bring light is to guide a young person who needs some mentoring, inspiring her to reach beyond what she always thought she could do.
And light is light. There is no such thing as a flame that burns brighter than the one next to it. Once you bring light to the wick, it shines—no matter the size or shape of the hannukiyah. The same is true of the "light of leadership," whether it comes from a national leader or from the 10th-grade president of a small temple youth group in NFTY, the Reform Jewish youth movement. Likewise, leadership can come from a kindergarten teacher in a synagogue religious school just as much as from the rabbi of a large synagogue.
The "light of leadership" shines throughout the 25-year process that takes a 10-student Reform synagogue day school to one with 200 students. It shines, too, when camp counselors work one-on-one with special needs campers, bringing brilliance to the world that's hard to describe in words.
Again and again, I see the "light of leadership" in the work of my students:
Those who serve student pulpits in "the middle of nowhere," bringing light and joy to small Jewish communities that anxiously await their arrival every month
Those who work in synagogue and day schools, creating and implementing programs that meet the changing needs of our Jewish community
Those who work in communal agencies, bringing all of us a deeper understanding of the real issues that are ever-present in our Jewish community
Each of these endeavors brings light to our hearts, to our souls, and to our minds.
This Hanukkah, as you light your own hannukiyah, think about the times and places that you have brought light to others. And remember, we're not looking for bonfires, but rather the small, meaningful light that helps us as individuals and collectively as the Jewish community to shine on.
Related Posts
Image
At 10, Jeff Erlanger appeared on "Mister Rogers' Neighborhood" in his wheelchair. I recently asked Jeff's parents about how they raised such a competent and loving son.
Image
When I became rabbi of Monmouth Reform Temple in Tinton Falls, NJ, I quickly discovered that some people in our community thought we were a church. Mail was addressed to "Monmouth Reformed Temple," and letters were addressed "Dear Pastor."
Image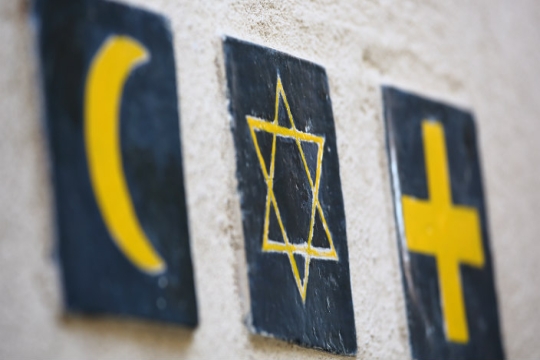 Read about Imam Abdullah Antepli, a Turkish-born cleric whose odyssey took him from anti-Semite to Jewish-Muslim bridge builder.