Image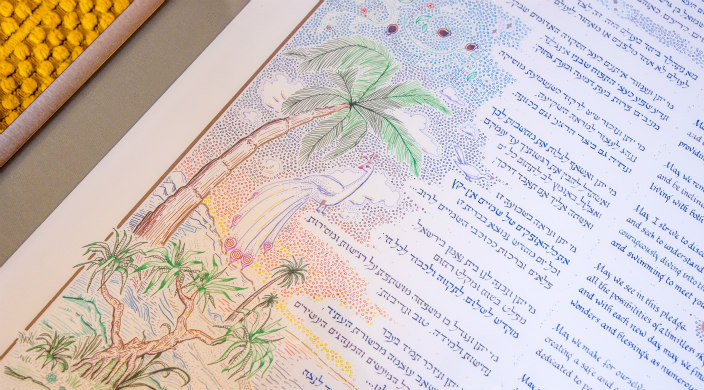 When I was 12, I told my parents and my Irish Catholic Nana that I would not be confirmed in the Catholic Church. As a gay kid growing up in a predominantly Catholic neighborhood of Boston, I felt alienated and targeted, and certain that wasn't going to change.
Later, when we moved to a more diverse suburb, I often said I was "atheist" or "agnostic." I made a lot of Jewish friends, though I didn't know much about Judaism, and I found myself mysteriously drawn to their foods, customs, and rituals. I dated several nice Jewish boys and just as I began to question why all of that might be, I left home for Emerson College, where I soon met the nicest Jewish boy ever, Andrew Oberstein.
Something clicked: Us…and Judaism.
When I experienced some of my first Jewish moments with Andrew and his family at their home synagogue in Los Angeles, I cried. I was finally at home.
I felt an inexplicable connection to the sights and smells, the music and celebration – and very little of it had to do with fear or shame. It was in Jewish space, surrounded by Jews – Andrew to my right, his Nana  on my left – that I first felt Jewish. Maybe I had always been Jewish. Maybe Judaism had always been there waiting for me, seeing me for who I was, and loving me before I ever even stepped over the threshold. It was all there. I only needed to say "yes" – to Andrew and to Judaism.
So I did.
I proposed to Andrew and I decided to convert. My conversion was beautifully exploratory and transformative. It was guided by a wonderful rabbi at our home congregation in Boston. We met once a month to discuss readings or cultural events she recommended. Andrew and I took an Introduction to Judaism course together.
Eventually, I felt I was ready for the mikvah (ritual bath). I immersed at the incredible Mayyim Hayyim Living Waters Community Mikveh in Newton, MA. Later, surrounded by family and friends, I both held a Torah scroll and wore a tallit (prayer shawl) for the first time. It was real. I was what I was always mean to be: a Jew.
When we met with her to plan our wedding, our rabbi told us we would need a ketubah (a traditional Jewish marriage contract). I learned through my research that, in a more contemporary sense, ketubot (plural of ketubah) can be totally egalitarian agreements between two individuals of any gender or sexual identity joining in Jewish marriage – a declaration of mutual affection that imagines what a modern Jewish marriage can and should be. A ketubah consists of a text illuminated with artwork that is signed by the couple, the officiant, and witnesses just prior to the wedding ceremony. As both an artist and a language-lover, I was immensely excited by the task of searching for our ketubah.
We shopped around, found many beautiful ketubot, but felt they were unspecific and often looked dated or obviously mass-produced. I decided, therefore, to make our ketubah myself. We wrote our own text, had it translated into Hebrew, then hand-calligraphed by an expert.
I wanted our ketubah to feel custom and personal; I wanted it to tell our story, individually and as a couple. I wanted it to feel sexy and contemporary, but richly traditional, as well. In the artwork I created, I incorporated imagery that illuminated aspects of the text we had written together: ancient musical instruments, a line of pioneers doing a folk dance, and references to Shabbat, Jerusalem, New England, and California. I connected to the act of creating it instantly.
After seeing our ketubah, friends started asking me to make something equally personal and unique for them. It dawned on me that people might be craving this sort of connection to tradition and ritual. I spent a year doing research and taking meetings with countless helpful individuals. I developed a curated process to employ when working with couples, including a series of video chats, a fun questionnaire, and a design process. I built a website and started creating ketubot, helping to bring an ancient tradition into the 21st century. The ketubot are accessible to all Jews, all people, all couples, regardless of practice, tradition, or experience. They are decidedly not mass-produced or unspecific, and they bring a newfound love of tradition into homes that might not otherwise have them. All these efforts led me to establish my company and the rest is – albeit somewhat recent – history.
I'll always remember my Nana's response when I told her I wasn't going to practice Catholicism anymore: "I just hope you find something someday that you can believe in – I think it's very important." In finding Judaism, I believe I truly fulfilled my Nana's wishes. Each time I'm creating a ketubah for a couple, I feel like my childhood self, coloring in her living room as she helps move my tiny hand around the blank page to create something beautiful. Something Jewish. Something holy. Indeed, it all feels like it should. I am a Jew. I am a Jewish artist. I am a part of the tradition.
Photo by Chris Lang and calligraphy by Ami Fagin
Related Posts
Image
In this season, time is immutable. It can be questioned, but not changed. Family can be understood, but not altered. The self, in this case, the result of intergenerational trauma, must be accepted. In Russian Doll, the only way to see the good in the world is to stop looking back, to stop journeying inward, and to the wake up in the present.
Image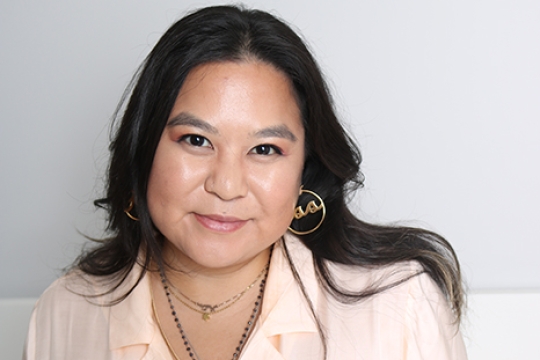 Amy Albertson (she/her), 30, is a Chinese Jewish advocate and online educator living in Northern California. She works as a social media consultant for Jewish organizations.
Image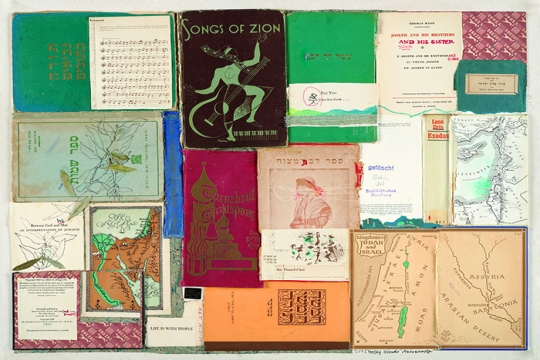 On June 3, 1972, Rabbi Sally Priesand was ordained by Hebrew Union College-Jewish Institute of Religion as the first woman rabbi in North America. To celebrate this milestone in Jewish and American history, HUC's Dr. Bernard Heller Museum in New York partnered with The Braid's Story Archive of Women Rabbis in Los Angeles to create the exhibition "Holy Sparks," presenting 24 ground-breaking women rabbis who were "firsts" in their time.