Image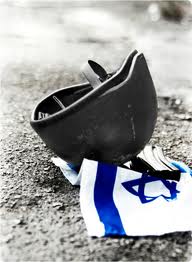 History demonstrates that the events of the Holocaust served as an impetus for the creation of the state of Israel in 1948.  For this reason, Israel's civil calendar first acknowledges Yom HaShoah, which commemorates those whose lives were lost during the Holocaust. The following week, Israelis celebrate Yom HaZikaron, commemorating individuals who lost their lives fighting for Israel.  Unlike in America, where Memorial Day frequently is associated with barbeques, baseball games, and a day off from school, Yom HaZikaron is a solemn day during which all places of entertainment are closed.  As on Yom HaShoah, two-minute sirens are sounded throughout all of Israel, one in the evening to mark the beginning of the day and one in the morning, prior to the nation's public memorial ceremony.
Various poems that embody the message of memory and loss often are recited on Yom HaZikaron.  One such poem, The Silver Platter, by Natan Altermann, is perhaps among the most famous of these pieces.  In this work, Altermann reflects on Chaim Weizmann's now famous statement that "No state is ever given on a silver platter."  The poem alludes to an Israel that not only will rise to independence, but also will face wars and challenges to defend that independence:
...And the land will grow still
Crimson skies dimming, misting
Slowly paling again
Over smoking frontiers

As the nation stands up
Torn at heart but existing
To receive its first wonder
In two thousand years

As the moment draws near
It will rise, darkness facing
Stand straight in the moonlight
In terror and joy

...When across from it step out
Towards it slowly pacing
In plain sight of all
A young girl and a boy

Dressed in battle gear, dirty
Shoes heavy with grime
On the path they will climb up
While their lips remain sealed

To change garb, to wipe brow
They have not yet found time
Still bone weary from days
And from nights in the field

Full of endless fatigue
And all drained of emotion
Yet the dew of their youth
Is still seen on their head

Thus like statues they stand
Stiff and still with no motion
And no sign that will show
If they live or are dead

Then a nation in tears
And amazed at this matter
Will ask: who are you?
And the two will then say

With soft voice: We--
Are the silver platter
On which the Jews' state
Was presented today

Then they fall back in darkness
As the dazed nation looks
And the rest can be found
In the history books.1
Through these words, Altermann makes clear that the losses of the Holocaust are the very same ones that gave others the strength to fight for Israel's statehood.  He suggests, too, that in order for Israel to keep its independence, it will always need to stand up in its own defense. Yom HaZikaron reminds Israelis of the sacrifices that brought their country into being.
In addition to the nation's public memorial ceremony atop Mount Herzl, where many of the state's leaders and soldiers are buried, school grounds often include public memorial spaces—where ceremonies are held—to honor local residents who died fighting for their country. Although Yom HaZikron is a civil holiday, religious prayers such as the Mourner's Kaddish and El Malei Rachamim frequently are recited as part of these ceremonies.
Like Yom HaShoah, Yom HaZikaron is about memory. The Hebrew word for memory, zachor, is an essential component of our observance of these days: we are called to remember those who came before us, because without them, there would be no us. For Israelis, the lives taken during the Holocaust allowed those whom we remember on Yom HaZikaron to fight for Israel's independence.
Natan Altermann, The Silver Platter, trans. David P. Stern, in Taking a Personal Stand on Israel: A Yom Ha'Atzmaut Resource from ARZA, ARZA, New York.
P.J. Schwartz is a fifth-year rabbinic student at Hebrew Union College-Jewish Institute of Religion in Cincinnati, OH, and holds a master's degree in educational administration with a specialization in Jewish studies from Xavier University.
Related Posts
Image
These are Torah portion haikus.
Image
These Haikus focus on weekly Torah portions.
Image
These Haikus focus on weekly Torah portions.