Image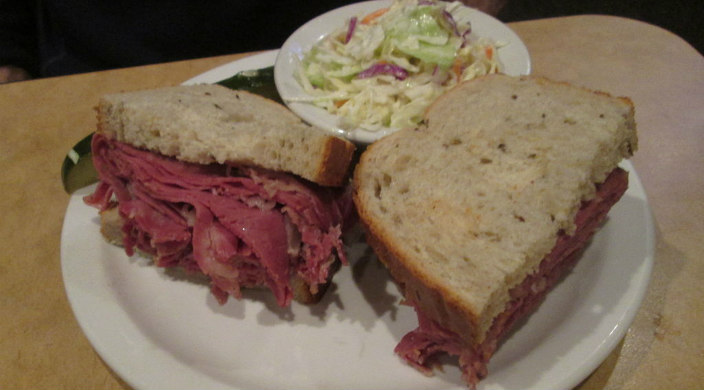 And the priest is to turn the whole into smoke on the altar as a burnt offering, an offering by fire of pleasing odor to the Eternal.
-- Leviticus 1:9
There is one smell that always takes me home: Montreal smoked meat. Smoky, salty, peppered, and spicy, the caramelized exterior of the marbled charcuterie draws me in like nothing else – the ultimate taste of heavenly comfort.
Because we moved to Toronto when I was young, my memories of life there are few. Nonetheless, we were always Montrealers and the city was a beacon to my family in the same way that Ahad Ha'am saw Israel as a beacon for world Jewry – a cultural grounding point and ultimate source of inspiration.
We returned there several times a year to visit family and friends, and for a culinary pilgrimage to St. Viateur Bagels and Schwartz's Charcuterie Hebraïque. After gorging ourselves, we left with bags upon bags of delicacies to sustain us until our next pilgrimage. Schwartz's, one of Montreal's legendary delis, dates to 1928, and even on freezing winter nights, it's not unusual for clientele to stand in an around-the-block line anticipating a sandwich of perfectly cured, smoked, and hand-sliced brisket.  
Influenced by New York City's deli tradition from the early 19th century, Montreal's restaurateurs developed their own Romanian-influenced recipe that combines the best parts of pastrami and corned beef into preferred and revered sacred meat, the Canadian Jewish community's highest sacrificial offering. According to Frank Silva, Schwartz's long-time manager in Save the Deli: In Search of Perfect Pastrami, Crusty Rye, and the Heart of Jewish Delicatessen, "Raw briskets from Alberta are rubbed with a mixture of course salt, cracked peppercorns, and Schwartz's secret spice mix, which involves much less sugar than a New York-style pastrami, with more pepper and fewer aromatic spices." Briskets are then cured for a week, smoked, steamed, and hand cut to perfection.
New York's delis often change their menus and decors to adapt to changing times and clientele, but Schwartz's has survived through the decades, not only thanks to Jewish devotees, but also because of enormous French-Canadian interest. Montreal smoked meat can often be found in the most unlikely places, including, for example, mixed into poutine, a delicious mélange of French fries, gravy, and cheese curds, and even in rural Catholic Quebec towns in which few Jews may ever have set foot.
Particularly during this period of incomprehensible social upheaval here in the United States, I often want the comfort of home and its food. Recently, my Canadian clergy partner, Cantor Aviva Marer, and I were both so homesick that we debated taking a drive to Black Seed Bagels, the hybrid New York-Montreal bagel shop with several New York City locations. Instead we went in together on an order of six-dozen bagels from St. Viateur and had them shipped to us in central New Jersey. For several weeks, I was blissfully content and comforted.
But what about that ambrosial meat?
One Montreal ex-pat, Noah Bernamoff, dropped out of law school in New York and, along with his wife Rae, opened Mile End, a Montreal style deli in Boerum Hill, Brooklyn. Like Bernamoff, and with help from his cookbook, I, too, have learned to make smoked meat to satisfy my cravings for home.
My marvelous kosher butchers keep me well stocked in 15-pound, second-cut briskets known as deckle, which I rub with nitrate salt, an array of spices, and garlic before curing them in the refrigerator for 12 days. Then, I smoke them to perfection in my custom-made wood smoker, a surprise gift from my contractor.
I can only imagine the aroma on high at the ancient Temple in Jerusalem, where our people brought their sacrifices. Seeing that smoke rise from the altar connected them to their past, to their future, to that deep place inside themselves, and to God, Whom, they believed, was gratified by the odors they created by cooking meat over a fire.
As for me, my table is my altar, and when I finally sit down to dig in, like the ancient Israelites, I'm connected to so many feelings. The taste, aroma, and texture of that first bite – replete with garlic, paprika, and coriander, all in just the right proportions – they bring me home.
Related Posts
Image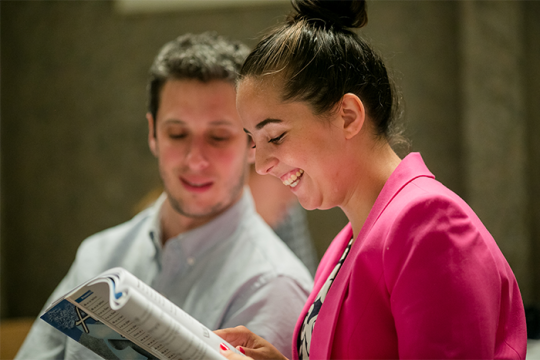 Lifelong learning, however, can be easier said than done. For many, as they enter adulthood, with its competing demands and obligations, setting aside time for learning – and especially for Jewish learning – can be challenging indeed.
Image
At 10, Jeff Erlanger appeared on "Mister Rogers' Neighborhood" in his wheelchair. I recently asked Jeff's parents about how they raised such a competent and loving son.
Image
When I became rabbi of Monmouth Reform Temple in Tinton Falls, NJ, I quickly discovered that some people in our community thought we were a church. Mail was addressed to "Monmouth Reformed Temple," and letters were addressed "Dear Pastor."