Image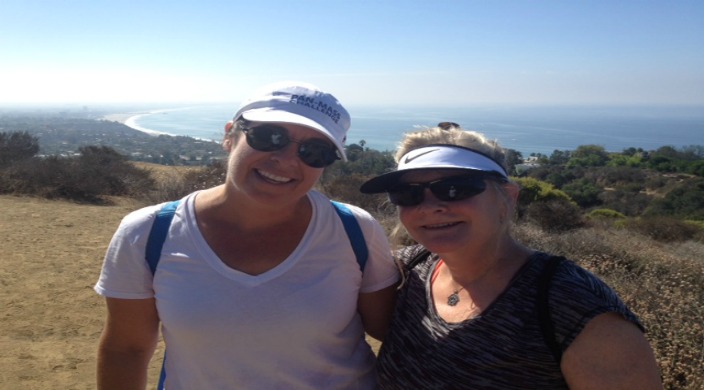 I had the recent pleasure to be invited by a friend on a hike in Los Liones Canyon of Pacific Palisades. It was gorgeous summer day and the trail was steep. We pretty much hightailed it up as fast as our feet would carry us! When we reached the summit we tarried for a few moments-long enough for me to take in the view, snap a picture or two, and do a volcano pose, with my arms stretched up, palms facing one another. I invoked divine energy into my fingertips and down into my heart center for few seconds before a kind voice said, "OK, time to go!" Then we hurried down the mountain trail back toward civilization, on to the next activity, appointment, and event.
I happened to be California because my Aunt Jeannette had passed away very suddenly and my cousins asked me to officiate at the funeral. It was just by chance that I ended up with a few hours on Shabbat morning to share hiking in that canyon with my friend and colleague, Julie Silver. In the brief but meaningful time we spent together she shared with me some life-changing advice. She recommended that I listen to meditation teacher Tara Brach. I had never heard of this teacher, but I put her name on my list of things to do and hurried off to my next destination.
The next morning, I was sitting in the backseat of my cousin's car on my way to the funeral and decided to visit Tara's website. (Thank goodness for iPhones!) A lesson titled "The Awareness of Doing" popped up and I hit play. Tara's teaching centered on our evolutionary need for addictive doing: our need to always be in motion, moving, and achieving so that we can accomplish more and feel good about ourselves. She proposed a new way of moving through life, where sacred pauses, time just to be, can significantly alter our well-being: "Only when we tarry can we touch the Holy."
Tara's teaching made me think back to the hike the day before. It made me realize that I had missed much of the magic of those precious moments because my determination to keep up, finish the hike, and move on to the next activity drove the awareness out of my actions. I thought back to a time with my friend and I savored each memory a little more deeply. The lesson also significantly helped to ground me and allow me to move very slowly through the ritual of my aunt's funeral. I breathed more deeply, hugged more strongly, and read more slowly. I stayed present for every moment of the service and felt deeply connected to her spirit and my own. What an extraordinary gift.
One of the reasons I love practicing yoga is because it is about undoing: undoing stress, undoing rushing, undoing thinking. It gives me permission to slow down and take time for myself. In our harried lives we constantly worry about the welfare of others, sometimes to the point of illness and depression, injury and sleeplessness. It is not the doing itself that is the problem. It is the absence of mindful aware ness of what we are doing that is at issue. We stumble through life on autopilot, our long-time habits of preoccupation taking over.
You don't have to practice yoga to experience undoing. As Tara teaches, simply setting the intention at the beginning of the day to pause and notice things around you can be enough. Intended pauses might include spending 15 minutes in a quiet room, on a patio, or in another calming environment. Taking a leisurely walk, meditating, or listening to a soothing CD can give you the same feeling of relaxation and allow your mind to rest.
I imagine that our ancestors who were making pilgrimage to the Temple in Jerusalem had little time to tarry. They moved swiftly from their homes to stake out their camping spots and build their sukkot before the sundown of the Festival holiday began. Once it did start, they ceased from all their labor and made time to celebrate with mindful prayer and heartfelt offerings.
With that inspiration in mind, I think perhaps it's time to cut down our to-do list and create an "undo list." What activities might you cut out each day (or every week) that will keep you from running from one thing to the next without respite? What activities might you build into your day that will allow you just to be?
Make a new year's resolution to tarry. For only in the quiet space of feeling time stand still, can we find ourselves, touch the Holy, and hear the deepest part of our souls sing.
Cantor Lisa Levine is the cantor of Temple Shalom in Chevy Chase, MD. She is the author of Yoga Shalom, a book/DVD/CD that combines prayer, yoga, and chanting into a practice of spiritual renewal.
Related Posts
Image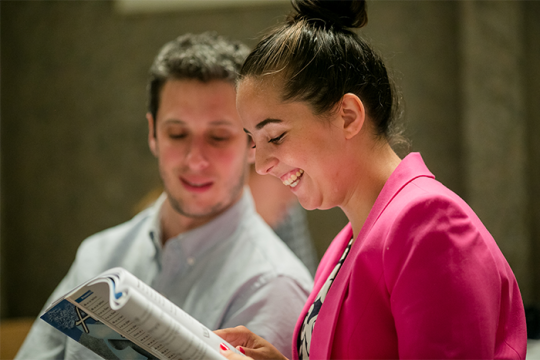 Lifelong learning, however, can be easier said than done. For many, as they enter adulthood, with its competing demands and obligations, setting aside time for learning – and especially for Jewish learning – can be challenging indeed.
Image
At 10, Jeff Erlanger appeared on "Mister Rogers' Neighborhood" in his wheelchair. I recently asked Jeff's parents about how they raised such a competent and loving son.
Image
When I became rabbi of Monmouth Reform Temple in Tinton Falls, NJ, I quickly discovered that some people in our community thought we were a church. Mail was addressed to "Monmouth Reformed Temple," and letters were addressed "Dear Pastor."