As we're preparing for our first Rosh Hashanah with our 8 month old son Solomon, I can't help but to pause and wonder how my husband and I got here? My husband, Matt, is not Jewish, and from an early age I was encouraged to only date Jewish men. In fact, a Jewish partner was to come before all else, even kindness, patience, understanding, a good humor, etc. When I met Matt, he had many of these qualities listed above and then some. So it was hard to not pursue something with him just because he wasn't born Jewish. But just by dating Matt, he really helped reinforce my Jewish identity. He often asked questions that I did not always have the answer to and he was genuinely interested in Jewish culture. All I have to say is thank God for myjewishlearning.com.
As our relationship matured, we needed to have the tough conversations around our family traditions/rituals and how we would weave those traditions to further grow together. I saw an advertisement for a URJ Reform Jewish Outreach Boston class called Yours, Mine and Ours. I called and spoke to Joyce Schwartz about the class, and I was sold that this was something we needed to take in order to move forward in our relationship.
Our particular class was made up of 4 to 6 other couples, none of who were married at that point. The class was led by a skilled facilitator who created a warm and open environment for us to share. We explored lifecycles and rituals such as holidays, marriage, children and death. It really helped hearing what other couples were discussing, but for me, the best conversations occurred in the car on our drive home.
The class brought Matt and me closer together and gave us the ability to understand each other's upbringings and what was important to us moving forward as a unit. If you're in an interfaith relationship -- dating, engaged or married -- I highly recommend Yours, Mine and Ours. Please contact me if you have any questions about the class or contact Joyce Schwartz.
Related Posts
Image
When Aly Silverberg (she/her) started a Jewish meme account on Instagram, she never expected it to go viral - or for it to have such a big impact on her life and career. She certainly never expected it to reach tens of thousands of other Jews!
Image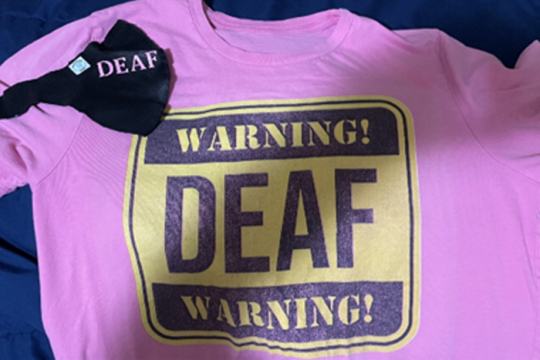 Living most of my life in a hearing world – as a not-fully hearing person – has been my "normal" living experience. I don't know any other way of being. I suspect there is a different way of living because everyone around me tells me so – they imagine that my life must be so hard, how I must cope (what are my choices??). At one point, I tried to connect to the Deaf community. Between not being fluent in American Sign Language and being able to live in the hearing world, I didn't feel welcome – although I learned a lot about myself as a less-than-fully-hearing person in a hearing world. A few years ago, when I went from hard of hearing to deaf, I decided that I would be just that, "deaf" without the capital "D". I am now a deaf person living in a hearing world (as opposed to a Deaf person with connections to the Deaf community).
Image
Last year was my first time celebrating Passover and one of the first times I sang with the congregational choir. One of the songs we performed for the seder was "Dayenu." The choir director explained during practice that in Hebrew, "dayenu" means "enough." I loved the melody of the song and found myself humming the tune as I prepared for Passover.