Image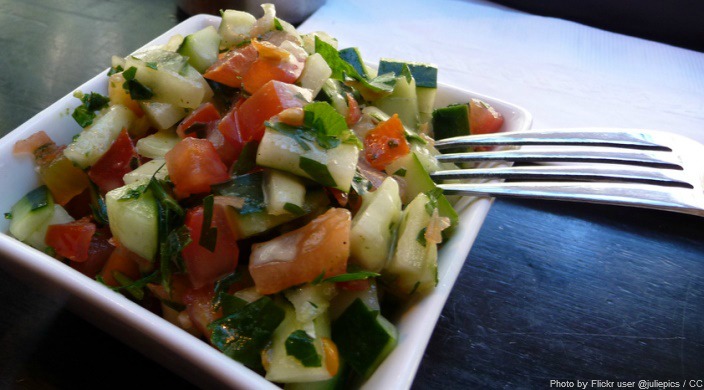 This simple, Israeli classic was taught to me in Israel by Gilad, the owner of Hess Cafe, which students at Hebrew Union College-Jewish Institute of Religion used to frequent for his delicious soups, fresh salads, and amazing shakshuka. He was a short, bald, sweaty man with the attitude of a stereotypical sabra (Israeli Jews born in Irsael). He was gruff and harsh, but such a sweet guy when you get to know him.
I have a difficult time writing out "recipes," because that's not how I cook, nor how I learned this dish. I learn by tasting, watching, and listening, so this is not a recipe, per se, but it should get you the feel of the dish. Don't hold yourself to measurements and ratios. Taste as you cook, and add what you think it needs. (A caveat: whenever salting, add less than you think you need. You can't take salt out of a dish!)
Israeli Salad
Ingredients:
Tomatoes
Mini pickling cucumbers (about three per tomato)
Red onions
Fresh parsley, minced
Olive oil
Garlic powder
Lemon juice
Salt and pepper to taste
Chop the tomato, cucumber, and onion into about quarter-inch cubes. Toss lightly, then add the other ingredients, in order. Taste and adjust as necessary. That's it!
Related Posts
Image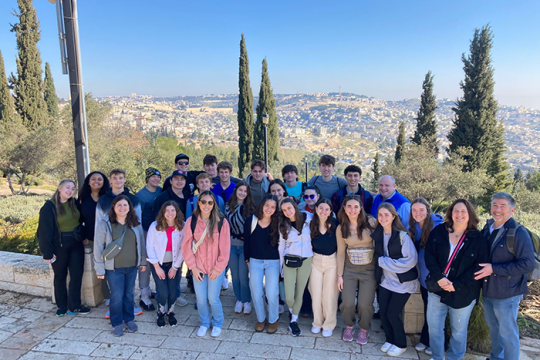 What happens when you take six Jewish teens and six Catholic teens to Israel? This was the very question that Roger Tilles and the late Fr. Tom Hartman hoped to answer in 1988 when they organized Project Understanding.
Image
In November 2006, I set out with a pack on my back to walk the Land. I knew that before I enlisted in the Israel Defense Forces, I wanted a more intimate relationship with the country that I had made my home.
Image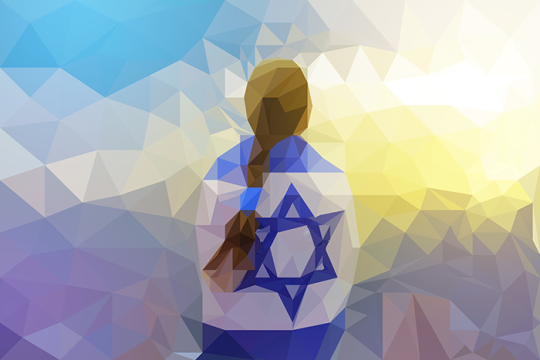 While many are acquainted with the "fathers" of modern Zionism (Theodore Herzl, Leon Pinsker, David Ben Gurion, and others) early women Zionists have been largely overlooked. Their contributions to Zionism and Jewish kibbutzim were vital to establishing the state of Israel. It's time that their work was celebrated and recognized.