Image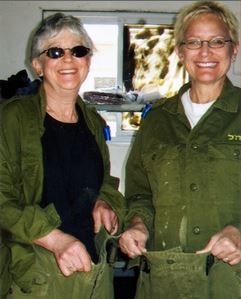 Was this really me, committing to two weeks in Israel as a volunteer working on an Israel Defense Forces base? Completely out of character, but I was leaving my husband, children, and grandchildren for an experience beyond anything I could have imagined.
It started when friends spoke at our synagogue about Volunteers for Israel. I attended, thinking it would be an interesting morning, and perhaps a few members would investigate the program for themselves or their teenage children. I never expected the presentation to have an impact on me.
After all, I knew people who had been volunteers, and I never was interested. Live on an army base? Eat army food? Work at a repetitive or difficult task, maybe in the hot sun, while wearing ill-fitting work clothes? Walk outside to the shower and the bathroom? Not me!
But then I was at Ben-Gurion International Airport, waiting to be transported to the base with other volunteers - most from the Philadelphia area; most Jewish, but a number of Christians; most repeaters, but with a smattering of first-timers like me; many around retirement age, but a number younger and employed.
The base was in northern Israel, stark and basic. Our first day of work was to clean the dust from under the bunk beds, the weeds from the walkways, the accumulated dirt in the bathrooms and dining room. We were rewarded by tours of the guard tower and a walk to the convenience store for coffee or ice cream, a walk some of us took every day to supplement our plentiful but repetitious meals.
The next day, the real work began - repairing and building fences, clearing brush and debris, and filling sandbags on outlying bases. With the work came breathtaking views of the Mediterranean and surrounding towns and villages, complete with a shepherd tending his flock. We went to the top of the communications tower for an even more spectacular view.
We reminded one another to drink water and take breaks out of the hot sun. We lunched sitting on outcroppings of ancient rocks. We heard the Muslim call to prayer. We saw a rainbow in the bright sky. We debated the politics and contradictions of this land we all love and voiced our hopes and concerns for its future.
Workdays ended with evening excursions to ceremonies memorializing Holocaust victims, fallen soldiers or victims of terrorist attacks, and in honor of outstanding soldiers. On weekends, we scattered for tours, to see relatives and friends, and to sleep in real beds. I went to an outdoor rock concert in Modi'in, the site of the Maccabees' triumph, and celebrated Israeli Independence Day Israeli style - at a barbecue.
In Jerusalem, I had a few quiet moments at the Western Wall; shopped for food for the Sabbath at Machane Yehuda, the crowded Reading Terminal-like market; saw an art exhibit at the Israel Museum; walked through the Arab shouk (market), and had lunch with relatives at a stylish restaurant.
This was my third trip to Israel. Nothing on my prior visits prepared me for what I would feel this time. I was privileged to view Israel from the inside out, to be in places tourists don't see, to visit my family but also to live with a new family of adventurous, dedicated, uncomplaining, wonderful people. Together, we each managed to keep our sense of humor intact while working hard to make an impact on this tiny, ancient, yet very modern, country.
Debra Skaroff is a Philadelphia native and graduate of Temple University who lives in Plymouth Meeting, Pa. with her husband Arthur. They have five grandchildren, including Sam's 10-month-old sister. Debra has worked in human relations, administrative and editorial positions. She is a member of Hadassah, a past co-president of the sisterhood of Tiferet Bet Israel synagogue and a current synagogue board member, a former guide at the Philadelphia Museum of Art, and a board member of the Graduate Guides group.
Initially published in the Philadelphia Enquirer
Related Posts
Image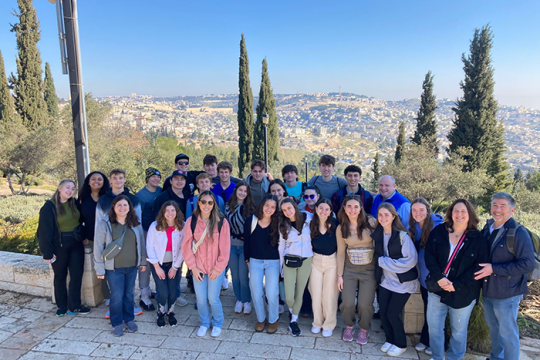 What happens when you take six Jewish teens and six Catholic teens to Israel? This was the very question that Roger Tilles and the late Fr. Tom Hartman hoped to answer in 1988 when they organized Project Understanding.
Image
In November 2006, I set out with a pack on my back to walk the Land. I knew that before I enlisted in the Israel Defense Forces, I wanted a more intimate relationship with the country that I had made my home.
Image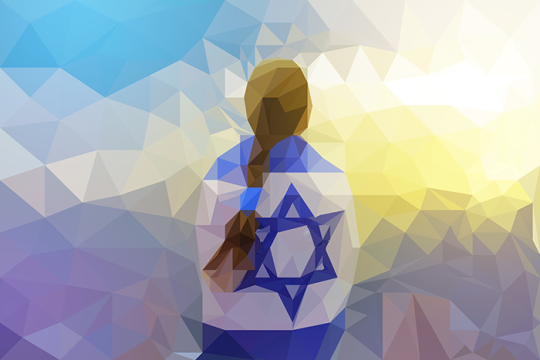 While many are acquainted with the "fathers" of modern Zionism (Theodore Herzl, Leon Pinsker, David Ben Gurion, and others) early women Zionists have been largely overlooked. Their contributions to Zionism and Jewish kibbutzim were vital to establishing the state of Israel. It's time that their work was celebrated and recognized.