Image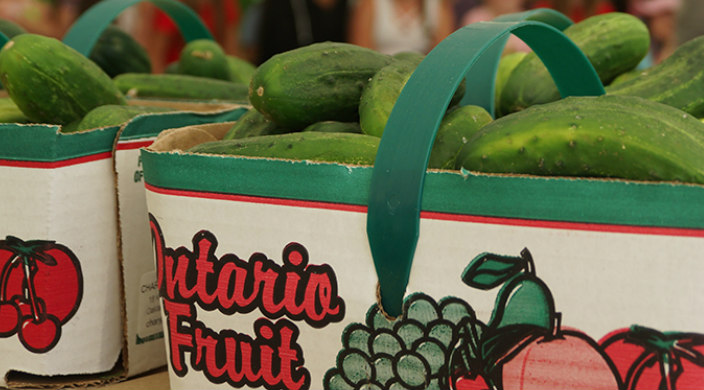 When it comes to pickles, there are many connections to our culture from historical through biblical references.
In the summer of 2018, campers at URJ Camp George, a Reform Jewish summer camp in Parry Sound, ON, had the privilege of welcoming Avram Mandell from Tzedek America to camp (thanks to a partnership with Foundation for Jewish Camp). Avram shared his extensive pickle knowledge and led groups of campers and staff in making their very own jar of pickles.
Campers learned about the historical connection of pickles to our European ancestors bringing them to North America – including the fact that the history of pickles goes back more than 3,000 years! They also learned that pickle juice is referenced in the Talmud, and cucumbers are mentioned twice in the Torah (in Numbers and Isaiah). (Want more pickle history? Tina Wasserman shares additional background in "What's So Jewish about Pickles?")
Avram also spoke about the "how" of pickle-making, including the use of various spices for flavoring, the proper technique for cutting the cucumbers, and the pickling process itself. Jewish pickles are fermented in special mixture known as brine, a proportioned mixture of salt and water, which is different than or canning.
The groups also learned about the special "breathing" formula for pickling: To prevent an explosion from the CO2 buildup, pickle jars typically need to be "breathed" periodically. Alternatively, refrigerating the pickles puts a stop to the fermentation process but the cucumbers still get flavor from the brine. The pickles don't sour any more once in the refrigerator, as it stops the fermentation.
This way of learning provides the opportunity for connections between the history of our culture and a current practice. At Camp George, we love such an opportunity to bring our culture into practice – and the conversation between campers and the questions they asked suggested their enjoyment of this experience.
Indeed, our campers were so inspired by Avram's pickle knowledge, and it was wonderful to see such interest from everyone in this pickle-making process. We were so excited to taste the pickles we'd made!
Want to make your own? This recipe for half-sours is lightly adapted from a recipe from Brooklyn Farm Girl.
Half-Sour Pickles
Ingredients:
5 Kirby cucumbers (or as many as fit into your jar)
½ tsp coriander seeds
½ tsp mustard seeds
½ tsp black peppercorns
Sprigs of fresh dill
3 bay leaves
6 cloves garlic minced
¼ cup sea salt
6 cups water
Instructions:
Wash your cucumbers and slice them into spears.
Dissolve sea salt in water.
Grind/crush dry ingredients using a mortar and pestle or a rolling pin.
Put cucumbers into jar.
Add minced garlic, then ground-up spice mixture. Pour saltwater on top, ensuring that cucumbers are completely covered in water.
Add fresh dill and any additional coriander seeds, peppercorns, and bay leaves to taste.
Close jar tightly and leave in refrigerator for four days or more before eating. B'tayavon!
Can't get enough pickling? ReformJudaism.org cooking expert Tina Wasserman shares an additional recipe for Middle Eastern Cucumber Pickles. These include the sweet flavors of cardamom and cinnamon, and they require just two days of waiting time.
Learn more about Reform Jewish summer camping and find a camp near you.