Image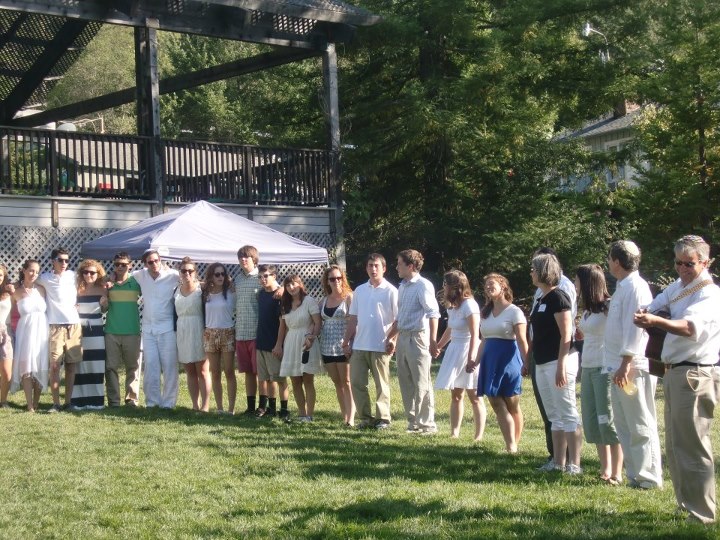 Every moment of Shabbat, all the way through Havdallah, is special and memorable. On Shabbat, we dress differently, we live on different time, we come together as a community at times that we generally are separated into age groupings. We eat together, pray together, sing together, and dance together with a spirit that is felt most on erev Shabbat. Dressed in white, we welcome the Sabbath bride into our midst with arms open wide. We rejoice in her presence and enjoy the time apart from the rest of the week. In camper reflections over the course of the summer and beyond, and in parent surveys that are returned to us, we overwhelmingly hear of the power of Shabbat at camp. Each of our camps has its own unique traditions and ways in which Shabbat is celebrated.
In this July 2012 photo, staff and guests prepare for Shabbat services at URJ Camp Newman.
Preparing for Shabbat is critical for setting the atmosphere that the next 24 hours are a day apart. For NFTY in Israel, the power of getting ready for Shabbat not only happens within our groups, but participants get to watch with amazement as the rest of the entire Israeli society grounds to a halt. On Friday mornings, we make sure that these young people visiting the Jewish homeland are able to take in the frenetic rushing-about of Israelis trying to get home in time for Shabbat, of storekeepers closing their shops early and traffic suddenly fading from the roads and highways. It is simply awesome to watch our NFTYites make the connection that in Israel, public space is Jewish space, and everyone from the bus driver to the policeman will wish you a Shabbat Shalom. This is Shabbat as can only be experienced in Israel. At URJ Eisner Camp, we begin our Shabbat celebration with a short Kabbalat Shabbat on both boys' side and girls' side of camp. With campers and staff dressed in white, hair still wet from their pre-Shabbat showers, we stand in a circle and sing a few Shabbat songs or enjoy a short story told by one of our faculty members. Then all of our campers and staff descend from both sides of camp towards the Chadar Ochel for Shabbat dinner. The sight of the entire camp community dressed in white, walking together, is surely one of the most beautiful of the week. It foreshadows the moment during "L'cha Dodi" when we rise and turn to welcome the Sabbath Bride. Central to our history, at Kutz, we sing our way through Shabbat. From Kabbalat Shabbat in the Willows, we move into tefilah, then sing nigunim into dinner, where we join in "Shalom Aleichem" and then culminate our evening with Shabbat Shira, a festive outpouring of Jewish song and Israeli dance. Music leads us throughout Shabbat afternoon until we join for Havdallah in the Willows and sing together "Eliyahu Hanavi," marking the separation between Shabbat and the rest of the week. It is our hope that our participants, staff, and faculty find their inner song throughout their lives after camp – and that they are able to share it in unique ways that bring them profound joy on their remarkable journeys. Shabbat sings, Shabbat soars, and perhaps most of all, at URJ Camp George, Shabbat heals. From Friday after lunch, when our community heals the natural landscape of Maple Lake by picking up trash and residue from the past week's programs, to Saturday night, when the entire camp gathers at "The Point," intertwining itself in the flickering light of the Havdallah candle at the edge of Maple Lake, the sensation of healing pervades the air. For these 24 hours, the opportunity to say the Kiddush and Motzi with hundreds of your best friends heals any homesickness; the inclusive and intense ruach of "Super Spesh Song Sesh" heals pangs of loneliness; and the chance to rest, relax and gather for camp-wide services at our Beit Tefilah heals body, mind, and spirit. When we come to our prayer for healing, Mi shebeirach l'cholim, a hand-painted canopy of healing, is held high above all those who need the support and strength of their community around them. Thank God, we say, that we have such a safe, sacred space that provides healing for ourselves, our loved ones, and our world. Baruch atah Adonai rofei ha'cholim. During erev Shabbat services at URJ Camp Newman, we bless our campers with the priestly blessing. Then, we spread tallitot above our campers to create a symbolic shelter of peace over them as we sing "Hashkiveinu," the prayer in which we ask God to create a shelter of peace over us. Looking out at our beit tefillah, all that is seen is a sea of tallitot held by proud staffers over our campers. The entire community joins in song, and there is an unmistakable feeling of community and strength. It is one of the most magical moments at camp. It is our hope that the love, peace, and sanctity that is part of the shelter we create at camp remain with our campers and staff until they return back to their home at camp. When we make havdallah together on the last night of camp at URJ Crane Lake Camp, we emphasize the fact that we are not only making a separation from Shabbat to the rest of the week, but from the holiness of camp to the rest of the year. Cuddled together on the shore of our lake, we encourage campers to hold onto some of the sweetness of camp as they go off into their lives outside, just as we hold onto the sweetness of Shabbat with the spices and wine of Havdallah. May we all hold onto a spark of the flame and a taste of the spice that is camp as we move forward into our year.
Kein Y'hi Ratzon.
Related Posts
Image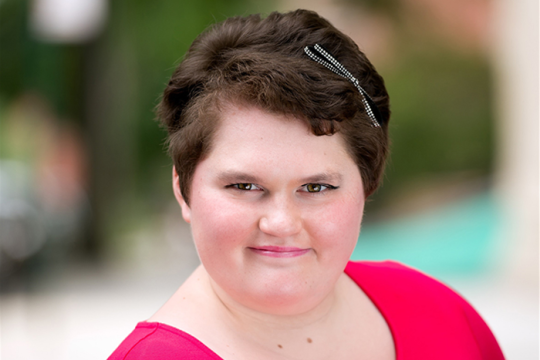 Twenty-year-old Shayna Goldberg is young adult songleader and performer with EPIC Players, a New York-based nonprofit theatre company that opens the stage to all types of artists and seeks to shine a light on neurodiverse talent. Along with her family, she is a part of the Adath Emanu-El community in Mount Laurel, N.J.
Image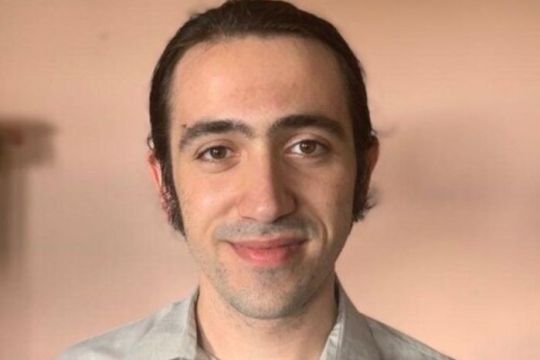 Growing up, Aaron Bendich would spend lots of time with his grandfather Max in the North Bronx, in a house "filled to the brim" with records, videotapes and CDs. Among Max's collection were recordings of Yiddish songs and other Jewish music.
Image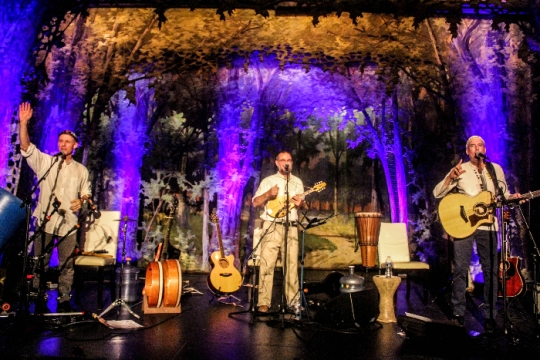 We chat with singer-songwriter, percussionist, and multi-instrumentalist Billy Jonas about Abraham Jam, a trio of internationally renowned musicians who have teamed up to create art strengthened by diversity.