Image
I had plans that Saturday. After a week of stress and worry, I was looking forward to going to a yoga class, doing some work I'd been putting off at a coffee shop, and then heading home to catch up on new episodes of my favorite TV shows. It was going to be a day that mixed being productive and taking care of myself, two things that I had neglected during the nightmare of a week prior.
During that nightmare week, the new president of the United States, who was elected by the people, signed a series of executive orders that, in my opinion, threaten the safety and security of the people – and in particular the safety and security of those who already lack it. And at the end of the week, just before Shabbat started, he signed what's become known as the "Muslim Ban," blocking immigration to the U.S. from seven Muslim-majority countries.
As is my sometimes-practice on Shabbat, I put my phone away on Friday night, and on Saturday morning, I made the conscious choice to not look at my phone before heading to yoga class. Afterward, feeling more centered and refreshed than I had in ages, I began my work for the day. As soon as I turned on my computer, I saw the call: President Trump's Muslim Ban was being enforced in unprecedented and extreme ways, and activists were gathering at JFK Airport in New York City.
"Wow, it's great that people are turning out today," I thought, and I began my work.
I've been an activist since high school. Attending protests and rallies is something I'm familiar with and comfortable doing. Still, it sometimes feels like these events are happening far away from me, that I'm not the kind of person who would show up. It's easy to stick to the day as planned and just be grateful to those who are turning out to protest.
But after doing half an hour of work – during which time I received a few more calls to action through my email, Facebook, and Twitter – I asked myself: Why don't I think I'm the kind of person who would show up? Who is the kind of person who would show up? So I contacted some friends, and we made plans to go.
I arrived at JFK just in time to participate in a Havdalah (end-of-Shabbat) service lead by Jews for Racial and Economic Justice and a few Reform rabbis. It felt fitting to close out Shabbat as I was beginning an act of resistance, and it was heartening to see so many members of my Jewish community there. I shouted and chanted, glad I'd made the trek.
Before the action I was filled with despair, and honestly, I still am. But it feels so much better to show up than it does to sit on the computer, refreshing my Twitter feed and waiting for the next piece of bad news. For me, protesting is, as Rabbi Abraham Joshua Heschel once said, "praying with my feet." It's a cathartic release.
Whether you're a long-time activist or someone who's never been to an action before, now is the time to show up. Find a friend or two who you can count on, and make plans to go together. If you can afford it, bring food, water, or hand warmers to share with fellow activists. Listen to the organizers, and follow their lead. And for every act of resistance you take, make sure to do something nice for yourself. I like to get a drink with friends or watch an episode of a television show that I enjoy. We won't win if we're unhappy and depleted.
It's clear that this whirlwind is one we'll look back on in the years to come. Amidst the current political climate, I'm glad that I'll be able to look back, remember my own protest experiences, and know that I didn't stand idly by in the face of values that run counter to my own. I'm proud to stand by my values and fight for what has become life-or-death for so many.
Next time there's a fire in your belly, and you're able to move some things around in your schedule, and you're feeling well enough: Go. Why not?
Related Posts
Image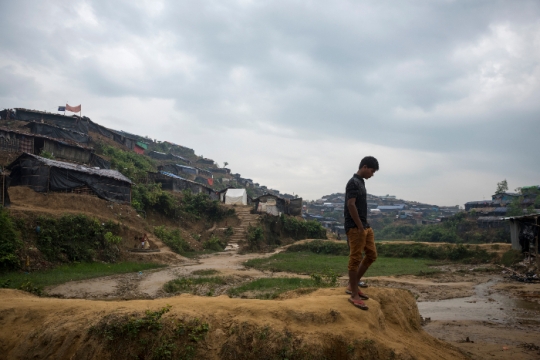 We know that religious freedom is not a lesson from ancient stories, but an ongoing quest even today. While many of us are fighting antisemitism in our home countries, we are also in solidarity with the Rohingya people, who have been persecuted for decades.
Image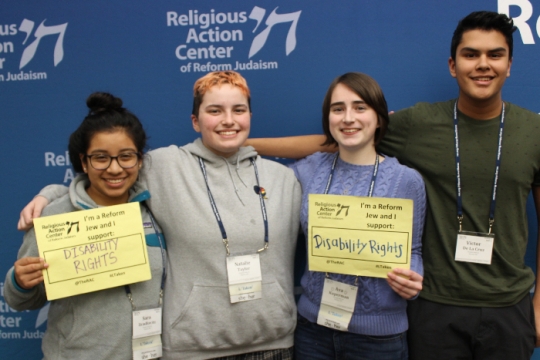 Jewish Disability Advocacy Month is an opportunity to participate in the work to achieve a more just world. On February 22, nonprofit and congressional leaders in the field of disability policy will discuss the state of disability rights policy.
Image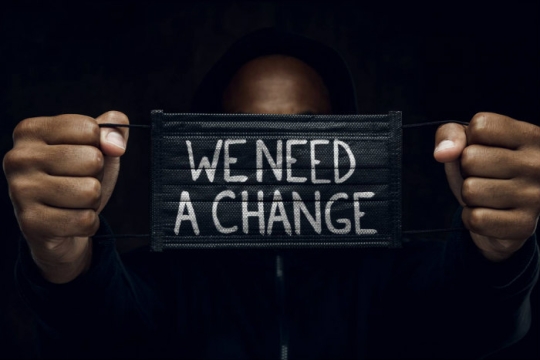 The Union for Reform Judaism shares resources for use in congregations and Jewish communities, as well as by families and individual, in our shared pursuit of justice.