Image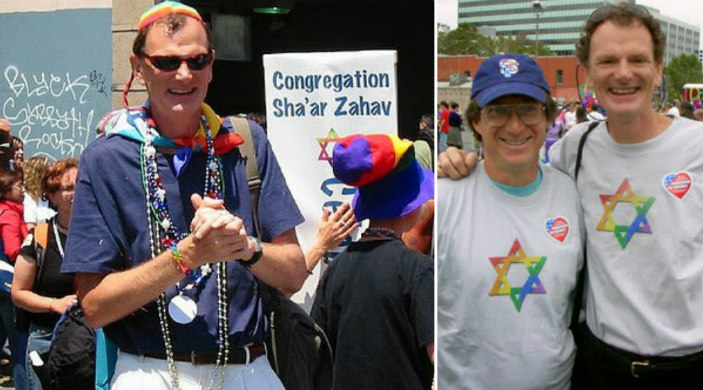 "It's not as much fun being gay;
It's now the American way.
What was edgy and cool
Is really old-school
When everyone thinks we're OK."
So begins a world premiere song that the San Francisco Gay Men's Chorus, of which I am a proud upper second tenor, is singing for our pre-Pride concert, "Gay Kitchen Sink," on June 16 and 17. The lyrics remind me of the response I often get from friends when I ask, "What are you doing for Pride this year?" I too often receive a ho-hum, yawned, "Oh, I don't do Pride anymore... It's so yesterday."
For me and my dear, recently deceased husband, Ed (of blessed memory), Pride was always an annual reaffirmation and celebration of our mid-life decision to come out and to come together as a couple.
Ed and I loved thinking about and planning how to participate in fabulous ways with both close friends and with throngs of thousands. Even a year ago, when he was on his third year of chemotherapy and was wearing out from all the brutal regimens, we made it to our annual Pink Saturday dinner at our favorite Catch Restaurant in the Castro, deciding with regret that we would not march the next day in the San Francisco Pride Parade – for the first time in a dozen-plus years.
Our first Pride Parade was in early June 2003, a small but happy affair in front of only hundreds in downtown San Jose. We marched with a South Bay GLBT Havurah group we'd joined after coming out the previous September. (The organizer, Mike Bromberg, and his husband, Ken Repp, became great friends of ours and annual attendees at our big day seder.)
That same year, we also marched for the first time in the nation's largest (and one of the world's largest) parades in front of 1.5 million people in San Francisco. During the first couple of years, we marched proudly with a group from Congregation Sha'ar Zahav, the largely LGBT Reform congregation where we made lifetime friends. Being able to be proud of both our gay and Jewish selves was important to both of us, both as Jews-by-choice and now, finally, as openly gay men.
We also often marched with the San Francisco Gay Men's Chorus after I joined, with Ed always joining in as a loyal husband and learning the parade choreography that accompanied our singing. Various kids often marched with us, especially the youngest of our six, Brenton and Lindsay, who, as youngsters, loved giving out beads to the spectators on the sidelines.
Over the years, we attended Pride celebrations from Guerneville to Montreal, New York to Reykjavik. A deep regret I have is that we never made it to Tel Aviv Pride. That was one of Ed's few dreams that we were not able to fulfill, mostly due to the timing of his chemo treatments the last few years.
But I am thankful for the Pride celebrations we did get to, year in and year out. We loved the sense of broad community among the masses and yet the deep, intimate possibility of new connections – even with total strangers. Gay, lesbian, straight, bi, trans – we all focused on individual and collective memories and hopes, the good and the scary present challenges, and, of course, on the fun and the funny... and the sexy.
Traditions were a big part of Ed's and my Jewish and gay lives together. Listening to a half dozen of Ed's 100+ Jewish CDs at our Friday night Shabbat dinners; inviting friends and family each night of Hanukkah for a dinner of a crazy array of latke recipes I was trying on any given year; hosting 20-plus guys for our gay seder, when we read from the booklet Ed created featuring more than 100 gay, Jewish heroes… these were the traditions that defined being Jewish for us.

Attending Pride celebrations gave us an annual chance to remind ourselves of the past pioneers who allowed us to come out so easily when we did and to celebrate the many monumental milestones that were met during our fourteen years together (the right to marry and the striking down of DOMA being prime examples). Traditions are important, in my opinion, to remind us of who we are, of our values, and of who is important to be a part of our daily lives.
This year, my first Pride without Ed, will not be easy. But I will march on Sunday, June 24 in San Francisco – this year as part of San Francisco Gay Men's Chorus as the 2017 Community Grand Marshalls. I know Ed will be there with me. He wouldn't miss it for the world!
Related Posts
Image
Last year, my 15-year-old daughter, Eva, adopted at birth, was thrilled to discover through DNA
Image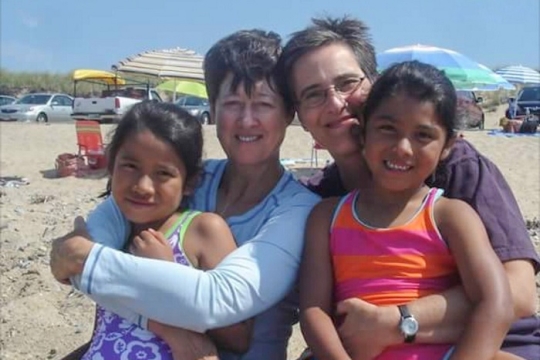 June and her partner, Betsy, adopted two girls from Guatemala and raised them together until Betsy died of cancer 4 years ago. June talked with me about the great joy she felt in fulfilling her dream of becoming a mom and the challenge she and her teenage daughters faced after suffering such a tremendous loss.
Image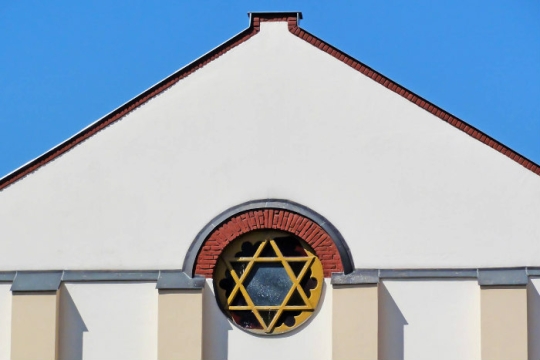 Not knowing if I would be shunned or accepted, I decided to give my religion another chance. I was not prepared for the warm and welcoming atmosphere I found at temple, where being gay was as acceptable as having brown hair.