Image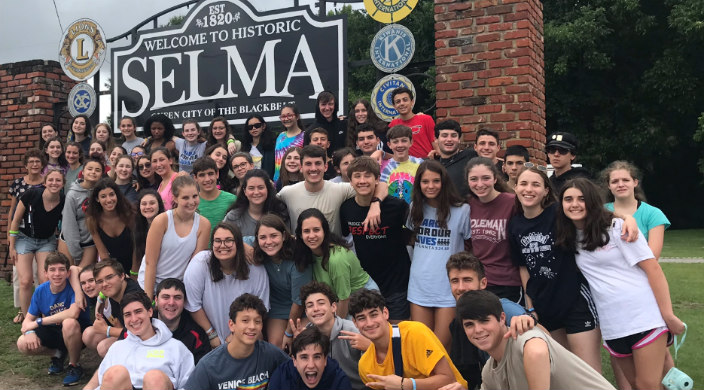 This month, as we mark Black History Month – and, this year, the 150th anniversary of the passage of the 15th Amendment to the Constitution, which gave men of every race, including former slaves, the right to vote – it seems appropriate to share this story of a group of Reform Jewish campers from URJ Camp Coleman in Cleveland, GA, who took a four-day trip last summer to confront racial inequality and explore their own connections to work around racial justice.
We began in Whitwell, TN, where more than 20 years ago, middle school students collected paper clips as a way to understand the enormity of the Holocaust and the death of six million Jews. There we met with Sandra Roberts, one of the founders of the paper clip project, who showed us binders containing thousands of letters of support for the initiative and the Nazi railcar – originally used to transport Jews to death camps – that now holds some of the more than 30 million paper clips the students collected.
The railcar was donated and shipped to Whitwell by Peter Schroeder and Dagmar Schroeder-Hildebrand, German journalists who learned about the project while conducting research at the time at the United States Holocaust Memorial Museum in Washington, D.C. Our campers and staff were respectful and reverent during our visit. At the end, a counselor requested we recite the Mourner's Kaddish, which we did – and which we will continue to do on future visits to Whitwell.
Traveling south from Whitwell to Selma, we watched the movie Selma as background for what we would soon see, hear, and experience. Campers also completed a questionnaire they believed was a survey from our destination, the Lowndes Interpretive Center, to assess visitors' knowledge of American civics. Only later did they learn it was a 1965 Alabama literacy test that African-Americans had to pass before they could register to vote. The students were unsuccessful in passing this college level test.
Throughout our time at the interpretive center, a National Park Service site dedicated to those who peacefully marched from Selma to Montgomery to gain the right to vote, our young people struggled to grasp the reality that fellow citizens were made to overcome multiple legal barriers to vote, despite the guarantee provided by the 15th Amendment to the U.S. Constitution. As their incredulity turned to outrage, the students asked many questions – some of which, sadly, have no good answers.
Our next stop was the McRae-Gaines Learning Center, a school devoted to offering quality education to all of Selma's children. While we enjoyed a home-cooked, southern meal we heard personal stories of courage and resistance from JoAnne Bland, a civil rights activist, and others about Bloody Sunday – March 7, 1965. During a voting rights march from Selma to Montgomery begun on that day, protesters were beaten and attacked with teargas by police as they crossed the Edmund Pettus Bridge.
Before leaving Selma, our campers walked across the Edmund Pettus Bridge themselves, pondering various quotes from champions of racial justice then and now, including Rev. Dr. Martin Luther King Jr., James Baldwin, Maya Angelou, Congressman John Lewis, and Rabbi Abraham Joshua Heschel, among others. As we walked, one student remarked, "I'm having an out-of-body experience," and another reflected, "I can't believe I'm walking in the footsteps of history."
From Selma, we traveled east to Montgomery to visit the National Memorial for Peace and Justice, dedicated to victims of slavery, lynching, racial segregation, and contemporary people of color who face challenges around police violence and presumed guilt. Its design is intentionally unadorned, and our campers and staff were silent and walked slowly, absorbing and acknowledging the thousands of names etched into the design.
The memorial is part of the Equal Justice Initiative, and in a Q&A session with EJI staff, campers learned about ongoing injustices perpetrated against African-Americans, asked questions to better understand the intent of the memorial, and resolved to do their part to work for justice. One EJI staff member offered this antidote to feelings of gloom:
If we are prepared to sit with what we've learned and experienced and to reckon with it, perhaps we can move forward in helping to create a more equitable society – ensuring that injustice does not continue. Ultimately, repair and reconciliation happen with truth telling; there can be no false narratives.
Her reflection brought us full circle – back to our visit to the Whitwell Middle School project, which focused on learning about and reckoning with the whole truth of how hate led to the Holocaust.
I am grateful to the staff and campers with whom I shared this journey. Their receptiveness, sensitivity, and support of one another made this rabbi's experience powerful, profound, and unforgettable.
February 3, 2020, marked the 150th anniversary of ratification of the 15th Amendment to the U. S. Constitution. Learn about the Reform community's efforts to fight the structural racism embedded in our society and advance justice for all people – and how you can participate. Check out URJ Camps, too, whose lessons and friendships last a lifetime.
Related Posts
Image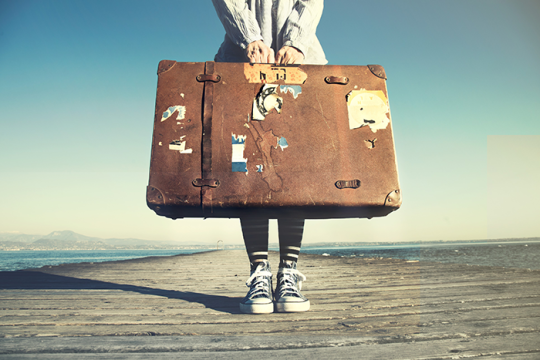 I've been reflecting on the story of America's founding - the narrative many of us learn as children in the United States. I've recently learned a different version of that story - one that I now recognize intertwines with my own. My identities as Cuban American and Jewish have been shaped by Indigenous stories in America and in Cuba; particularly the themes of beginnings, loss, transformation, and change.
Image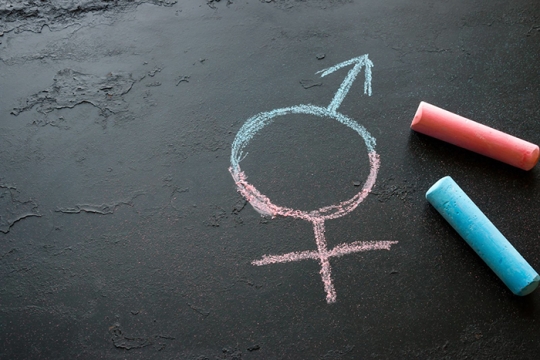 The Union for Reform Judaism, Jewish Grandparents Network, and Keshet are collaborating on a series of conversations to support grandparents and other loving adults who are interested in providing affirming spaces for gender expansive, non-binary, and transgender young people. These sessions provide grandparents with foundational knowledge, shared language, and inclusive practices.
Image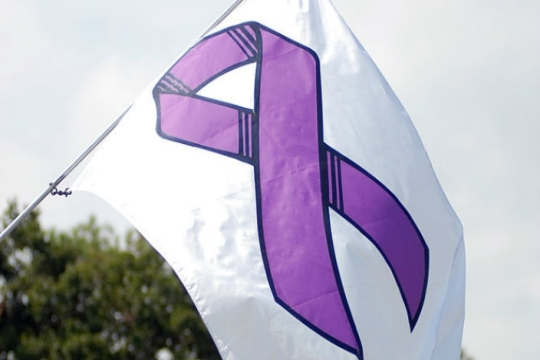 October is Domestic Violence Awareness Month (DVAM) in the U.S. This year, the National Network to End Domestic Violence (NNEDV) chose the theme of #Every1KnowsSome1 to highlight how common domestic violence is. Each of us may (or likely) knows someone, either in our Jewish community or our secular communities, who has been impacted by or is a survivor of domestic violence.