The attacks on the United States on September 11, 2001 have shaped the realities of the past decade,
particularly for members of younger generations
who have never known a time without terror alerts, extreme airport security, or threats coming from bombs in people's shoes or underwear. Unfortunately, those of us younger than 25 have also never known a time in which Muslims, or those perceived to be Muslims, were not painted by some as people to fear or to hate or to hurt.
The tenth anniversary of September 11th is certainly a time to mourn, to say yahrtzeit for the thousands of people who died and pray for those whose lives were irrevocably changed on that September morning, but it is also a time for reflection. Over the past decade, have we used fellow Americans as scapegoats and cast our anger on innocent and patriotic neighbors? Or have we, as Jews with a distinct history of persecution, banded together with our Muslim brothers and sisters in solidarity?
In the last few years, utterly extreme instances of bigotry have rallied our political and religious leaders to support the Muslim American community -
the Park51 controversy in New York
and
the Quran burnings in Florida come to mind
. These unfair attacks on Muslims certainly have no place in our society, but there are also more subtle threats to Muslim Americans on a day-to-day basis. The discourse surrounding 9/11 has, in too many cities and states, been so poisoned by Islamophobia that some Americans find it acceptable to
bully Muslim children in school
,
attack mosques and other Islamic centers
, and
use the power of law enforcement against innocent citizens
.
A new survey conducted by the Pew Forum on Religion and Public Life
indicates that Islamophobia is a significant and disturbing trend in our communities. Twenty-eight percent of Muslim Americans surveyed report being looked at with suspicion, and 22% report being called offensive names. An astonishing 25% of Muslim Americans said that mosques or Islamic centers in their communities have been "the target of controversy or outright hostility," 14% report opposition to the building of a mosque or Islamic center in their community, and 15% report that a mosque or Islamic center has been the target of vandalism or other hostile acts in the past year. A few glimmers of hope from the Pew survey: Despite these negative experiences, 82 percent of Muslim Americans describe themselves as overwhelmingly satisfied with the way things are going in their lives, and 79 percent rate their communities as excellent or good places to live. Still, the aforementioned attacks cannot be ignored.
As Jews, we might find our motivation to stand up for the Muslim community from our experiences in the Holocaust, or from the Inquisition, or from our history as slaves in Egypt. But from wherever you find your inspiration, I encourage you to not wait for the most extreme abuses of the civil rights of Muslims to embrace every American's right to religious freedom. Stand with and befriend those in your communities to ensure that they have the right to express their religion - a right for which we as Jews have fought for centuries.
To help you in your efforts, explore the
RAC's 9/11 resources
and learn about
our involvement
in the interfaith coalition
Shoulder to Shoulder: Standing with American Muslims; Upholding American Values
.
Katharine Nasielski is a 2011-2012 Eisendrath Legislative Assistant.
Related Posts
Image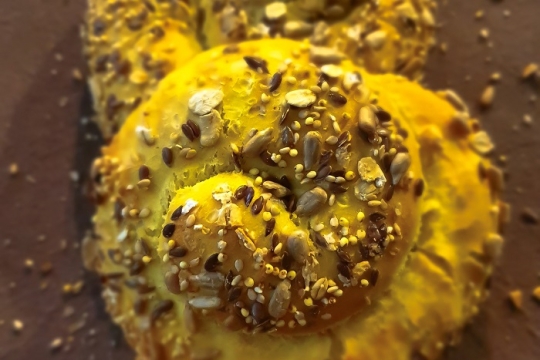 Decorate your Sukkot table with Ethiopian, North African, and Sephardi breads full of fall colors and tantalizing spice mixes and broaden our palates to the customs of worldwide Jewish communities. Laden with seasonal honey, pumpkin, or orange, they don't need braiding, and they make perfect gifts.
Image
It's a long-standing custom for Jews to wish one another a "sweet new year" on Rosh Hashanah; to hope that this coming year will be one filled with joy, fulfillment, and an abundance of blessings. However, Judaism isn't a path focused simply on wishing for good things; if our goal is to make each year "sweeter" than the last, we must work to make it happen.
Image
The horrific attack of September 11, 2001 was an attack on all of humanity, and we remember all the victims and first responders who died that day.