Image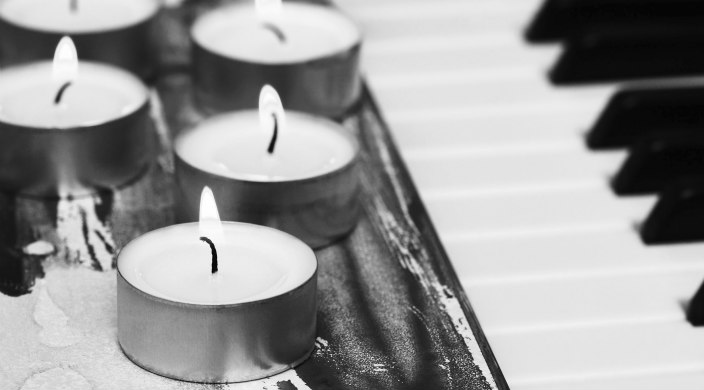 Yom HaShoah (Holocaust Remembrance Day) begins tomorrow night at sundown. The full name of the day is Yom HaShoah v'Hag'vurah (Day of Remembrance of the Holocaust and the Heroism) and is observed each year on 27 Nisan, a date selected by the Knesset (Israel's Parliament), which created the day of remembrance on April 12, 1951.
In North America, Holocaust remembrance services and programs often include special musical selections in memory of people lost during the war and in honor of those who fought against the Nazis. Such music is profound and varied, and often was used as a vehicle of resistance. For example, "Zogt Nit Keynmol" ("Never Say That You Have Reached the Final Road") was written in April 1943 in reaction to news of the Warsaw Ghetto uprising. Composed in Vilna by underground fighter Hirsh Glick and set to a Soviet cinema tune by Dmitri and Daniel Pokrass, the song spread like wildfire throughout Eastern Europe, becoming the official hymn of the partisan brigades.
Other music, such as "Ani Ma'amin" ("I Believe") was written to express faith and hope. The lyrics derive from a liturgical summary of Maimonides' 13 principles and are a credo for synagogue recitation based on the 12th principle: "I believe in perfect faith in the coming of the Messiah, and even though he tarries, I await him, every day, to come." According to a well-known Chassidic tale, the music was composed by Reb Azriel David Fastag who saw the words of Maimonides' 12th principle in a vision while aboard a train headed to a Nazi concentration camp. He began to hum a tune that was taken up by others and spread from car to car. As a result of this vision, he offered half of his portion in the world-to-come to anyone who would try to take the song to the Rebbe of Modzitz, Rebbe Shaul Yedidya Elazar Taub, who oversaw the Chassidic rabbis in Poland. Two young men volunteered and were able to jump from the car. Only one survived and he was able to deliver the music to Rebbe Taub. The music was remembered and sung by prisoners in the camps as a song of faith.
Both "Zogt Nit Keynmol" and "Ani Ma'amin" have become well-known performance pieces at Yom HaShoah commemoration services. During the last two decades, there has been renewed interest in the musical expression of those who lived and died in the German camps. This "lost" music has been sought out, examined, reconstructed, and performed in tribute to the artists who composed it, and in memory of those who died.
In 2013, NPR reporter, Sylvia Poggioli, interviewed musicologist Francesco Lotoro, an Italian pianist who has found thousands of pieces of music written by people in the labor, concentration and POW camps – both before and during World War II. His efforts not only have helped to preserve these previously unknown works, but also "to right a historical wrong and help rewrite the history of 20th-century European music."
These additional resources offer information about music from the Holocaust and downloads for listening: Music of the Holocaust, highlights from the collection of the United States Holocaust Memorial Museum; Yad Vashem's Heartstrings: Music of the Holocaust; World ORT's Music and the Holocaust; and Music of the Ghettos and Camps, part of the Teacher's Guide to the Holocaust, compiled by the University of South Florida.
As part of your own remembrance this year, take time to listen to some of the music that was created by – and inspired – those who lived and fought during the Holocaust. Their music, expressions of faith, fear, hope, and despair, will ensure that they live on – and that we will remember – l'dor vador (from generation to generation).
"Ani Ma'amin" is sung by University of Florida Women's Chorale, directed by Dr. Mihoko Tsutsumi. "Zog Nit Keynmol" is performed by acclaimed Israeli singer Chava Alberstein, from her album "Yiddish Songs."
Related Posts
Image
These are Torah portion haikus.
Image
These Haikus focus on weekly Torah portions.
Image
These Haikus focus on weekly Torah portions.